Interpreting Job Performance Evaluations Terms
Good communication skills = spends a lot of time on the phone
Average employee = not too bright
Exceptionally well qualified = made no major blunders yet
Work is first priority = too ugly to get a date
Active socially = drinks a lot
Family is active socially = spouse drinks, too
Independent worker = nobody knows what he/she does
Quick thinking = offers plausible excuses
Careful thinker = wont make a decision
Aggressive = obnoxious
Uses logic on difficult jobs = gets someone else to do it
Expresses themselves well = speaks english
Meticulous attention to detail = a nit picker
Has leadership qualities = is tall or has a loud voice
Exceptionally good judgement = lucky
Keen sense of humour = knows a lot of dirty jokes
Career minded = back stabber
Loyal = can't get a job anywhere else
Submitted by Dick, Williamsport, Md.

Return to: Top of Page, List of Jokes about Work, My Little Sister's Jokes,
---
Christian One Liners
Don't let your worries get the best of you; remember, Moses started out as a basket case.
Some people are kind, polite, and sweet-spirited until you try to sit in their pews.
Many folks want to serve God, but only as advisors.
It is easier to preach ten sermons than it is to live one.
The good Lord didn't create anything without a purpose, but mosquitoes come close.
When you get to your wit's end, you'll find God lives there.
People are funny; they want the front of the bus, the middle of the road, and the back of the church.
Opportunity may knock once, but temptation bangs on your front door forever.
Quit griping about your church; if it was perfect, you couldn't belong.
If the church wants a better pastor, it only needs to pray for the one it has.
God Himself does not propose to judge a man until he is dead. So why should you?
Some minds are like concrete thoroughly mixed up and permanently set.
Peace starts with a smile
I don't know why some people change churches; what difference does it make which one you stay home from?
A lot of church members who are singing "Standing on the Promises" are just sitting on the premises.
We were called to be witnesses, not lawyers or judges.
Be ye fishers of men. You catch them - He'll clean them.
Coincidence is when God chooses to remain anonymous.
Don't put a question mark where God put a period.
Don't wait for 6 strong men to take you to church.
Forbidden fruits create many jams.
God doesn't call the qualified, He qualifies the called.
God grades on the cross, not the curve.
God loves everyone, but probably prefers "fruits of the spirit" over "religious nuts!"
God promises a safe landing, not a calm passage.
He who angers you, controls you!
If God is your Co-pilot - swap seats!
Prayer: Don't give God instructions -- just report for duty!
The task ahead of us is never as great as the Power behind us.
The Will of God never takes you to where the Grace of God will not protect you.
We don't change the message, the message changes us.
You can tell how big a person is by what it takes to..........discourage him.
The best mathematical equation I have ever seen: 1 cross 3 nails= 4 given.
Submitted by Jennie, Thurmont, MD

Return to: Top of Page, List of Religious Jokes, My Little Sister's Jokes,
---
Ponderings for Idle Moments
Whose cruel idea was it for the word "lisp" to have an "s" in it?
Since light travels faster than sound, isn't that why some people appear bright until you hear them speak?
How come abbreviated is such a long word?
If it's zero degrees outside today and it's supposed to be twice as cold tomorrow, how cold is it going to be?
Since Americans throw rice at weddings, do Asians throw hamburgers?
Why are they called apartments, when they're all stuck together?
Why do banks charge you a "non-sufficient funds fee" on money they already know you don't have?
If a tree falls in the forest and no one is around to see it, do the other trees make fun of it?
When two airplanes almost collide why do they call it a near miss?? It sounds like a near hit to me!!
Do fish get cramps after eating?
Submitted by Kenneth, Shropshire, England

Return to: Top of Page, List of Humorous Sayings, My Little Sister's Jokes,
---
And you thought you had a bad neighbor?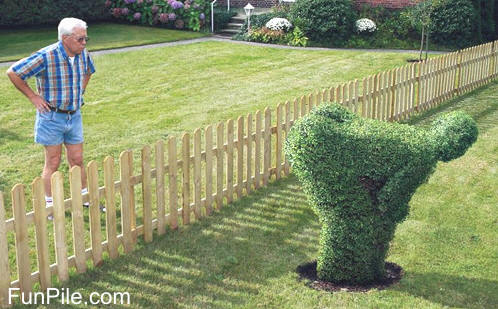 Return to: Top of Page, List of Photos, My Little Sister's Jokes,
---