T-shirts are always a problem in the military.
The following directive was issued by the Commanding Officer of a naval installation in the Mid-East and was obliviously directed at the Marines.
To: All Commands
Subject: Inappropriate T-Shirts
All commanders promulgate upon receipt.
The following T-shirts are no longer to be worn on or off base by any military or civilian personnel serving in the Middle East:

"Eat Pork or Die" [both English and Arabic versions]
"Shrine Busters" [Various. Show burning minarets or bomb/artillery shells impacting Islamic shrines. Some with unit logos.]
"Napalm, Sticks Like Crazy" [Both English and Arabic versions]
"Goat - it isn't just for breakfast any more." [Both English and Arabic versions]
"The road to Paradise begins with me." [Mostly Arabic versions but some in English. Some show sniper scope cross-hairs]
"Guns don't kill people. I kill people." [Both Arabic and English versions]
"Pork. The other white meat." [Arabic version]
"Infidel" [English, Arabic and other coalition force languages.]

The above T-shirts are to be removed from Post Exchanges upon receipt of this directive.
The following signs are to be removed upon receipt of this message:

"Islamic Religious Services Will Be Held at the Firing Range At 0800 Daily."
"Do we really need 'smart bombs' to drop on these dumb bastards?"

All commands are instructed to implement sensitivity training upon receipt.
Submitted by Dick, Williamsport, Md.
Return to: Top of Page, List of Funny Stories, My Little Sister's Jokes,
---
An Old Farmer's Advice:
Your fences need to be horse-high, pig-tight and bull-strong.
Keep skunks and bankers and lawyers at a distance.
Life is simpler when you plow around the stump.
A bumble bee is considerably faster than a John Deere tractor.
Words that soak into your ears are whispered...not yelled.
Meanness don't jes' happen overnight.
Forgive your enemies. It messes up their heads.
Do not corner something that you know is meaner than you.
It don't take a very big person to carry a grudge.
You cannot unsay a cruel word.
Every path has a few puddles.
When you wallow with pigs, expect to get dirty.
The best sermons are lived, not preached.
Most of the stuff people worry about ain't never gonna happen anyway.
Don't judge folks by their relatives.
Remember that silence is sometimes the best answer.
Live a good, honorable life. Then when you get older and think back, you'll enjoy it a second time.
Don't interfere with somethin' that ain't botherin' you none.
Timing has a lot to do with the outcome of a rain dance.
If you find yourself in a hole, the first thing to do is stop diggin'.
Sometimes you get, and sometimes you get got.
The biggest troublemaker you'll probably ever have to deal with, watches you from the mirror every mornin'.
Always drink upstream from the herd.
Good judgment comes from experience, and a lotta that comes from bad judgment.
Lettin' the cat outta the bag is a whole lot easier than puttin' it back in.
If you get to thinkin' you're a person of some influence, try orderin' somebody else's dog around.
Live simply. Love generously. Care deeply. Speak kindly. Leave the rest to God.
Submitted by Barb, Lancaster, Pa.
Return to: Top of Page, List of Humorous Sayings, My Little Sister's Jokes,
---
President George W. Bush was scheduled to visit the Methodist church ....
... as part of his campaign. Bush's campaign manager made a visit to the Bishop, and said to him, "We've been getting a lot of bad publicity among Methodists because of Bush's position on stem cell research and the like. We'd gladly make a contribution to the church of $100,000 if during your sermon you'd say the President is a saint."
The Bishop thinks it over for a few moments and finally says, "The Church is in desperate need of funds and I will agree to do it."
Bush pompously shows up looking especially smug and as the sermon progresses the Bishop begins his homily:
"George Bush is petty, a self-absorbed hypocrite and a nitwit. He is a liar, a cheat, a bully, and a low-intelligence weasel. He was a drunken cokehead for most of his adult life, and he had Rove scrub his cocaine arrest story by setting up and destroying the journalist who reported it, the late Jim Hatfield. He has lied about his military record and had the gall to dress up in a flight suit landing on a carrier posing before a banner stating 'Mission Accomplished.' Worst of all, he let his cabinet neocons and covert operators murder almost 3,000 Americans on 9/11 so he could invade two countries for oil and money-and he's been lying about it ever since. He is the worst example of a Methodist I've ever personally known. But compared to Dick Cheney, Donald Rumsfeld, Paul Wolfowitz, Richard Pearle, Doug Feith, Scooter Libby, and the other neocons, George Bush is a saint."
Submitted by Jon, Emmitsburg, Pa.
Return to: Top of Page, List of Political Jokes, My Little Sister's Jokes,
---
You know you're driving too fast when Jesus has to hang onto the Crucifix ...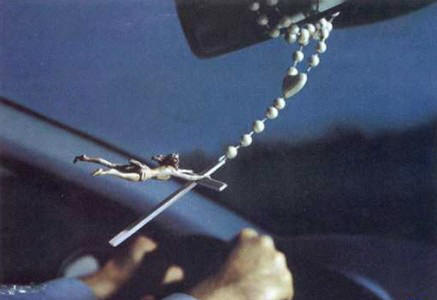 Submitted by Jonathan, Emmitsubrg, Md.

Return to: Top of Page, List of Photos, My Little Sister's Jokes,
---