As a trucker stops for a red light, a blonde catches up. She jumps out of her car ..
... runs up to his truck, and knocks on the door. The trucker lowers the window and she says, "Hi, my name is Heather and you are losing some of your load."
The trucker ignores her and proceeds down the street. When the truck stops for another red light, the girl catches up again. She jumps out of her car, runs up and knocks on the door. Again, the trucker lowers the window. As if they've never spoken, the blonde says brightly, "Hi, my name is Heather and you are losing some of your load!"
Shaking his head, the trucker ignores her again and continues down the street. At the third red light, the same thing happens again. All out of breath, the blonde gets out of her car, runs up and knocks on the truck door. The trucker lowers the window. Again she says, "Hi, my name is Heather, and you are losing some of your load!"
When the light turns green the trucker revs up and races to the next light. When he stops this time, he hurriedly gets out of the truck, and runs back to the blonde. He knocks on her window, and as she lowers it, he says... "Hi, my name is Kevin, it's winter in Ohio and I'm driving the salt truck!"
Submitted by Marianne, Columbia, Md.
Return to: Top of Page, Blonde Joke List, My Little Sister's Jokes,
---
A women bought a new line of expensive cosmetics guaranteed to make her looks years longer.
She sat in front of the mirror for what had to be hours applying the "miracle" products. Finally, when she was done, she turned to her husband and said, "Honey, honestly now, what age would you say I am?"
He nodded his head in assessment, and carefully said, "Well, judging from your skin, twenty. Your hair, eighteen. Your figure, twenty-five."
"Oh, you're so sweet!"
"Well, hang on, I'm not done adding it up yet..."
Submitted by Andy, Gettysburg, Pa.

Return to: Top of Page, List of Jokes About Marriage, My Little Sister's Jokes,
---
21st Century Sayings - Take 2
The big spin-off from today's technology is apprehension
Some people are neatly divided between 'human' and 'being'
A poor tale oft told is this year's commercial break
Mediocrity is fine if you're prepared to excel at it.
We might decide where we are going, but we can never know what is in store
All equipment has two functions: To serve, and be serviced.
The more we waste time the more it wastes us.
Procrastination is one of the true pleasures of the overworked.
Being a woman is only a small part of being a person
Postponing all unpleasant things is fine if done without breaks
If only quiz shows created an audience of questioners
One rotten apple makes all today's harvest unconstitutional
We are nothing but a whole collection of private experiences
In the country of the mad, sanity is the first casuality
I am the complete professional - while no one is looking.
It takes at least two optimists to lift up one confirmed pessimist
There's nothing like being tired to have to stay awake
If you can succeed at success you will fail at failure
The love of God is easily supplanted by the love of money
Love is never passive. It is always kinetic
No one is perfect, but some of us are more perfect than others
When all else has failed, a little talent is good for one's amusement
Our government is only as good as we are induced to believe
The present is us continually catching up with the future.
In a cross section of life on earth, we'd find it mostly going on.
The silver lining of today's clouds is plastic
Hurry is the curse of the talking class and the balm of the thoughtless
Blood may be thicker than water, but it's a lot thinner than money
The love of money may be wrong, but greed has incentive
The future does not get less complicated, it only asks more questions
The easier way always presents itself after the job is done
Success is the best way society has of staying in business
Snobbishness is just a thin veneer for ignorance
Prettier Packages Protect Poorer Products
Most of us use our quota of genius by age one.
Never be caught with your expression down
Canute was a genius, Midas a conglomerate.
The science of destruction is like nature: No sentiment
Rather let cakes burn than inspiration perish
Force bends and breaks; tolerance and understanding rectifies
Some people's idea of keeping fit is to exercise their stupidity
Never employ someone who has already reached their level of incompetence
The ability to do must be preceded by the ability to think
There is no such thing as a dynamic ritual
Never have so many kept so few in such luxury
I'd tread the straight and narrow, but the gates are closed
It is only others who ever become irrational
The middle class is the filling in society's sandwich, between the upper crust and the crumbs
Read take 1 of 21st Century Sayings
Submitted by Lindsey, Melbourne, Australia.
Return to: Top of Page, List of Un-Categorizable Jokes, My Little Sister's Jokes,
---
No doubt about it ... this dog 'Loves You'
Download Video
Submitted by Dick, Williamsport, Md.

Return to: Top of Page, List of Audio/Videos, My Little Sister's Jokes,
---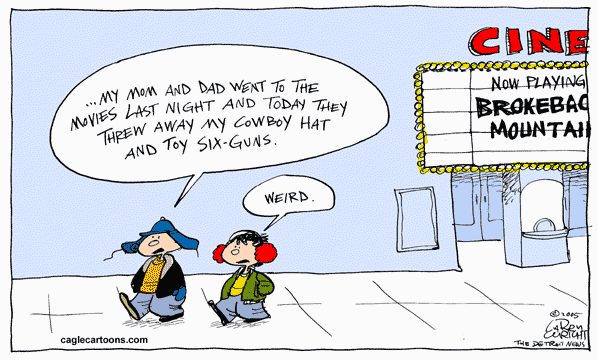 Submitted by Bill, Ardmore, Pa.

Return to: Top of Page, List of Photos, My Little Sister's Jokes,
---