Twenty Uses for Fruitcake
Use as a doorstop
Use as a paperweight
Use to clean your pots and pans
Use as boat anchor
Use as bricks in fireplace
Build a house with them
Use it to hold up your Christmas tree
Use as a pencil holder
Give it to the cat for a scratching post
Put it in the back yard to feed the birds and squirrels
Hold up your car when changing tires
Slice and use for poker chips
Use it to carve your turkey on
Use as replacement for Duraflame log
Take it camping with you...use it to weigh down the tent
Use it as a seat at a stadium event
Stand on it when you change a lightbulb
Put it in the back of your car/truck for snow/ice driving
Replaces free weights when you work out
Use as book ends at the school library
Submitted by Kenneth, Shropshire, England

Return to: Top of Page, Christmas Joke List, My Little Sister's Jokes,
---
Infant Discovered in Barn - Child Protective Services Launch Probe
Nazareth Carpenter Being Held On Charges Involving Underage Mother
(Dec 25) Associated Press. Bethlehem, Judea - Authorities were today alerted by a concerned citizen who noticed a family living in a barn.
Upon arrival, Family Protective Service personnel, accompanied by police, took into protective care an infant child named Jesus, who had been wrapped in strips of cloth and placed in a feeding trough by his 14-year old mother, Mary of Nazareth.
During the confrontation, a man identified as Joseph, also of Nazareth, attempted to stop the social workers. Joseph, aided by several local shepherds and some unidentified foreigners, tried to forestall efforts to take the child, but was restrained by the police. Also being held for questioning are three foreigners who allege to be wise men from an eastern country.
The INS and Homeland Security officials are seeking information about these who may be in the country illegally. A source with the INS states that they had no passports, but were in possession of gold and other possibly illegal substances.
They resisted arrest saying that they had been warned by God to avoid officials in Jerusalem and to return quickly to their own country. The chemical substances in their possession will be tested. The owner of the barn is also being held for questioning.
The manager Bethlehem Inn faces possible revocation of his license for violating health and safety regulations by allowing people to stay in the stable. Civil authorities are also investigating the zoning violations involved in maintaining livestock in a commercially-zoned district. The location of the minor child will not be released, and the prospect for a quick resolution to this case is doubtful.
Asked about when Jesus would be returned to his mother, a Child Protective Service spokesperson said, "The father is middle-aged and the mother definitely underage. We are checking with officials in Nazareth to determine what their legal relationship is. Joseph has admitted taking Mary from her home in Nazareth because of a census requirement. However, because she was obviously pregnant when they left, investigators are looking into other reasons for their departure.
Joseph is being held without bond on charges of molestation, kidnapping, child endangerment, and statutory rape. Mary was taken to the Bethlehem General Hospital where she is being examined by doctors. Charges may also be filed against her for endangerment. She will also undergo psychiatric evaluation because of her claim that she is a virgin and that the child is from God.
The director of the psychiatric wing said, "I don't profess to have the right to tell people what to believe, but when their beliefs adversely affect the safety and well-being of others - in this case her child - we must consider her a danger to others.
The unidentified drugs at the scene didn't help her case, but I'm confidant that with the proper therapy regiment we can get her back on her feet."
A spokesperson for the governor's office said, "Who knows what was going through their heads? But regardless, their treatment of the child was inexcusable, and the involvement of these others frightening.
There is much we don't know about this case, but for the sake of the child and the public, you can be assured that we will pursue this matter to the end."
Submitted by Bruce, Carol Stream, IL.
Return to: Top of Page, Christmas Joke List, My Little Sister's Jokes,
---
Christmas Riddles ...
Just before Christmas, an honest politician, a generous lawyer and Santa Claus were riding in the elevator of a very posh hotel. Just before the doors opened they all noticed a $20 bill lying on the floor. Which one picked it up? Santa of course, because the other two don't exist!
What happened when Santa's cat swallowed a ball of yarn? She had mittens.
What do you call it when your Christmas tree explodes? A tannen-bomb. (tannenbaum)
What's red and white and red and white and red and white? Santa Claus rolling down a hill.
Where did the mistletoe go to become rich and famous? Holly-wood.
Why did Frosty go to live in the middle of the ocean? Because snow man is an island.
Return to: Top of Page, Christmas Joke List, My Little Sister's Jokes,
---
One Christmas, mom decreed that she was no longer going to remind her children ...
... of their thank-you note duties.

As a result, their grandmother never received acknowledgments of the generous checks she had given.

The next year things were different, however.

"The children came over in person to thank me," the grandparent told a friend triumphantly.

"How wonderful!" the friend exclaimed. "What do you think caused the change in behavior?"

"Oh, that's easy," the grandmother replied. "This year I didn't sign the checks."

Return to: Top of Page, Christmas Joke List, My Little Sister's Jokes,
---
It was the day after Christmas.
The pastor of the church was looking over the cradle when he noticed that the baby Jesus was missing from among the figures. Immediately he turned and went outside and saw a little boy with a red wagon, and in the wagon was the figure of the little infant, Jesus.

So he walked up to the boy and said, "Well, where did you get Him, my fine friend?"

The little boy replied, "I got him from the church."

"And why did you take him?"

The boy said, "Well, about a week before Christmas I prayed to the little Lord Jesus and I told him if he would bring me a red wagon for Christmas I would give him a ride around the block in it."

Return to: Top of Page, Christmas Joke List, My Little Sister's Jokes,
---
A Very Different Christmas Poem
The embers glowed softly, and in their dim light,
I gazed round the room and I cherished the sight.
My wife was asleep, her head on my chest,
My daughter beside me, angelic in rest.

Outside the snow fell, a blanket of white,
Transforming the yard to a winter delight.
The sparkling lights in the tree I believe,
Completed the magic that was Christmas Eve.

My eyelids were heavy, my breathing was deep,
Secure and surrounded by love I would sleep.
In perfect contentment, or so it would seem,
So I slumbered, perhaps I started to dream.

The sound wasn't loud, and it wasn't too near,
But I opened my eyes when it tickled my ear.
Perhaps just a cough, I didn't quite know,
Then the sure sound of footsteps outside in the snow.

My soul gave a tremble, I struggled to hear,
And I crept to the door just to see who was near.
Standing out in the cold and the dark of the night,
A lone figure stood, his face weary and tight.

A soldier, I puzzled, some twenty years old,
Perhaps a Marine, huddled here in the cold.
Alone in the dark, he looked up and smiled,
Standing watch over me, and my wife and my child.

"What are you doing?" I asked without fear,
"Come in this moment, it's freezing out here!
Put down your pack, brush the snow from your sleeve,
You should be at home on a cold Christmas Eve!"

For barely a moment I saw his eyes shift,
Away from the cold and the snow blown in drifts..
To the window that danced with a warm fire's light.
Then he sighed and he said "Its really all right,
I'm out here by choice. I'm here every night."

"It's my duty to stand at the front of the line,
That separates you from the darkest of times.
No one had to ask or beg or implore me,
I'm proud to stand here like my fathers before me.

My Gramps died at 'Pearl on a day in December,"
Then he sighed, "A Christmas Gram always remembers."
My dad stood his watch in the jungles of 'Nam',
And now it is my turn and so, here I am.

I've not seen my own son in more than a while,
But my wife sends me pictures, he's sure got her smile.
Then he bent and he carefully pulled from his bag,
The red, white, and blue... an American flag.

I can live through the cold and the being alone,
Away from my family, my house and my home.
I can stand at my post through the rain and the sleet,
I can sleep in a foxhole with little to eat.

I can carry the weight of killing another,
Or lay down my life with my sister and brother.
Who stand at the front against any and all,
To ensure for all time that this flag will not fall."

"So go back inside," he said, "harbor no fright,
Your family is waiting and I'll be all right."
"But isn't there something I can do, at the least,
"Give you money," I asked, "or prepare you a feast?
It seems all too little for all that you've done,
For being away from your wife and your son."

Then his eye welled a tear that held no regret,
"Just tell us you love us, and never forget.
To fight for our rights back at home while we're gone,
To stand your own watch, no matter how long.

For when we come home, either standing or dead,
To know you remember we fought and we bled.
Is payment enough, and with that we will trust,
That we mattered to you as you mattered to us."
Submitted by Eleanor, San Francisco, Calif.

Return to: Top of Page, Christmas Joke List, My Little Sister's Jokes,
---
So this is Christmas ... Download Power Point Slider Show

Submitted by Kenneth, Shropshire, England

Return to: Top of Page, Christmas Joke List, My Little Sister's Jokes,
---
Robert Chambers 'The Book of Days' - Christmas Day Traditions - Download MP3

Return to: Top of Page, Christmas Joke List, My Little Sister's Jokes,
---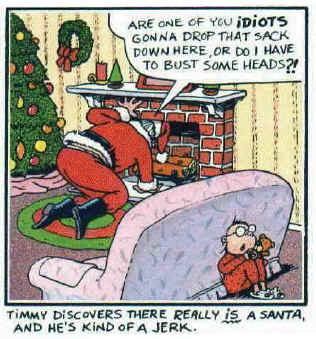 Return to: Top of Page, List of Photos, My Little Sister's Jokes,
---