Police Comments taken from actual police car videos
"Relax; the handcuffs are tight because they're new. They'll stretch out after you wear them awhile."
"Take your hands off the car, and I'll make your birth certificate a worthless document."
"If you run, you'll only go to jail tired."
"Can you run faster than 1200 feet per second? In case you didn't know, that is the average speed of a 9mm bullet fired from my gun."
"So you don't know how fast you were going. I guess that means I can write anything I want on the ticket, huh?"
"Yes, sir, you can talk to the shift supervisor, but I don't think it will help. Oh, did I mention that I am the shift supervisor?"
"Warning? You want a warning? O.K., I'm warning you not to do that again or I'll give you another ticket."
"The answer to this last question will determine whether you are drunk or not. Was Mickey Mouse a cat or a dog?"
"Fair? You want me to be fair? Listen, fair is a place where you go to ride on rides, eat cotton candy, and step in monkey DOO."
"Yeah, we have a quota. Two more tickets and my wife get's a toaster oven."
"No, sir, we don't have quotas anymore. We used to have quotas, but now we're allowed to write as many tickets as we want."
"Just how big were those two beers?"
"In God we trust, all others we run through CPIC/NCIC."
"I'm glad to hear the Chief of Police is a good personal friend of yours. At least you know someone who can post your bail."
And.................... THE BEST ONE !!!!!!!
"You didn't think we give pretty women tickets? You're right, we don't. Sign here."
Submitted by Bill, Ardmore, Pa.

Return to: Top of Page, List of Humorous Sayings, My Little Sister's Jokes,
---
Senior Dress Code
Many of us "Old Folks" (those over 60, WAY over 60, or hovering near 60) are quite confused about how we should present ourselves. We're unsure about the kind of image we are projecting and whether or not we are correct as we try to conform to current fashions. Despite what you may have seen on the streets, the following combinations DO NOT go together and should be avoided:
A nose ring and bifocals
Spiked hair and bald spots
A pierced tongue and dentures
Miniskirts and support hose
Ankle! Bracelets and corn pads
Speedo's and cellulite
A belly button ring and a gall bladder surgery scar
Unbuttoned disco shirts and a heart monitor
Midriff shirts and a midriff bulge
Bikinis and liver spots
Short shorts and varicose veins
Inline skates and a walker
And last, but not least . . My personal favorite:
Submitted by Bill, of the Willys

Return to: Top of Page, List of Jokes About Aging, My Little Sister's Jokes ,
---
You know you're in Arizona when ...
You no longer associate bridges (or rivers) with water.
You can say 110 degrees without fainting.
You eat hot chilies to cool your mouth off.
You can make instant sun tea.
You learn that a seat belt makes a pretty good branding iron.
The temperature drops below 95, you feel a bit chilly.
You discover that in July, it takes only 2 fingers to drive your car.
You discover that you can get a sunburn through your car window.
You notice the best parking place is determined by shade instead of distance.
Hot water now comes out of both taps.
It's noon in July, kids are on summer vacation, and not one person is out on the streets.
You actually burn your hand opening the car door.
You break a sweat the instant you step outside at 7:30 a.m. before work.
No one would dream of putting vinyl upholstery in a car or not having air conditioning.
Your biggest bicycle wreck fear is, "What if I get knocked out and end up lying on the pavement and cook to death?"
You realize that asphalt has a liquid state.
Return to: Top of Page, List of You Know You're From, My Little Sister's Jokes,
---
The Pope took a couple of days off to visit the mountains for some sightseeing.
He was cruising along the campground in the Popemobile when there was a frantic commotion just at the edge of the woods.
A helpless Democrat, wearing sandals, shorts, a "Save the Whales"/"Bush Lied" T-shirt and a tree hugger hat, was screaming while struggling frantically, thrashing around trying to free himself from the jaws of a 10 foot grizzly.
As the Pope watched horrified, a group of Republican loggers came racing up. One quickly fired a .44 magnum into the bear's chest. The other two reached up and pulled the bleeding semiconscious Democrat from the bear's grasp.
Then using long clubs, the three loggers finished off the bear and two of them threw it onto the bed of their truck while the other tenderly placed the injured Democrat in the back seat.
As they prepared to leave, the Pope summoned them to come over.
"I give you my blessing for your brave actions!" he told them. "I heard there was a bitter hatred between Republican loggers and Democratic environmental activists, but now I've seen with my own eyes that this is not true."
As the Pope drove off, one of the loggers asked his buddies "Who was that guy?"
"It was the Pope.", another replied, "He's in direct contact with God and has access to all God's wisdom."
"Well," the logger said, "he may have access to all God's wisdom but he sure doesn't know anything about bear hunting! By the way, is the bait holding up, or do we need to go back to town and snatch another one?"
Submitted by Dick, Williamsport, Md.

Return to: Top of Page, List of Political Jokes, My Little Sister's Jokes,
---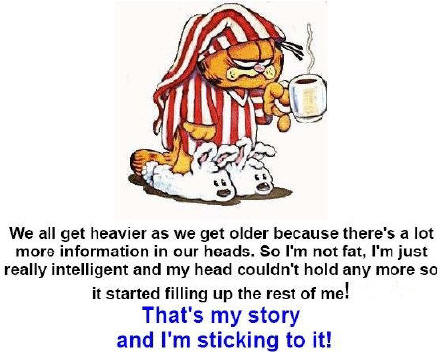 Submitted by Donna, Emmitsburg, Md.

Return to: Top of Page, List of Photos, My Little Sister's Jokes,
---