The real uses for common auto shop tools ...
Hammer: Originally employed as a weapon of war, the hammer nowadays is used as a kind of divining rod to locate expensive car parts not far from the object we are trying to hit.
Mechanic's Knife: Used to open and slice through the contents of cardboard cartons delivered to your front door; works particularly well on boxes containing convertible tops or tonneau covers.
Electric Hand Drill: Normally used for spinning steel Pop rivets in their holes until you die of old age, but it also works great for drilling rollbar mounting holes in the floor of a sports car just above the brake line that goes to the rear axle.
Pliers: Used to round off bolt heads.
Hacksaw: One of a family of cutting tools built on the Ouija board principle. It transforms human energy into a crooked, unpredictable motion, and the more you attempt to influence its course, the more dismal your future becomes.
Vis-grips: Used to round off bolt heads. If nothing else is available, they can also be used to transfer intense welding heat to the palm of your hand.
Oxyacetylene Torch: Used almost entirely for lighting those stale garage cigarettes you keep hidden in the back of the Whitworth socket drawer because you can never remember to buy lighter fluid for the Zippo lighter you got.
Zippo Lighter: See oxyacetylene torch.
Whitworth Sockets: Once used for working on older British cars and motorcycles, they are now used mainly for hiding six-month old Salems from the sort of person who would throw them away for no good reason.
Drill Press: A tall upright machine useful for suddenly snatching flat metal bar stock out of your hands so that it smacks you in the chest and flings your beer across the room, splattering it against the Rolling Stones poster over the bench grinder.
Wire Whell: Cleans rust off old bolts and then throws them somewhere under the workbench with the speed of light. Also removes fingerprint whorls and hard-earned guitar callouses in about the time it takes you to say, "Django Reinhardt".
Hydraulic Floor Jack: Used for lowering a Mustang to the ground after you have installed a set of Ford Motorsports lowered road springs, trappng the jack handle firmly under the front air dam.
Tweezers: A tool for removing wood splinters.
Phone: Tool for calling your neighbor Chris to see if he has another hydraulic floor jack.
Snap-On-Gasket Scrapper: Theoretically useful as a sandwich tool for spreading mayonnaise; used mainly for getting dog-doo off your boot.
E-Z Out Bolt and Stud Extractor: A tool that snaps off in bolt holes and is ten times harder than any known drill bit.
Timing Light: A stroboscopic instrument for illuminating grease buildup on crankshaft pulleys.
Two-Ton Hydraulic Engine Life: A handy tool for testing the tensile strength of ground straps and hydraulic clutch lines you may have forgotten to disconnect.
Craftsman 1/2 x 16-Inch Screwdriver: A large motor mount prying tool that inexplicably has an accurately machined screwdriver tip on the end without the handle.
Battery Electrolyte Tester: A handy tool for transferring sulfuric acid from a car battery to the inside of your toolbox after determining that your battery is dead as a doornail, just as you thought.
Tin Snips: See hacksaw.
Trouble Light: The mechanic's own tanning booth. Sometimes called a drop light, it is a good source of vitamin D, "the sunshine vitamin", which is not otherwise found under cars at night. Health benefits aside, its main purpose is to consume 40-watt light bulbs at about the same rate that 105-mm howitzer shells might be used during, say, the first few hours of the Battle of the Bulge. More often dark than light, its name is somewhat misleading.
Phillips Screwdriver: Normally used to stab the lids of old-style paper-and-tin oil cans and splash oil on your shirt; can also be used, as the name implies, to round off Phillips screw heads.
Air Compressors: A machine that takes energy produced in a coal-burning power plant 200 miles away and transforms it into compressed air that travels by hose to a Chicago Pneumatic impact wrench that grips rusty suspension bolts last tightened 40 years ago by someone in Abingdon, Oxfordshire, and rounds them off.
Return to: Top of Page, List of Jokes about Work, My Little Sister's Jokes,
---
Aviations Truisms ...
"The only time you have too much fuel is when you're on fire."
"Blue water Navy truism: There are more planes in the ocean than submarines in the sky." - an old carrier sailor
"If the wings are traveling faster than the fuselage, it's probably a helicopter -- and therefore, unsafe."
"When one engine fails on a twin-engine airplane you always have enough power left to get you to the scene of the crash."
"Without ammunition, the USAF would be just another expensive flying club."
"What is the similarity between air traffic controllers and pilots? If a pilot screws up, the pilot dies; If ATC screws up, the pilot dies."
"Never trade luck for skill."
"Weather forecasts are horoscopes with numbers."
"Progress in airline flying: now a flight attendant can get a pilot pregnant."
Airspeed, altitude and brains. Two are always needed to successfully complete the flight."
"A smooth landing is mostly luck; two in a row is all luck; three in a row is prevarication."
"I remember when sex was safe and flying was dangerous."
"Mankind has a perfect record in aviation; we never left one up there!"
"Flashlights are tubular metal containers kept in a flight bag for the purpose of storing dead batteries."
"Flying the airplane is more important than radioing your plight to a person on the ground incapable of understanding or doing anything about it."
"When a flight is proceeding incredibly well, something was forgotten."
"Just remember, if you crash because of weather, your funeral will be held on a sunny day."
Advice given to RAF pilots during WWII: "When a prang (crash) seems inevitable, endeavor to strike the softest, cheapest object in the vicinity as slow and gently as possible."
"The Piper Cub is the safest airplane in the world; it can just barely kill you." - Attributed to Max Stanley (Northrop test pilot)
"A pilot who doesn't have any fear probably isn't flying his plane to its maximum." - Jon McBride, astronaut
"If you're faced with a forced landing, fly the thing as far into the crash as possible." - Bob Hoover (renowned aerobatic and test pilot)
"Never fly in the same cockpit with someone braver than you."
"There is no reason to fly through a thunderstorm in peacetime." - Sign over squadron ops desk at Davis-Monthan AFB, AZ, 1970
"If something hasn't broken on your helicopter, it's about to."
Basic Flying Rules: "Try to stay in the middle of the air. Do not go near the edges of it. The edges of the air can be recognized by the appearance of ground, buildings, sea, trees and interstellar space. It is much more difficult to fly there."
"You know that your landing gear is up and locked when it takes full power to taxi to the terminal."
"Whoever said the pen is mightier than the sword obviously never encountered automatic weapons." - General MacArthur
"You, you, and you ... Panic. The rest of you, come with me." - U.S. Marine Corp Gunnery Sgt.
"Though I Fly Through the Valley of Death ... I Shall Fear No Evil. For I am at 80,000 Feet and Climbing." - At the entrance to the old SR-71 operating base Kadena, Japan
"You've never been lost until you've been lost at Mach 3." - Paul F. Crickmore (test pilot)
Submitted by Larry, Walkersville, Md.
Return to: Top of Page, List of Humorous Sayings, My Little Sister's Jokes,
---
Quotes from our esteemed leader - George Bush
"The vast majority of our imports come from outside the country."
"If we don't succeed, we run the risk of failure."
"One word sums up probably the responsibility of any Governor, and that one word is 'to be prepared'."
"I have made good judgments in the past. I have made good judgments in the future."
"The future will be better tomorrow."
"We're going to have the best educated American people in the world."
"I stand by all the misstatements that I've made."
"We have a firm commitment to NATO, we are a part of NATO. We have a firm commitment to Europe. We are a part of Europe."
"Public speaking is very easy."
"A low voter turnout is an indication of fewer people going to the polls."
"We are ready for any unforeseen event that may or may not occur."
"For NASA, space is still a high priority."
"Quite frankly, teachers are the only profession that teach our children."
"It isn't pollution that's harming the environment. It's the impurities in our air and water that are doing it."
"It's time for the human race to enter the solar system."
Submitted by Bill, Narberth, Pa.
Return to: Top of Page, List of Political Jokes, My Little Sister's Jokes,
---
God said, "Adam, I want you to do something for me."
Adam said, "Gladly, Lord, what do You want me to do?"
God said, "Go down into that valley."
Adam said, "What's a valley?"
God explained it to him.
Then God said, "Cross the river."
Adam said, "What's a river?"
God explained that to him, and then said, "Go over to the hill......."
Adam said, "What is a hill?"
So, God explained to Adam what a hill was.
He told Adam, "On the other side of the hill you will find a cave"
Adam said, "What's a cave?"
After God explained, he said, "In the cave you will find a Woman."
Adam said, "What's a woman?"
So God explained that to him, too.
Then, God said, "I want you to reproduce."
Adam said, "How do I do that?"
God first said (under his breath), "Geez....."
And then, just like everything else, God explained that to Adam, as well.
So, Adam goes down into the valley, across the river, and over the hill, into the cave, and finds the woman.
Then, in about five minutes, he was back.
God, his patience wearing thin, said angrily, "What is it now?"
And Adam said "What's a headache?
Submitted by Dick, Williamsport, MD.
Return to: Top of Page, List of Jokes About Marriage, My Little Sister's Jokes,
---
Don't mess with Seniors ...
Down load video
Submitted by Larry, Walkersville, Md.

Return to: Top of Page, List of Audio/Videos, My Little Sister's Jokes,
---
When cloning goes bad, Take 4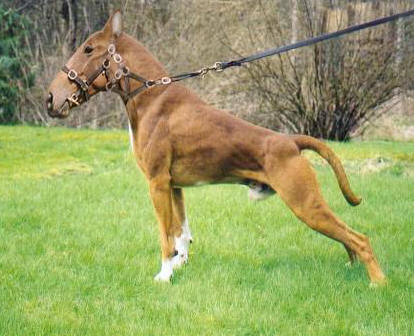 Submitted by Don, Hagerstown, Md.

Return to: Top of Page, List of Photos, My Little Sister's Jokes,
---