There was a man who worked for the Post Office ...
... whose job it was to process all the mail that had illegible addresses. One day, a letter came addressed in a shaky handwriting to God. He thought he should open it to see what it was about. The letter read:
Dear God, I am an 83 year old widow, living on a very small pension. Yesterday someone stole my purse. It had $100 in it, which was all the money I had until my next pension check. Next Sunday is Christmas, and I had invited two of my friends over for dinner. Without that money, I have nothing to buy food with. I have no family to turn to, and you are my only hope. Can you please help me?

Sincerely, Edna
The postal worker was touched. He showed the letter to all the other workers. Each one dug into his or her wallet and came up with a few dollars. By the time he made the rounds, he had collected $96, which they put into an envelope and sent to the woman. The rest of the day, all the workers felt a warm glow thinking of Edna and the dinner she would be able to share with her friends. Christmas came and went. A few days later, another letter came from the old lady to God. All the workers gathered around while the letter was opened. It read,
Dear God, How can I ever thank you enough for what you did for me? Because of your gift of love, I was able to fix a glorious dinner for my friends. We had a very nice day and I told my friends of your wonderful gift. By the way, there was $4 missing. I think it must have been those thieving bastards at the Post Office.

Sincerely yours Edna.
Submitted by Lindsey, Melbourne, Australia.

Return to: Top of Page, Clean Joke List, My Little Sister's Jokes,
---
Paddy had been drinking at his local Dublin pub all day and most of the night.
Mick, the bartender, says "You'll not be drinking any more tonight, Paddy"
Paddy replies "OK Mick, I'll be on me way then." Paddy spins around on his stool and steps off. He falls flat on his face. "Shoite" he says and pulls himself up by the stool and dusts himself off. He takes a step towards the door and falls flat on his face. "Shoite, Shoite!" He looks to the doorway and thinks to himself that if he can just get to the door and some fresh air he'll be fine. He belly crawls to the door and shimmies up to the door frame. He sticks his head outside and takes a deep breath of fresh air, feels much better and takes a step out onto the sidewalk. He falls flat on his face. "Bi'Jesus..." he says. He can see his house just a few doors down, and crawls to the door and shimmies up the door frame, opens the door and shimmies inside. He takes a look up the stairs and says "No way!" He crawls up the stairs to his bedroom door and says "If I can just make it to me bed." He takes a step into the room and falls flat on his face. Eventually he makes it to his bed and falls into it.
The next morning, his wife, Jess, comes into the room carrying a cup of coffee and says, "Get up Paddy. Did you have a bit to drink last night?".
Paddy says, "I did Jess. I was drunk. But how'd you know?"
"Mick called. You left y'wheelchair at the pub."
Submitted by Bill, Narberth, Pa.

Return to: Top of Page, List of Drinking Jokes, My Little Sister's Jokes,
---
Why Computers Sometimes Crash! by Dr. Seuss.
If a packet hits a pocket on a socket on a port, and the bus is interrupted at a very last resort, and the access of the memory makes your floppy disk abort, then the socket packet pocket has an error to report.
If your cursor finds a menu item followed by a dash, and the double-clicking icon puts your window in the trash, and your data is corrupted cause the index doesn't hash, then your situation's hopeless and your system's gonna crash!
If the label on the cable on the table at your house, says the network is connected to the button on your mouse, but your packets want to tunnel to another protocol, that's repeatedly rejected by the printer down the hall.
And your screen is all distorted by the side effects of gauss, so your icons in the window are as wavy as a souse; then you may as well reboot and go out with a bang, 'cuz sure as I'm a poet, the sucker's gonna hang.
When the copy on your floppy's getting sloppy in the disk, and the macro code instructions are causing unnecessary risk, then you'll have to flash the memory and you'll want to RAM your ROM, and then quickly turn off the computer and be sure to tell your Mom!
Well, that certainly clears things up for me. How about you?
Submitted by Sr. Wink, Younkers, NY.
Return to: Top of Page, Computer Joke List, My Little Sister's Jokes,
---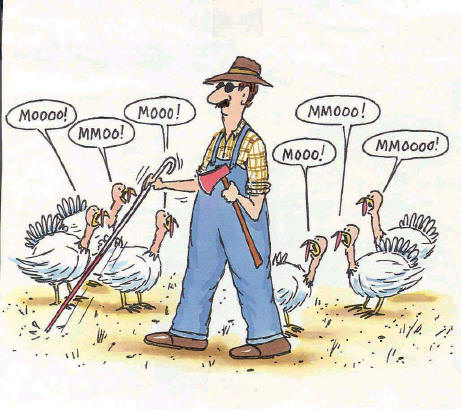 Submitted by Don, Hagerstown, Md.

Return to: Top of Page, List of Photos, My Little Sister's Jokes,
---