A man was observing his wife turning back and forth, looking at herself in the mirror.
Since her birthday was not far off he asked what she'd like to have for her Birthday. I'd like to be six again, she replied, still looking in the mirror.
On the morning of her Birthday, he arose early, made her a nice big bowl of Lucky Charms, and then took her to Six Flags theme park. What a day!
He put her on every ride in the park: the Death Slide, the Wall of Fear, and the Screaming Monster Roller Coaster, everything there was.
Five hours later they staggered out of the theme park. Her head was reeling and her stomach felt upside down. He then took her to a McDonald's where he ordered her a Happy Meal with extra fries and a chocolate shake. Then it was off to a movie, popcorn, a soda pop, and her favorite candy, M&M's.
What a fabulous adventure! Finally she wobbled home with her husband and collapsed into bed exhausted. He leaned over his wife with a big smile and lovingly asked, "Well Dear, what was it like being six again?"
Her eyes slowly opened and her expression suddenly changed. "I meant my dress size, you idiot!!!"
The moral of the story: Even when a man is listening, he is gonna get it wrong.
Submitted by Cindy

Return to: Top of Page, List of Jokes About Men, My Little Sister's Jokes,
---
Hans Grapje was raised in a Catholic school in The Hague ...
... and as a young man aspired to become a priest. However, he was drafted into the Army during WWII and spent two years co-piloting B17s until his aircraft was shot down in 1943, resulting in the loss of his left arm. Captain Grapje spent the rest of the war as a military chaplain, giving spiritual aid to soldiers, both Allied and enemy.
After the war, he became a priest, serving as a missionary in Africa, piloting his own plane (in spite of his handicap) to villages across the continent. In 1997, Father Grapje (now an Archbishop) was serving in Zimbabwe when an explosion in a silver mine caused a massive cave-in trapping scores of miners deep in the earth. Archbishop Grapje went down into the mine to administer comfort and last rites to those too severely injured to move. While underground another shaft collapsed and he was buried for three days, suffering multiple injuries, including the loss of his right eye. Some time after being rescued, he developed a severe (but rare) condition known as purpura. This condition is the result of extensive underground time and exposure to the high silver content in the mine's air. It is characterized by purplish skin blotches and is found in many life-long silver miners. For his heroism and
selfless service to others, the church elevated him to Cardinal.
With the passing of Pope John Paul II, he joined the other Cardinals in Rome for the funeral and the conclave to select a new Pope from their ranks. Although Cardinal Grapje devoted his life to the service of God as a scholar, mentor and holy man; church leaders agree he will never ascend to the Papacy.
After all, no one wants a one-eyed, one-armed, flying purple Papal leader.
Submitted by Andy, Gettysburg, PA.

Return to: Top of Page, Groaner Joke List, My Little Sister's Jokes,
---
I have recently been diagnosed with A.A.A.D.D.! Age Activated Attention Deficit Disorder

This is how it goes: I decide to wash the car; I start toward the garage and notice the mail on the table. OK, I'm going to wash the car. But first I'm going to go through the mail. I lay the car keys down on the desk, discard the advertising mail and I notice the trash can is full. OK, I'll just put the bills on my desk and take the trash can out, but since I'm

going to be near the mailbox anyway, I'll pay these few bills first.

Now, where is my checkbook? Oops, there's only one check left. My extra checks are in my desk. Oh, there's the coke I was drinking. I'm going to look for those checks. But first I need to put my coke further away from the computer, oh maybe I'll pop it into the fridge to keep it cold for a while.

I head towards the kitchen and my flowers catch my eye, they need some water. I set the coke on the counter and ooh oh! There are my glasses. I was looking for them all morning! I'd better put them away first. I fill a container with water and head for the flower pots - - Aaaaaagh!

Someone left the TV remote in the kitchen. We'll never think to look in the kitchen tonight when we want to watch television so I'd better put it back in the family room where it belongs.

I splash some water into the pots and onto the floor, I throw the remote onto a soft cushion on the sofa and I head back down the hall trying to figure out what it was I was going to do?

End of Day: The car isn't washed, the bills are unpaid, the coke is sitting on the kitchen counter, the flowers are half watered, the checkbook still only has one check in it and I can't seem to find my car keys! When I try to figure out how come nothing got done today,

I'm baffled because I KNOW I WAS BUSY ALL DAY LONG!!! I realize this is a serious condition and I'll get help, BUT FIRST I think I'll check my e-mail...

Submitted by Marianne, Columbia, Md.

Return to: Top of Page, List of Jokes About Aging, My Little Sister's Jokes ,
---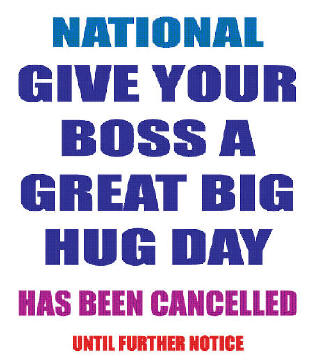 Submitted by Jeff, Visalia, CA

Return to: Top of Page, List of Photos, My Little Sister's Jokes,
---