A Russian wrestler and an Newfoundland wrestler were set to square off ...
Before the final match, the Newfie wrestler's trainer came to him and said, "Now, don't forget all the research we've done on this Russian. He's never lost a match because of this 'pretzel hold' he has, so whatever you do, don't let him get you in that hold! If he does, you're finished!" The Newfie nodded in acknowledgment.
As the match started, the Newfie and the Russian circled each other several times, looking for an opening. All of a sudden, the Russian lunged forward, grabbing the Newfie and wrapping him up in the dreaded pretzel hold. A sigh of disappointment arose from the crowd and the trainer buried his face in his hands, for he knew what was lost. He just couldn't watch the inevitable happen. Suddenly, there was a scream, and then a cheer from the crowd. The trainer raised his eyes just in time to watch the Russian go flying up in the air. His back hit the mat with a thud and the Newfoundlander collapsed on top of him making the pin and winning the match. The trainer was astounded.
When he finally got his wrestler alone, he asked, "How did you ever get out of that hold? No one has ever done that before!"
The wrestler answered, "Well, I was ready to give up when he got me in that hold, but at the last moment, I opened my eyes and saw this pair of testicles right in front of my face. I had nothing to lose, so with my last ounce of strength, I stretched out my neck and bit those babies just as hard as I could."
"So," the trainer exclaimed, "That's what finished him off!"
"Not really," said the wrestler. "You'd be amazed how strong you get when you bite your own testicles."
Submitted by Dick, Williamsport, Md.

Return to: Top of Page, Clean Joke List, My Little Sister's Jokes,
---
Actual business signs ...
On a Septic Tank Truck in Oregon: Yesterday's Meals on Wheels
On a Septic Tank Truck sign: "We're #1 in the #2 business."
Sign over a Gynecologist's Office: "Dr. Jones, at your cervix."
At a Proctologist's door "To expedite your visit please back in."
On a Plumber's truck: "We repair what your husband fixed."
On a Plumber's truck: "Don't sleep with a drip. Call your plumber.."
Pizza Shop Slogan: "7 days without pizza makes one weak."
At a Tire Shop in Milwaukee! "Invite us to your next blowout."
On a Plastic Surgeon's Office door "Hello. Can we pick your nose?"
At a Towing company: "We don't charge an arm and a leg. We want tows."
On an Electrician's truck: "Let us remove your shorts."
In a Nonsmoking Area: "If we see smoke, we will assume you are on fire and take appropriate action."
On a Maternity Room door: "Push. Push. Push"
At an Optometrist's Office "If you don't see what you're looking for, you've come to the right place."
On a Taxidermist's window: "We really know our stuff."
In a Podiatrist's office: "Time wounds all heels."
On a Fence: "Salesmen welcome! Dog food is expensive."
At a Car Dealership: "The best way to get back on your feet -- miss a car payment."
Outside a Muffler Shop: "No appointment necessary. We hear you coming."
In a Veterinarian's waiting room: "Be back in 5 minutes. Sit! Stay!"
At the Electric Company: "We would be delighted if you send in your payment. However, if you don't, you will be."
In a Restaurant window: "Don't stand there and be hungry, Come on in and get fed up."
In the front yard of a Funeral Home: "Drive carefully. We'll wait."
At a Propane Filling Station, "Thank heaven for little grills."
And don't forget the sign at a Chicago Radiator Shop: "Best place in town to take a leak."
Submitted by Bill, Narberth, Pa.

Return to: Top of Page, List of Humorous Sayings, My Little Sister's Jokes,
---
A New Orleans lawyer sought an FHA loan for a client.
He was told the loan would be granted if he could prove satisfactory title to a parcel of property being offered as collateral. The title to the property dated back to 1803, which took the Lawyer three months to track down. After sending the information to the FHA, he received the following reply
(Actual letter):
"Upon review of your letter adjoining your client's loan application, we note that the request is supported by an Abstract of Title. While we compliment the able manner in which you have prepared and presented the application, we must point out that you have only cleared title to the proposed collateral property back to 1803. Before final approval can be accorded, it will be necessary to clear the title back to its origin."
Annoyed, the lawyer responded as follows (actual letter):
"Your letter regarding title in Case No. 189156 has been received. I note that you wish to have title extended further than the 194 years covered by the present application. I was unaware that any educated person in this country, particularly those working in the property area, would not know that Louisiana was purchased, by the U.S., from France in 1803, the year of origin identified in our application. For the edification of uninformed FHA bureaucrats, the title to the land prior to U.S. ownership was obtained from France, which had acquired it by Right of Conquest from Spain. The land came into the possession of Spain by Right of Discovery made in the year 1492 by a sea captain named Christopher Columbus, who had been granted the privilege of seeking a new route to India by the Spanish monarch, Isabella.
The good queen, Isabella, being a pious woman and almost as careful about titles as the FHA, took the precaution of securing the blessing of the Pope before she sold her jewels to finance Columbus' expedition. Now the Pope, as I'm sure you may know, is the emissary of Jesus Christ, the Son of God, and God,it is commonly accepted, created this world. Therefore, I believe it is safe to presume that God also made that part of the world called Louisiana.
God, therefore, would be the owner of origin and His origins date back, to before the beginning of time, the world as we know it AND the FHA. I hope you find God's original claim to be satisfactory. Now, may we have our damn loan?"
The loan was approved.
Submitted by Vicki, Downingtown, Pa.
Return to: Top of Page, List of Funny Stories, My Little Sister's Jokes,
---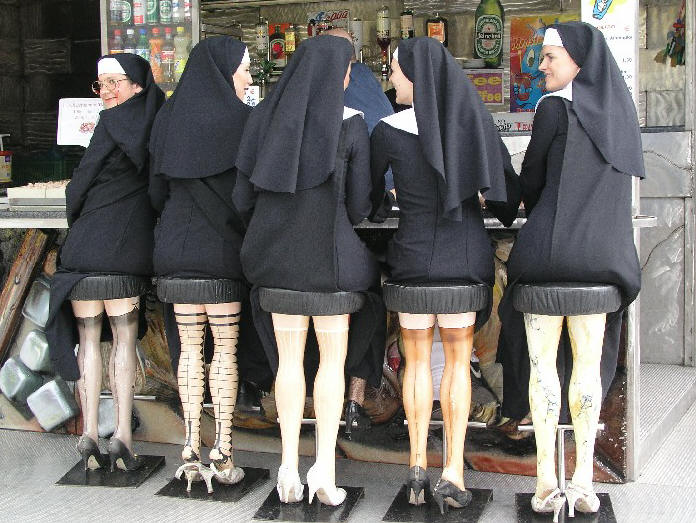 Return to: Top of Page, List of Photos, My Little Sister's Jokes,
---