Christian one-liners ...
"Don't let your worries get the best of you. Remember, Moses started out as a basket case"
Some people are kind, polite, and sweet-spirited - until you try to sit in their pews.
Many folks want to serve God, but only as advisors
It is easier to preach ten sermons than it is to live one.
The good Lord didn't create anything without a purpose, but mosquitoes and sand gnats come close
When you get to your wit's end, you'll find God lives there.
People are funny, they want the front of the bus, the middle of the road, and the back of the church.
Opportunity may knock once, nut temptation bangs on your front door forever.
Quit griping about your church; if it was perfect, you couldn't belong.
If the church wants a better preacher, it only needs to pray for the one it has.
God Himself does not propose to judge a man until he is dead. So why should you?
Some minds are like concrete, thoroughly mixed up and permanently set.
Peace starts with a smile.
I don't know why some people change churches; what difference does it make which one you stay home from?
A lot of church members who are singing "Standing on the Promises" are just sitting on the premises.
We were called to be witnesses, not lawyers or judges
Be ye fishers of men. You catch them - He'll clean them.
Coincidence is when God chooses to remain anonymous.
Don't put a question mark where God put a period.
Don't wait for 6 strong men to take you to church.
Forbidden fruits create many jams.
God doesn't call the qualified, He qualifies the called.
God grades on the cross, not the curve
God loves everyone, but probably prefers "fruits of the spirit" over "religious nuts!"
God promises a safe landing, not a calm passage.
He who angers you, controls you!
If God is your Copilot - swap seats!
Prayer: Don't give God instructions -- just report for duty!
The task ahead of us is never as great as the Power behind us.
The Will of God will never take you to where the Grace of God will not protect you.
We don't change the message, the message changes us.
You can tell how big a person is by what it takes to ........ discourage him.
The best mathematical equation I have ever seen: 1 cross + 3 nails = 4 given.
Submitted by Sandy, Germantown, Md.

Return to: Top of Page, List of Religious Jokes, My Little Sister's Jokes,
---
A man goes to see his doctor ...
... The doctor asks what is wrong and the man says, "Doctor, I think I'm a moth."

To this the doctor responds, "You think you're a moth? Well I don't think you need a doctor. Sounds like what you need is a therapist."

"Yeah I know," replies the patient. "I was on my way to see a therapist, but I came in here because I saw your light was on."
Submitted by Jim, West Lafayette, IN

Return to: Top of Page, Groaner Joke List, My Little Sister's Jokes,
---
A very successful lawyer parked his brand-new Lexus in front of his office ..
... ready to show it off to his colleagues. As he got out, a truck passed too close and tore off the door on the driver's side. The lawyer immediately grabbed his cell phone, dialed 911, and within minutes a policeman pulled up. Before the officer had a chance to ask any questions, the lawyer started screaming hysterically. His Lexus, which he had just picked up the day before, was now completely ruined no matter what the body shop did to it.
When the lawyer finally wound down from his ranting and raving, the officer shook his head in disgust and disbelief. "I can not believe how materialistic you lawyers are," the cop said. "You are so focused on your possessions that you don't notice anything else."
"How can you say such a thing?" asked the lawyer.
The cop replied, "Don't you know that your left arm is missing from the elbow down? It must have been torn off when the truck hit you."
"My God!" screamed the lawyer. "My Rolex!"
Submitted by Dick, Williamsport, Md
Return to: Top of Page, List of Lawyer Jokes, My Little Sister's Jokes,
---
Take a look at the two birds below. Study them closely and watch their habits ...
See if you can spot which of the two is the female. It can be done. Even by one with no skills whatsoever in bird watching.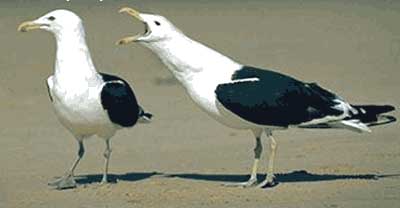 Return to: Top of Page, List of Jokes About Marriage, My Little Sister's Jokes,
---