Gift Wrapping Tips for Men
This is the time of year when we think back to the very first Christmas, when the Three Wise Men -- Gaspar, Balthazar, & Herb -- went to see the baby Jesus &, according to the Book of Matthew, "presented unto Him gifts; gold, frankincense, & myrrh."
These are simple words, but if we analyze them carefully, we discover an important, yet often overlooked, theological fact: there is no mention of wrapping paper.
If there had been wrapping paper, Matthew would have said so: "And lo, the gifts were inside 600 square cubits of paper. And the paper was festooned with pictures of Frosty the Snowman. And Joseph was going to throweth it away, but Mary saideth unto him, she saideth, 'Holdeth it! That is nice paper! Saveth it for next year!' And Joseph did rolleth his eyeballs. And the baby Jesus was more interested in the paper than the frankincense."
But these words do not appear in the Bible, which means that the very first Christmas gifts were NOT wrapped. This is because the people giving those gifts had two important characteristics:
1. They were wise.
2. They were men.
Men are not big gift wrappers. Men do not understand the point of putting paper on a gift just so somebody else can tear it off. This is not just my opinion, this is a scientific fact based on a statistical survey of two guys I know. One is Rob, who said the only time he ever wraps a gift is "if it's such a poor gift that I don't want to be there when the person opens it." The other is Gene, who told me he does wrap gifts, but as a matter of principle never takes more than 15 seconds per gift. "No one ever had to wonder which presents daddy wrapped at Christmas," Gene said. "They were the ones that looked like enormous spitballs."
I also wrap gifts, but because of some defect in my motor skills, I can never completely wrap them. I can take a gift the size of a deck of cards & put it the exact center of a piece of wrapping paper the size of a regulation volleyball court, but when I am done folding & taping, you can still see a sector of the gift peeking out. (Sometimes I camouflage this sector with a marking pen.) If I had been an ancient Egyptian in the field of mummies, the lower half of the Pharaoh's body would be covered only by Scotch tape.
On the other hand, if you give my wife a 12-inch square of wrapping paper, she can wrap a C-130 cargo plane. My wife, like many women, actually likes wrapping things. If she gives you a gift that requires batteries, she wraps the batteries separately, which to me is very close to being a symptom of mental illness. If it were possible, my wife would wrap each individual volt.
My point is that gift-wrapping is one of those skills like having babies that come more naturally to women than to men. That is why today I am presenting:
Gift Wrapping Tips for Men:
Whenever possible, buy gifts that are already wrapped. If, when the recipient opens the gift, neither one of you recognizes it, you can claim that it's myrrh.
The editors of Woman's Day magazine recently ran an item on how to make your own wrapping paper by printing a design on it with an apple sliced in half horizontally & dipped in a mixture of food coloring & liquid starch. They must be smoking crack. If you're giving a hard-to-wrap gift, skip the wrapping paper! Just put it inside a bag & stick one of those little adhesive bows on it. This creates a festive visual effect that is sure to delight the lucky recipient on Christmas morning:
YOUR WIFE: Why is there a Hefty trash bag under the tree?
YOU: It's a gift! See? It has a bow!
YOUR WIFE (peering into the trash bag): It's a leaf blower.
YOU: Gas-powered! Five horsepower!
YOUR WIFE: I want a divorce.
YOU: I also got you some myrrh.
In conclusion, remember that the important thing is not what you give, or how you wrap it. The important thing, during this very special time of year, is that you save the receipt.
Submitted by Patty, Ringos, NJ.

Return to: Top of Page, Christmas Joke List, My Little Sister's Jokes,
---
Who started Christmas?
This morning I heard a story on the radio of a woman who was out Christmas shopping with her two children. After many hours of looking at row after row of toys and everything else imaginable. And after hours of hearing both her children asking for everything they saw on those many shelves, she finally made it to the elevator with her two kids.
She was feeling what so many of us feel during the holiday season time of the year. Overwhelming pressure to go to every party, every housewarming, taste all the holiday food and treats, getting that perfect gift for every single person on our shopping list, making sure we don't forget anyone on our card list, and the pressure of making sure we respond to everyone who sent us a card.
Finally the elevator doors opened and there was already a crowd in the car. She pushed her way into the car and dragged her two kids in with her and all the bags of stuff. When the doors closed she couldn't take it anymore and stated, "Whoever started this whole Christmas thing should be found, strung up and shot.
"From the back of the car everyone heard a quiet calm voice respond, "Don't worry we already crucified him."
For the rest of the trip down the elevator it was so quiet you could have heard a pin drop.
Don't forget this year to keep the One who started this whole Christmas thing in your every thought, deed, purchase, and word. If we all did it, just think of how different this whole world would be.
Submitted by Dick, Williamsport, Md.
Return to: Top of Page, Christmas Joke List, My Little Sister's Jokes,
---
It was just a Christmas Angel, that my Mom put on our tree.
She bought it at a five and dime, when I was only three. Each year we'd trim our Christmas tree, with lights and ornaments. Then Mom would always tell me, what the Angel represents.
The Angels came to tell the shepherds, of the Christ Child's birth. And, Angels are still here with us, to guide us here on earth. The Angel on our Christmas tree, was made in such a way. That if the light inside burned out, you just threw it away.
The light burned out when I was twelve, the Angel would not shine. But, Mom would not throw it away, she said it looked just fine. She loved that little Angel, that she put upon our tree. She said it didn't need a light, for anyone to see.
Then I grew up, and I moved out to start my family. And, I'd go home at Christmas time, to help her trim her tree. My wife and children went with me, to mom's house every year. The house was filled with love and joy, as we shared Christmas cheer.
The kids would always say to her, "The Angel is burned out." Then, she would smile and tell them, what the Angel's all about. She told another reason, for it's specialty. Your daddy picked that Angel out, when he was only three.
My mother passed away this year, early in the spring. And then I had the painful task, of going through her things. The beautiful old house she owned, was left me in her will. We moved back in the summertime, we feel her in it still.
Early in December, we brought out our Christmas tree. I went up to the attic, just to see what I could see. I saw a cardboard box, with markings, "Ornaments and stuff." And in it was the little Angel, that she loved so much.
I brought the cardboard box downstairs, and showed the family. Then they persuaded me to put the Angel on our tree. We trimmed the tree that weekend, and we talked of Christmas past. Then when the tree was finally done, the Angel went on last.
Every night till Christmas, all the lights were burning bright. Except the little Angel, that had long burned out her light. Then on Christmas morning, I arose before the rest. I had to have my coffee, to be at my very best.
I walked into the living room, my coffee cup in hand. Then what I saw, so puzzled me, I could not understand. I just stood in silence, as, my eyes filled up with tears. The little angel was all aglow, that had been dark for many years.
Submitted by Andy, Gettysburg, Pa.

Return to: Top of Page, Christmas Joke List, My Little Sister's Jokes,
---
'Twas the night before Christmas, and all through the shack,
not a darn thing was a movin', from the front to the back.

The kids were in bed, ...we had nine at the time,
The wife in her curlers, was lookin' real fine.

A cold wind was blowin', up the holler it moaned,
All ten dogs on the porch howled and groaned.

The boys were all dreamin' of dogs and guns,
for hunt'en God's creatures, .....there's no better fun!

The girls in their feminine dreams were attuned,
to getting those gallons of Wal-Mart perfume.

The wife wanted jewelry, like rings with big rocks,
I just wanted my pickup down off the blocks.

Then out in the yard, such a noise did commence,
like something was caught in our new 'bobwar' fence.

I ran to the window, and saw pretty quick,
the man makin' that racket, was Good Ol' St. Nick.

You may think of Santa in your own mind's eye,
dressed in a red and white suit, but, I've got a surprise.

That old boy's an Arkie, from up near Mt. Gaylor,
He married his cousin, and they live in a trailer.

On Christmas, of course, a sleigh for his rig,
He hooks the thing up to Razorback pigs!

He climbed on the roof, with his bag full of goodies,
He backed down the fireplace, all dirty and sooty.

Fat legs in his britches, chubby hands in his mittens,
I must admit from the back, he looked like Bill Clinton.

He turned toward the tree, His eyes all aglow,
He was an Arkansas boy from his head to his toe.

His neck was a red one, His shirt said "Lite Beer",
he had no red hat on, but his cap read "John Deere".

He left all the presents, with an air of delight,
Then it was back to the chimney, and away in the night.

He fell in the yard, threw his bag in the sleigh,
Then he yelled at the dogs, "Get the heck out th' way!"

I ran out to ask him Why he brought such good cheer;
But instead he just asked me, "Did you get you a deer?"

Then I heard him exclaim, as those pigs took to flight,
"Merry Christmas to all..... an to all, a good night!"
Submitted by Bill, Narberth, Pa.
Return to: Top of Page, Christmas Joke List, My Little Sister's Jokes,
---
T'was the Night Before Christmas ...
'Twas the night before Christmas and all through the house
Not a creature was stirring, except me and my spouse

The stockings were empty, no presents were wrapped
We were way behind schedule and our resources tapped

The children were nestled all snug in the beds,
While the horrors of assembling danced in our heads

Dad armed with a screwdriver, ready and poised
To build a red trike for one of our boys.

When off in the hall there arose a strange noise
We dove over boxes to hide all the toys

The thud, it turned out, was our dumb puppy Paul
Who was chasing the cat and ran into the wall

Back to his task, Dad cursed at his mess
I suspect he was lost, but he'd never confess

He wrestled with parts and fumbled with tools
Emailed the manufacturer and called them all fools

After hours of struggle, the bike finally took shape,
With a few cuts and bruises and the aid of duct tape

He stood back and gaped at the bike he just built
It weaved and it wobbled and rolled with a tilt.

His frustration grew; his voice shook as he spoke
"The directions are Greek, it's all a sick joke."

At this point he snapped, his thinking unclear
He'll do something stupid; this was my big fear.

He grabbed each toy's instructions, oh why won't he learn,
Tossed them into the fire, chanting "burn baby burn"

"Burn Disney, burn Huffy, to blazes with you
Burn Fisher Price, Playskool and Hasbro, too"

As smoke filled the room, this was his first clue
That in a moment of haste, he had neglected the flue

To the top of the mantle, to the top of the wall
A black cloud developed and ash settled on all

Soot landed on stockings and covered the tree
And gave a look of charcoal to all we could see

The firemen came, dressed in yellow, like sun
Seems the neighbors saw smoke and dialed 9-1-1

Out came the axe, out came the hoses
Out came a Dalmatian who trampled my roses.

"There's no trouble here," I swore up and down
Realizing this faux pas would soon be 'round town

"My husband's a good man," I tried to explain
"The instructions weren't clear. It drove him insane"

The fire chief nodded and gathered his crew
Hopped onto their truck and away they all flew

But I heard them converse as they drove out of sight
"Her husband's the third jerk who's done that tonight!"
Submitted by Patty, Leasburg, Va.
Return to: Top of Page, Christmas Joke List, My Little Sister's Jokes,
---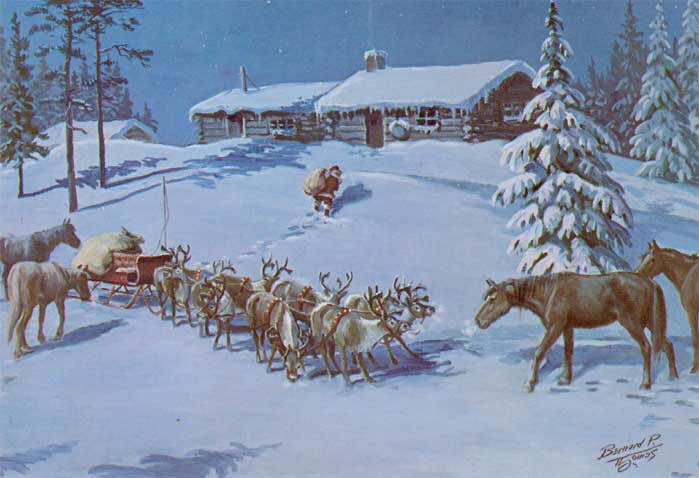 Merry Christmas from the staff at My Little Sister's Jokes & Emmitsburg.net

---