A good-ole-boy staggered home late after another evening with his drinking buddies.
Shoes in left hand to avoid waking his wife, he tiptoed as quietly as he could toward the stairs leading to their upstairs bedroom, but misjudged the bottom step in the darkened entryway. As he caught himself by grabbing the banister, his body swung around and he landed heavily on his rump.
A whiskey bottle in each back pocket broke and made the landing especially painful. Managing to suppress a yelp, he sprung up, pulled down his pants and examined his lacerated and bleeding cheeks in the mirror of a nearby darkened hallway, then managed to find a large full box of band aids before proceeding to place a patch as best he could on each place he saw blood. After hiding the now almost empty box, he managed to shuffle and stumble his way to bed.
Morning, he awakens with screaming pain in head and butt to find his wife staring at him from across the room, and hears her say: "You were drunk again last night!!!"
Forcing himself to ignore his agony, he looked meekly at her and replied: "Now Hon, why would you say such a mean thing?"
"Well," she said, "there is the front door left open, the glass at the bottom of the stairs, the drops of blood trailing through the house, and your bloodshot eyes but, mostly....it's all those band aids stuck on the downstairs mirror!"
Submitted by Debbie, Middletown, Md

Return to: Top of Page, List of Redneck Jokes, My Little Sister's Jokes,
---
Some reflections on aging:
Eventually you will reach a point when you stop lying about your age and start bragging about it.
The older we get, the fewer things seem worth waiting in line for.
Some people try to turn back their odometers. Not me, I want people to know "why" I look this way. I've traveled a long way and some of the roads weren't paved.
How old would you be if you didn't know how old you are?
When you are dissatisfied and would like to go back to youth, think of Algebra.
You know you are getting old when everything either dries up or leaks.
I don't know how I got over the hill without getting to the top.
One of the many things no one tells you about aging is that it is such a nice change from being young.
Ah, being young is beautiful, but being old is comfortable.
Old age is when former classmates are so gray and wrinkled and bald, they don't recognize you.
If you don't learn to laugh at trouble, you won't have anything to laugh at when you are old.
First you forget names, then you forget faces. Then you forget to pull up your zipper. It's worse when you forget to pull it down.
Long ago when men cursed and beat the ground with sticks, it was called witchcraft... Today, it's called golf.
Submitted by Dolly, Myersville, Md.
Return to: Top of Page, List of Jokes About Aging, My Little Sister's Jokes ,
---
No wonder the idealists get so discouraged...
Suppose you were an idiot, and suppose you were a member of of Congress -- but I repeat myself. -- Mark Twain
We contend that for a nation to try to tax itself into prospe rity is like a man standing in a bucket and trying to lift himself up by the handle. --Winston Churchill
A government which robs Peter to pay Paul can always depend on the support of Paul. --George Bernard Shaw
A liberal is someone who feels a great debt to his fellow man, which debt he proposes to pay off with your money. -- G. Gordon Liddy
Democracy must be something more than two wolves and a sheep voting on what to have for dinner. --James Bovard, Civil Libertarian (1994)
Foreign aid might be defined as a transfer from poor people in rich countries to rich people in poor countries. --Douglas Casey, Classmate of W. J. Clinton at Georgetown U. (1992)
Giving money and power to government is like giving whiskey and car keys to teenage boys. --P.J. O'Rourke, Civil Libertarian
Government is the great fiction, through which everybody endeavors to live at the expense of everybody else. --Frederic Bastiat, French Economist (1801-1850)
Government's view of the economy could be summed up in a few short phrases: If it moves, tax it. If it keeps moving, regulate it. And if it stops moving, subsidize it. -- Ronald Reagan (1986)
I don't make jokes. I just watch the government and report the facts. --Will Rogers
If you think health care is expensive now, wait until you see what it costs when it's free. --P.J. O'Rourke
If you want government to intervene domestically, you're a liberal. If you want government to intervene overseas, you're a conservative. If you want government to intervene everywhere, you're a moderate. If you don't want government to intervene anywhere, you're an extremist. --Joseph Sobran, Editor of the National Review at one time (1995)
In general, the art of government consists in taking as much money as possible from one party of the citizens to give to the other. --Voltaire (1 764)
Just because you do not take an interest in politics doesn't mean politics won't take an interest in you. --Pericles (430 B.C.)
No man's life, liberty, or property are safe while the legislature is in session. --Mark Twain (1866)
Talk is cheap-except when Congress does it. --(Unknown)
The government is like a baby's alimentary canal, with a happy appetite at one end and no responsibility at the other. --Ronald Reagan
The inherent vice of capitalism is the unequal sharing of the blessings. The inherent blessing of socialism is the equal sharing of misery. --Winston Churchill
The only difference between a tax man and a taxidermist is that the taxidermist leaves the skin. --Mark Twain
The ultimate result of shielding men from the effects of folly is to fill the world with fools. --Herbert Spencer, English Philosopher (1820-1903)
There is no distinctly native American criminal class save Congress. --Mark Twain
What this country needs are more unemployed politicians. -- Edward Langley, Artist 1928-1995
Submitted by Dick, Williamsport, MD.
Return to: Top of Page, List of Political Jokes, My Little Sister's Jokes,
---
Why people live in Florida ...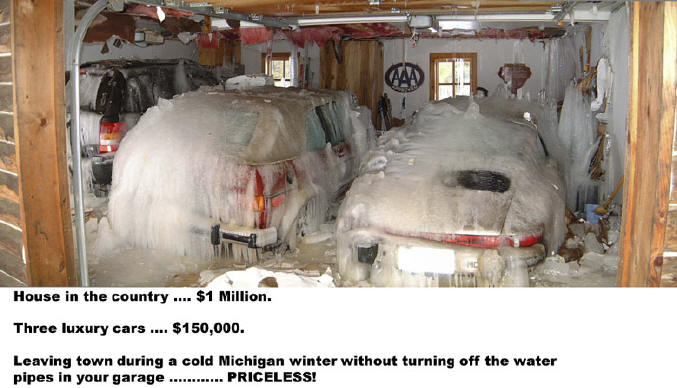 ---