The LAPD, the FBI, and the CIA are all trying to prove who is the best at apprehending criminals.
The President decides to give them a test. He releases a rabbit into a forest and each of them has to catch it.
The CIA goes in. They place animal informants throughout the forest. They question all plant and mineral witnesses. After three months of extensive investigations they conclude that rabbits do not exist.
The FBI goes in. After two weeks with no leads they burn the forest, killing everything in it, including the rabbit, and they make no apologies. The rabbit had it coming.
The LAPD goes in. They come out two hours later with a badly beaten bear. The bear is yelling: "Okay! Okay! I'm a rabbit! I'm a rabbit!"
Debbie, Middletown, MD

Return to: Top of Page, List of Un-Categorizable Jokes, My Little Sister's Jokes,
---
The Difference Between Liberals, Conservatives and Texans
Question: You're walking down a deserted street with your wife and two small children. Suddenly, a dangerous looking man with a huge knife comes around the corner, locks eyes with you, screams obscenities, raises the knife, and charges. You are carrying a Glock .40 and you are an expert shot. You have mere seconds before he reaches you and your family. What do you do?
Liberal Answer:
Well, that's not enough information to answer the question! Does the man look poor or oppressed? Have I ever done anything to him that would inspire him to attack? Could we run away? What does my wife think? What about the kids? Could I possibly swing the gun like a club and knock the knife out of his hand? What does the law say about this situation? Does the Glock have an appropriate safety built into it? Why am I carrying a loaded gun and what kind of message does this send to society and my children? Is it possible he'd be happy with just killing me? Does he definitely want to kill me or would he just be content to wound me? If I were to grab his knees and hold on, could my family get away while he was stabbing me? This is all so confusing! I need to debate this with some friends for a few days to try to come to a conclusion.
Conservative Answer:
BANG!
Texan's Answer:
BANG! BANG! BANG! BANG! BANG! BANG! BANG! BANG! BANG! click... (sounds of reloading).
Wife: "Sweetheart, he looks like he's still moving, what do you kids think?"
Son: "Mom's right Dad, I saw it too..." BANG! BANG! BANG! BANG! BANG! BANG! BANG! BANG! BANG! click.
Daughter: "Nice group, Daddy! Were those the Winchester Silver Tips?"
Dick, Willaimsport, MD

Return to: Top of Page, List of Redneck Jokes, My Little Sister's Jokes,
---
Everyone has been guilty of looking at others their own age and thinking, "I don't look that old!"
I'm sure you've done the same. You may enjoy this short story.
While waiting for my first appointment in the reception room of a new dentist, I noticed his certificate, which bore his full name. Suddenly, I remembered that a tall, handsome boy with the same name had been in my high school class some 40 years ago.
Upon seeing him, however, I quickly discarded any such thought. This balding, gray-haired man with the deeply lined face was too old to have been my classmate.
After he had examined my teeth, I asked him if he had attended the local high school. "Yes," he replied.
"When did you graduate?" I asked.
He answered, "In 1957."
"Why, you were in my class!" I exclaimed.
He looked at me closely and then asked, "What did you teach?"
Andy, Gettysburg, PA
Return to: Top of Page, Groaner Joke List, My Little Sister's Jokes,
---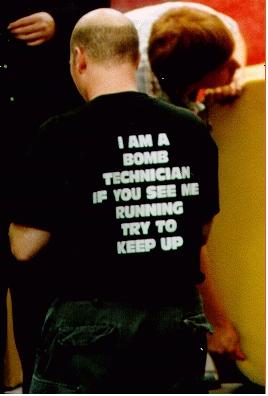 ---