Top Groaners of 2003 ...
Two peanuts walk into a bar. One was a salted.
A jumper cable walks into a bar. The barman says, "I'll serve you, but don't start anything."
A sandwich walks into a bar. The barman says, "Sorry we don't serve food in here."
A dyslexic man walks into a bra.
A man walks into a bar with a slab of asphalt under his arm and says, "A beer, please, and one for the road."
Two aerials meet on a roof, fall in love get married. The ceremony wasn't much but the reception was brilliant.
Two cannibals are eating a clown. One says to the other: "Does this taste funny to you?"
A man goes to a Psychologist and says, "Doc, I can't stop singing 'The green, green grass of home.'" "That sounds like Tom Jones syndrome." "Is it common?" "It's not unusual."
Two cows standing next to each other in a field, Daisy says to Dolly "I was artificially inseminated this morning." "I don't believe you," said Dolly. "It's true -- no bull!", exclaimed Daisy.
Two hydrogen atoms walk into a bar. One says, "I've lost my electron." The other says, "Are you sure?" The first replies, "Yes, I'm positive..."
A man takes his Rottweiler to the vet and says, "My dog's cross-eyed, is there anything you can do for him?" "Well," says the vet, "let's have a look at him." So he picks the dog up and examines his eyes, then checks his teeth. Finally, he says "I'm going to have to put him down." "What? just because he's cross-eyed?" "No, because he's really heavy."
Since 1 in 5 people in the world are Chinese And there are 5 people in my family, it must be one of them. It's either my mum or my dad... or maybe my older brother Colin or my younger brother Ho-Cha Chu. But I'm pretty sure it's Colin.
I went to buy some camouflage trousers the other day but I didn't see any.
I went to the butcher's other day and I bet him 50 bucks that he couldn't reach the meat off the top shelf. He said, "no, the steaks are too high."
I went to a seafood disco rave last week.... and pulled a mussel.
Two Eskimos sitting in a kayak were chilly; but when they lit a fire in the craft, it sank, proving once and for all that you can't have your kayak and heat it too.
What is a fish with no eyes? A fsh.
This one's much worse! How can they get any worse? Read it and see!
In the early 20th Century, Thomas Edison was spreading the word about electricity. Once, while vacationing out West, he stopped at the Sioux reservation. Edison was shocked to learn that there was no indoor plumbing, and that he would have to use an outhouse. In fact, he was told, the Sioux had to use the outhouse even in the dead of night. To help the Sioux, Edison installed lights in the outhouse. With this kind act, he became the first person to wire a head for a reservation!
Submitted by Dick, Williamsport. Md.

Return to: Top of Page, Groaner Joke List, My Little Sister's Jokes,
---
A couple was dressed and ready to go out for the evening.
They turned on a night light, turned the answering machine on the phone line, covered their pet parakeet and put the cat in the backyard.

They phoned the local cab company and requested a taxi. The taxi arrived and the couple opened the front door to leave their house. The cat they had put out into the yard scoots back into the house.

They don't want the cat shut in the house because "she" always tries to eat the bird. The wife goes out to the taxi while the husband goes inside to get the cat. The cat runs upstairs, the man in hot pursuit.

The wife doesn't want the driver to know the house will be empty. She explains to the taxi driver that her husband will be out soon. "He's just going upstairs to say goodbye to my mother."

A few minutes later, the husband gets into the cab. "Sorry I took so long," he says, as they drive away.

"Stupid was hiding under the bed. I Had to poke her with a coat hanger to get her to come out! Then I had to wrap her in a blanket to keep her from scratching me. But it worked. I hauled her fat ass downstairs and threw her out into the back yard!"

The cabdriver hit a parked car...
Submitted by Dolly, Myersville, MD.

Return to: Top of Page, Clean Joke List, My Little Sister's Jokes,
---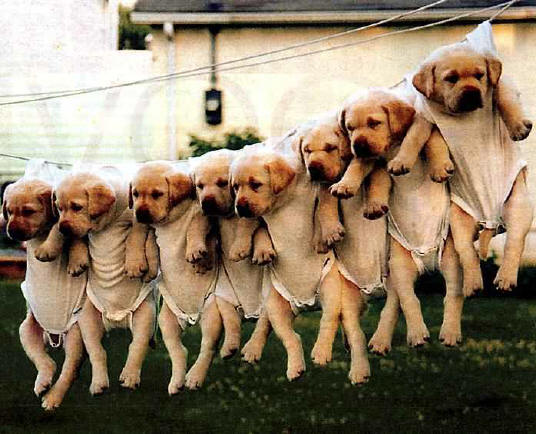 ---