The best new jokes for 2003 - Part 1
---
An Irishman with a bad leg hobbled into a restaurant one afternoon.
He painfully sat down at a booth and asked the waitress for a cup of coffee. The Irishman looked across the restaurant and asked, "Is that Jesus over there?" The waitress nodded so the Irishman told her to give Jesus a cup of coffee too.
The next patron to come in was an Englishman with a hunched back. He shuffled over to a booth and asked the waitress for a glass of hot tea. He also glanced across the restaurant and asked "Is that Jesus over there?". The waitress nodded so the Englishman said to give Jesus a cup of hot tea too.
The third patron to come into the restaurant was a Hillbilly from Eastern Kentucky. He swaggered over to a booth, sat down and hollered "Hey there sweet thang, hows about getting me a cold glass of Coke!". He too looked across the restaurant and asked "Is that God's boy over there?". The waitress nodded so the Hillbilly said to give Jesus a cold glass of coke too.
As Jesus got up to leave He passed by the Irishman and touched him and said "For your kindness, you are healed." The Irishman felt the strength come back into his leg and got up and danced a jig out the door.
Jesus also passed by the Englishman, touched him and said, "For your kindness, you are healed." The English man felt his back straightening up and he raised his hands, praised the Lord and did a series of back flips out the door.
Then Jesus walked towards the Hillbilly. The Hillbilly jumps up and yells, "Hey man don't touch me ...... I'm drawing disability!!!!!"
Submitted by Ericka, Emmitsburg, Md.

Return to: Top of Page, List of Redneck Jokes, My Little Sister's Jokes,
---
Dating Rules for Overly Protective Dads
Rule One: If you pull into my driveway and honk you'd better be delivering a package, because you're sure not picking anything up.
Rule Two: You do not touch my daughter in front of me. You may glance at her, so long as you do not peer at anything below her neck. If you cannot keep your eyes or hands off of my daughter's body, I will remove them.
Rule Three: I am aware that it is considered fashionable for boys of your age to wear their trousers so loosely that they appear to be falling off their hips. Please don't take this as an insult, but you and all of your friends are complete idiots. Still, I want to be fair and open minded about this issue, so I propose this compromise: You may come to the door with your underwear showing and your pants ten sizes to big, and I will not object. However, in order to ensure that your clothes do not, in fact come off during the course of you date with my daughter, I will take my electric nail gun and fasten your trousers securely in place to your waist.
Rule Four: I'm sure you've been told that in today's world, sex without utilizing a "Barrier method" of some kind can kill you. Let me elaborate, when it comes to sex, I am the barrier, and I will kill you.
Rule Five: It is usually understood that in order for us to get to know each other, we should talk about sports, politics, and other issues of the day. Please do not do this. The only information I require from you is an indication of when you expect to have my daughter safely back at my house, and the only word I need from you on this subject is: "early"
Rule Six: I have no doubt you are a popular fellow, with many opportunities to date other girls. This is fine with me as long as it is okay with my daughter. Otherwise, once you have gone out with my little girl, you will continue to date no one but her until she is finished with you. If you make her cry, I will make you cry.
Rule Seven: As you stand in my front hallway, waiting for my daughter to appear, and more than an hour goes by, do not sigh and fidget. If you want to be on time for the movie, you should not be dating. My daughter is putting on her makeup, a process than can take longer than painting the Golden Gate Bridge. Instead of just standing there, why don't you do something useful, like changing the oil in my car?
Rule Eight: The following places are not appropriate for a date with my daughter: Places where there are beds, sofas, or anything softer than a wooden stool. Places where there is darkness. Places where there is dancing, holding hands, or happiness. Places where the ambient temperature is warm enough to introduce my daughter to wear shorts, tank tops, midriff T-shirts, or anything other than overalls, a sweater, and a goose down parka -- zipped up to her throat. Movies with a strong romantic or sexual theme are to be avoided; movies which features chain saws are okay. Hockey games are okay. Old folks homes are better.
Rule Nine: Do not lie to me. I may appear to be a potbellied, balding, middle-aged, dimwitted has-been. But on issues relating to my daughter, I am the all-knowing, merciless God of your universe. If I ask you where you are going and with whom, you have one chance to tell me the truth, the whole truth and nothing but the truth. I have a shotgun, a shovel, and five acres behind the house. Do not trifle with me.
Rule Ten: Be afraid. Be very afraid. It takes very little for me to mistake the sound of your car in the driveway for a chopper coming in over a rice paddy near Hanoi. When my Agent Orange starts acting up, the voices in my head frequently tell me to clean the guns as I wait for you to bring my daughter home. As soon as you pull into the driveways you should exit the car with both hands in plain sight. Speak the perimeter password, announce in a clear voice that you have brought my daughter home safely and early, then return to your car -- there is no need for you to come inside. The camouflaged face at the window is mine.
Return to: Top of Page, List of Jokes About Marriage, My Little Sister's Jokes,
---
A pastor walked into a neighborhood pub.
The place was hopping with music and dancing but every once in a while the lights would turn off. Each time after the lights would go out the place would erupt into cheers.
However, when the revelers saw the town pastor, the room went dead silent.
He walked up to the bartender, and asked, "May I please use the restroom?"
The bartender replied, "I really don't think you should."
"Why not?" the pastor asked.
"Well, there is a statue of a naked woman in there, and her most private part is covered only by a fig leaf."
"Nonsense," said the pastor, "I'll just look the other way."
So the bartender showed the clergyman the door at the top of the stairs, and he proceeded to the restroom.
After a few minutes, he came back out, and the whole place was hopping with music and dancing again. However, they did stop just long enough to give the pastor a loud round of applause.
He went to the bartender and said, "Sir, I don't understand. Why did they applaud for me just because I went to the restroom?"
"Well, now they know you're one of us." said the bartender.
"Would you like a drink?"
"But, I still don't understand," said the puzzled pastor.
"You see," laughed the bartender, "every time the fig leaf is lifted on the statue, the lights go out in the whole place."
"Now, how about that drink?"
Submitted by Bill, Narberth, Pa.
Return to: Top of Page, List of Un-Categorizable Jokes, My Little Sister's Jokes,
---
A minister concluded that his church was getting into serious financial troubles.
Coincidentally, by chance, while checking the church storeroom, he discovered several cartons of new bibles that had never been opened and distributed. So at his Sunday sermon, he asked for three volunteers from the congregation who would be willing to sell the bibles door-to-door for $10 each to raise the desperately needed money for the church.
Peter, Paul and Louie all raised their hands to volunteer for the task.
The reverend knew that Peter and Paul earned their living as salesmen and were likely capable of selling some bibles but he had serious doubts about Louie. Louie was just a little local farmer, who had always tended to keep to himself because he was embarrassed by his speech impediment. Poor little Louis stuttered very badly. But, not wanting to discourage poor Louis, the reverend decided to let him try anyway.
He sent the three of them away with the back seat of their cars stacked with bibles and asked them to meet with him and report the results of their door-to-door selling efforts the following Sunday&which they did.
Anxious to find out how successful they were, the reverend immediately asked Peter, "Well, Peter, how did you make out selling our bibles last week?"
Proudly handing the reverend an envelope, Peter replied, "Father, using my sales prowess, I was able to sell 20 bibles, and here's the 200 dollars I collected on behalf of the church."
"Fine job, Peter!" The reverend said, vigorously shaking his hand. "You are indeed a fine salesman and the Church is indebted to you."
Turning to Paul, he asked "And Paul, how many bibles did you manage to sell for the church last week?"
Paul, smiling and sticking out his chest, confidently replied, "Reverend, I am a professional salesman and was happy to give the church the benefit of my sales expertise. Last week I sold 28 bibles on behalf of the church, and here's 280 dollars I collected." The reverend responded, "That's absolutely splendid, Paul. You are truly a professional salesman and the church is also indebted to you."
Apprehensively, the reverend turned to little Louie and said, "And Louie, did you manage to sell any bibles last week?"
Louie silently offered the reverend a large envelope. The reverend opened it and counted the contents. "What is this?" the reverend exclaimed. "Louie, there's 3200 dollars in here! Are you suggesting that you sold 320 bibles for the church, door to door, in just one week? Louie just nodded.
That's impossible!" both Peter and Paul said in unison. "We are professional salesmen, yet you claim to have sold 10 times as many bibles as we could."
"Yes, this does seem unlikely," the reverend agreed. "I think you'd better explain how you managed to do accomplish this, Louie." Louie shrugged. "I-I-I- re-re-really do-do-don't kn-kn-know f-f-f-for-sh-sh-sh-sure," he stammered.
Impatiently, Peter interrupted. "For crying out loud, Louie, just tell us-what you said to them when they answered the door!"-"A-a-a-all I-I-I s-s-said wa-wa-was," Louis replied, "W-w-w-w-would-y-y-y-you l-l-l-l-l-like t-t-to b-b-b-buy th-th-th-this b-b-b-b-bible-f-f-for t-t-ten b-b-b-bucks ---o-o-o-or--- wo-wo-would yo-you j-j-j-just-l-like m-m-me t-t-to st-st-stand h-h-here and r-r-r-r-r-read it t-to-y-y-you?
Submitted by Dr. Patty, Ringos, NJ.
Return to: Top of Page, Clean Joke List, My Little Sister's Jokes,
---
I recently read your column advising grandparents on "tough love."
It offered advice to grandparents with respect to misbehaving grandchildren those whose own parents let them run wild. I have followed your advice, and enclose a picture demonstrating the technique I employ on my grandson when he just won't behave. They do not allow me to spank him, so I just take him for a ride, and he usually calms down afterward.
Sincerely,

Tough Love Grandma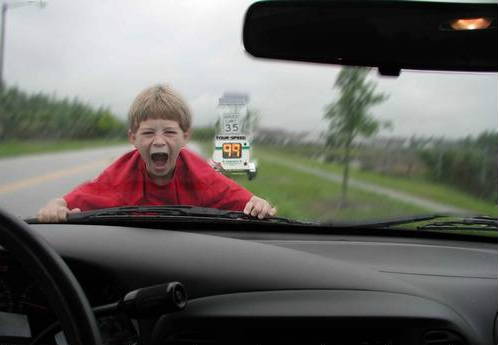 Return to: Top of Page, Clean Joke List, My Little Sister's Jokes,
---