Dear Dogs ... When I say to move, it means go someplace else, not switch positions with each other so there are still two dogs in the way ....
The dishes with the paw print are yours and contain your food. The other dishes are mine and contain my food. Please note, placing a paw print in the middle of my plate and food does not stake a claim for it becoming your food and dish, nor do I find that aesthetically pleasing in the slightest.
The stairway was not designed by NASCAR and is not a racetrack. Beating me to the bottom is not the object. Tripping me doesn't help, because I fall faster than you can run.
I cannot buy anything bigger than a king size bed. I am very sorry about this. Do not think I will continue to sleep on the couch to ensure your comfort. Look at videos of dogs sleeping, they can actually curl up in a ball. It is not necessary to sleep perpendicular to each other stretched out to the fullest extent possible. I also know that sticking tails straight out and having tongues hanging out the other end to maximize space used is nothing but doggy sarcasm.
When I am playing the pinball machine, jumping up and trying to grab the ball through the glass is not helpful. Barking at me because I'm not helping you achieve your goal does not win you any extra brownie points.
My compact discs are not miniature Frisbees.
For the last time, there is not a secret exit from the bathroom. If by some miracle I beat you there and manage to get the door shut, it is not necessary to claw, whine, try to turn the knob, or get your paw under the edge and try to pull the door open. I must exit through the same door I entered. In addition, I have been using bathrooms for years, canine attendance is not mandatory.
The proper order is kiss me, then go smell the other dogs butt. I cannot stress this enough. It would be such a simple change for you.
Submitted by Jamie, Frederick, Md.
Return to: Top of Page, List of Jokes about Animals, My Little Sister's Jokes,
---
In case you were wondering what makes a divorce lawyer grin ...
After 17 years of marriage, a man dumped his wife for a younger woman. The downtown luxury apartment was in his name and he wanted to remain there with his new love so he asked the wife to move out and then he would buy her another place. The wife agreed to this, but asked that she be given 3 days on her own there, to pack up her things.
While he was gone, the first day she lovingly put her personal belongings into boxes and crates and suitcases.
On the second day, she had the movers come and collect her things.
On the third day, she sat down for the last time at their candlelit Dining table, soft music playing in the background, and feasted on a pound of shrimp and a bottle of Chardonnay. When she had finished, she went into each room and deposited a few of the resulting shrimp shells into the hollow of the curtain rods. She then cleaned up the kitchen and left.
The husband came back, with his new girl, and all was bliss for the first few days. Then it started; slowly but surely. Clueless, the man could not explain why the place smelled so bad. They tried everything; cleaned and mopped and aired the place out. Vents were checked for dead rodents, carpets were steam cleaned, Air fresheners were hung everywhere. Exterminators were brought in, the carpets were replaced, and on it went.
Finally, they could take it no more and decided to move. The moving company arrived and did a very professional packing job, taking everything to their new home......including the curtain rods.
Submitted by Andy, Gettysburg, Pa.

Return to: Top of Page, List of Jokes About Marriage, My Little Sister's Jokes,
---
Since the Pledge of Allegiance and The Lord's Prayer are not allowed in most public schools ...

... anymore because the word "God" is mentioned .... a kid in Arizona wrote the attached NEW School prayer.
Now I sit me down in school
Where praying is against the rule
For this great nation under
God Finds mention of Him very odd.

If Scripture now the class recites,
It violates the Bill of Rights.
And anytime my head I bow
Becomes a Federal matter now.

Our hair can be purple, orange or green,
That's no offense; it's a freedom scene.
The law is specific, the law is precise.
Prayers spoken aloud are a serious vice.

For praying in a public hall
Might offend someone with no faith at all.
In silence alone we must meditate,
God's name is prohibited by the state.

We're allowed to cuss and dress like freaks,
And pierce our noses, tongues and cheeks.
They've outlawed guns, but FIRST the Bible.
To quote the Good Book makes me liable.

We can elect a pregnant Senior Queen,
And the 'unwed daddy,' our Senior King.
It's "inappropriate" to teach right from wrong,
We're taught that such "judgments" do not belong.

We can get our condoms and birth controls,
Study witchcraft, vampires and totem poles.
But the Ten Commandments are not allowed,
No word of God must reach this crowd.

It's scary here I must confess,
When chaos reigns the school's a mess.
So, Lord, this silent plea I make:
Should I be shot; My soul please take!

Amen
Return to: Top of Page, List of Inspirational Stories, My Little Sister's Jokes,
---
Insurance Claim Hall of Fame top photo #2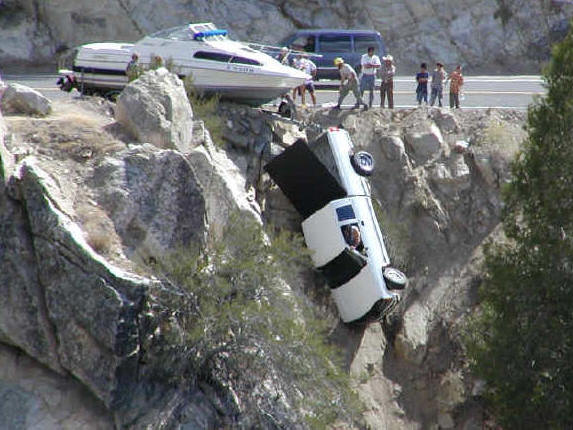 ---