Well its that time of the year when businesses cover up the red ink with mega mergers ...
... I wanted to make my friends aware of the next expected mergers so you can get in on the ground floor and make some BIG bucks. Watch for these consolidations in late 2002 and make yourself a bundle.
Hale Business Systems, Mary Kay Cosmetics, Fuller Brush and W.R.Grace
Co. will merge and become Hale, Mary, Fuller, Grace.
Polygram Records, Warner Bros. and Zesta Crackers join forces and become Polly, Warner Cracker.
3M will merge with Goodyear and issue forth as MMMGood.
Zippo Mfg., Audi Motor Car, Dofasco and Dakota Mining will merge to become, of course, ZipAudiDoDa.
Federal Express is expected to join its major competitor, UPS, and consolidate as: FedUP
Fairchild Electronics and Honeywell Computers will become: Fairwell Honeychild.
Grey Poupon and Docker Pants are expected to become: Poupon Pants.
Knotts Berry Farm and the Nat'l Org. of Women will become: Knott NOW!
That's all I have right now. Invest wisely ...
Submitted by Sister Wink, The Bronx, NY.

Return to: Top of Page, Groaner Joke List, My Little Sister's Jokes,
---
Mary was married to a male chauvinist ...
... They both worked full time, but he never did anything around the house and certainly not any housework. That, he declared, was woman's work! But one evening Mary arrived home from work to find the children bathed, a load of wash in the washing machine and another in the dryer, dinner on the stove and a beautifully set table, complete with flowers. She was astonished, and she immediately wanted to know what was going on.
It turned out that Charley, her husband, had read a magazine article that suggested working wives would be more romantically inclined if they weren't so tired from having to do all the housework, in addition to holding down a full-time job.
The next day, she couldn't wait to tell her girlfriends at the office. "How did it work out?" they asked. Mary said. "Charley even cleaned up, helped the kids with their homework, folded the laundry and put everything away. I really enjoyed my evening."
"But what about afterward?" her friends wanted to know. "It didn't work out," Mary said. "Charley was too tired."
Submitted by Bob, Miamisburg, OH.

Return to: Top of Page, List of Jokes About Marriage, My Little Sister's Jokes,
---
Looking back, it's hard to believe that we have lived as long as we have.
As children we would ride in cars with no seat belts or air bags. Riding in the back of a pick-up truck on a warm day was always a special treat. Our baby cribs were painted with bright colored lead based paint. We often chewed on the crib, ingesting the paint.
We had no childproof lids on medicine bottles, doors, or cabinets, and when we rode our bikes we had no helmets. We drank water from the garden hose and not from a bottle. We would spend hours building our go-carts out of scraps and then rode down the hill, only to find out we forgot the brakes. After running into the bushes a few times we learned to solve the problem.
We would leave home in the morning and play all day, as long as we were back when the streetlights came on. No one was able to reach us all day. We played dodge ball and sometimes the ball would really hurt. We ate cupcakes, bread and butter, and drank sugar soda, but we were never overweight; we were always outside playing. Little League had tryouts and not everyone made the team. Those who didn't had to learn to deal with disappointment. Some students weren't as smart as others or didn't work hard so they failed a grade and were held back to repeat the same grade.
In spite of it all, our generation produced some of the greatest risk-takers and problem solvers. We had the freedom, failure, success and responsibility, and we learned how to deal with it all.
Submitted by Andy, Gettysburg, Pa.

Return to: Top of Page, List of Inspirational Stories, My Little Sister's Jokes,
---
Women Drivers ... Take 1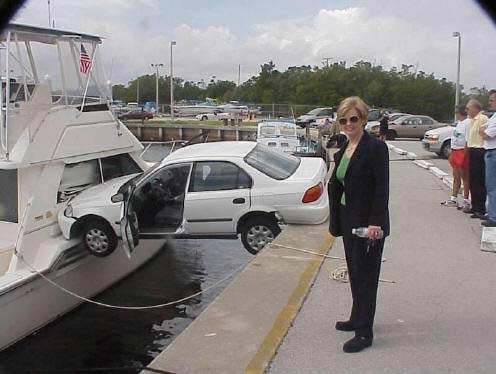 ---