A couple had two little boys, ages 8 and 10, who were excessively mischievous ...
... They were always getting into trouble, and their parents knew that if any mischief occurred in their town, their sons were probably involved.
The boys' mother heard that a clergyman in town had been successful in disciplining children, so she asked if he would speak with her boys.
The clergyman agreed, but asked to see them individually. So the mother sent her 8-year old first, in the morning, with the older boy to see the clergyman in the afternoon.
The clergyman, a huge man with a booming voice, sat the younger boy down and asked him sternly. "Where is God?"
The boy's mouth dropped open, but he made no response, sitting there with his mouth hanging open, wide-eyed. So the clergyman repeated the question in an even sterner tone, "Where is God!!?"

Again, the boy made no attempt to answer. So, the clergyman raised his voice even more and shook his finger in the boy's face and bellowed, WHERE IS GOD!
"The boy screamed and bolted from the room, ran directly home and dove into his closet, slamming the door behind him. When his older brother found him in the closet, he asked, "What happened?"
The younger brother, gasping for air, replied, "We are in BIG trouble this time, dude. God is missing, and they think WE did it!!"
Submitted by Ericka, Emmitsburg, Md.

Return to: Top of Page, List of Cute Kids Sayings, My Little Sister's Jokes,
---
A married couple was in a terrible accident where the woman's face was severely burned.
The doctor told the husband that they couldn't graft any skin from her body because she was too skinny. So the husband offered to donate some of his own skin.
However, the only skin on his body that the doctor felt was suitable would have to come from his buttocks. The husband and wife agreed that they would tell no one about where the skin came from, and requested that the doctor also honor their secret. After all, this was a very delicate matter.
After the surgery was completed, everyone was astounded at the woman's new beauty. She looked more beautiful than she ever had before. All her friends and relatives just went on and on about her youthful beauty!
One day, she was alone with her husband, and she was overcome with emotion at his sacrifice. She said, "Dear, I just want to thank you for everything you did for me. There is no way I could ever repay you."
"My darling," he replied, "I get all the thanks I need every time I see your mother kiss you on the cheek."
Submitted by Bill, Narberth, Pa.

Return to: Top of Page, List of Jokes About Marriage, My Little Sister's Jokes,
---
I Love My Job!
I love my job, I love the pay!
I love it more and more each day.
I love my boss, he is the best!
I love his boss and all the rest.
I love my office and its location. I hate to have to go on vacation.
I love my furniture, drab and grey, and piles of paper that grow each day!
I think my job is really swell, there's nothing else I love so well.
I love to work among my peers, I love their leers, and jeers, and sneers.
I love my computer and its software;
I hug it often though it won't care. I love each program and every file.
I'd love them more if they worked awhile.
I'm happy to be here. I am. I am.
I'm the happiest slave of the Firm, I am.
I love this work, I love these chores.
I love the meetings with deadly bores.
I love my job - I'll say it again - I even love those friendly men.
Those friendly men who've come today.
In clean white coats to take me away!!!
Submitted by Vick, Downingtown, Pa.

Return to: Top of Page, List of Jokes about work, My Little Sister's Jokes,
---
An Arab Ambassador to the UN has just finished giving a speech ...
... and walks out into the lobby where he meets President Bush. They shake hands and as they walk the Iraqi says, "You know, I have just one question about what I have seen in America."
President Bush says "Well your Excellency, anything I can do to help you, I will."
The ambassador whispers "My son watches this show 'StarTrek' and in it there are Russians, and Blacks, and Asians, but never any Arabs. He is very upset. He doesn't understand why there are never any Arab characters?"
President Bush laughs and leans toward the Ambassador , and whispers back, "It's because it takes place in the future."
Submitted By John, Emmitsburg, Md.

Return to: Top of Page, List of Political Jokes, My Little Sister's Jokes,
---
Secrets of Life Take 4: Be Determined in achieving your goals ...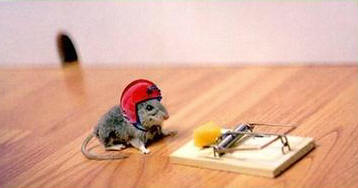 Submitted by Dave, Bolder, Co.

---