The phone rings and the lady of the house answers, "Hello."
"Mrs. Ward, please."
"Speaking."
"Mrs. Ward, this is Doctor Jones at the Medical Testing Laboratory.
When your doctor sent your husband's biopsy to the lab yesterday, a biopsy from another Mr. Ward arrived as well, and we are now uncertain which one is your husband's. Frankly the results are either bad or terrible."
"What do you mean?" Mrs. Ward asks nervously.
"Well, one of the specimens tested positive for Alzheimer's and the other one tested positive for AIDS. We can't tell which is your husband's."
"That's dreadful! Can't you do the test again?" questioned Mrs. Ward.
"Normally we can, but Medicare will only pay for these expensive tests one time."
"Well, what am I supposed to do now?"
"The people at Medicare recommend that you drop your husband off somewhere in the middle of town. If he finds his way home, don't sleep with him."
Submitted by Andy Gettysburg, Pa.

Return to: Top of Page, List of Jokes About Marriage, My Little Sister's Jokes
---
When a physician remarked on a new patient's extraordinarily ruddy complexion...
... he said, "High blood pressure, Doc. It comes from my family."

"Your mother's side or your father's?" I asked.

"Neither," he replied. "It's from my wife's family."

"Oh, come now," I said. "How could your wife's family give you high blood pressure?"

He sighed. "You oughta meet 'em sometime, Doc!"
Submitted by Bill, Ardmore, Pa.

Return to: Top of Page, List of Jokes About Marriage, My Little Sister's Jokes
---
Words with two meanings
Thingy (thing-ee) n.

Female...... Any part under a car's hood.
Male..... The strap fastener on a woman's bra.

Vulnerable (vul-ne-ra-bel) adj.

Female.... Fully opening up one's self emotionally to another.
Male.... Playing football without a cup.

Communication (ko-myoo-ni-kay-shon) n.

Female... The open sharing of thoughts and feelings with one's partner.
Male... Leaving a note before taking off on a fishing trip with the boys.

Commitment (ko-mit-ment) n.

Female.... A desire to get married and raise a family.
Male...... Trying not to hit on other women while out with this one.

Entertainment (en-ter-tayn-ment) n.

Female.... A good movie, concert, play or book.F
Male...... Anything that can be done while drinking beer.

Flatulence (flach-u-lens) n.

Female.... An embarrassing byproduct of indigestion.
Male...... A source of entertainment, self-expression, male bonding.

Remote Control (ri-moht kon-trohl) n.

Female.... A device for changing from one TV channel to another.
Male... A device for scanning through all 375 channels every 5 minutes.
AND;
He said .. ... What have you been doing with all the grocery money I gave you?
She said . .....Turn sideways and look in the mirror!

He said .. . How many men does it take to change a roll of toilet paper?
She said .. .. We don't know; it has never happened.

He said .. . Why are married women heavier than single women?
She said . . . Single women come home, see what's in the fridge and go to bed. Married women come home, see what's in bed and go to the fridge.
Submitted by Bill, Narberth, PA.

Return to: Top of Page, List of Jokes About Marriage, My Little Sister's Jokes
---
Late one afternoon, the Air Force folks out at Area 51 were very surprised to see ...
... a Cessna landing at their "secret" base. They immediately impounded the aircraft and hauled the pilot into an interrogation room.
The pilot's story was that he took off from Las Vegas, got lost, and spotted the base just as he was about to run out of fuel. The Air Force started a full FBI background check on the pilot and held him overnight during the investigation.
By the next day, they were finally convinced that the pilot really was lost and wasn't a spy. They gassed up his airplane, gave him a terrifying "you-did-not-see-a-base" briefing, complete with threats of spending the rest of his life in prison, told him Las Vegas was that-a-way on such-and-such a heading, and sent him on his way.
The next day, to the total disbelief of the Air Force, the same Cessna showed up again. Once again, the MP's surrounded the plane ... only this time there were two people in the plane.
The same pilot jumped out and said, "Do anything you want to me, but my wife is in the plane and you have to tell her where I was last night!"
Submitted by Bill, Narberth, PA.

Return to: Top of Page, List of Jokes About Marriage, My Little Sister's Jokes
---
Dear Husband: I'm writing you this letter to tell you that I'm leaving you for good.
I've been a good woman to you for seven years and I have nothing to show for it.
These last two weeks have been hell. Your boss called to tell me that you had quit your job today and that was the last straw. Last week, you came home and didn't notice that I had gotten my hair and nails done, cooked your favorite meal and even wore a brand new negligee. You came home and ate in two minutes, and went straight to sleep after watching the game. You don't tell me you love me anymore, you don't touch me or anything. Either
you're cheating or you don't love me anymore, whatever the case is, I'm gone.
P.S. If you're trying to find me, don't. Your BROTHER and I are moving away to West Virginia together! Have a great life!
Your EX-Wife
And the reply ....
Dear Ex-Wife: Nothing has made my day more than receiving your letter. It's true that you and I have been married for seven years, although a good woman is a far cry from what you've been. I watch sports so much to try to drown out your constant nagging. Too bad that doesn't work. I did notice when you cut off all of your hair last week, the first thing that came to mind was "You
look just like a man!" My mother raised me not to say anything if you can't say anything nice. When you cooked my favorite meal, you must have gotten me confused with MY BROTHER, because I stopped eating pork seven years ago.
I went to sleep on you when you had on that new negligee because the price tag was still on it. I prayed that it was a coincidence that my brother had just borrowed fifty dollars from me that morning and your negligee was $49.99. After all of this, I still loved you and felt that we could work it out. So when I discovered that I had hit the lotto for ten million dollars, I quit my job and bought us two tickets to Jamaica. But when I got home you were gone.
Everything happens for a reason I guess. I hope you have the fulfilling life you always wanted. My lawyer said with your letter that you wrote, you won't get a dime from me. So take care.
P.S. I don't know if I ever told you this but Carl, my brother was born Carla. I hope that's not a problem.
Signed Rich As Hell and Free!
Submitted by Bill, Narberth, Pa.

Return to: Top of Page, List of Jokes About Marriage, My Little Sister's Jokes
---
A man showed up for work one morning.
He was immediately greeted by giggles of the two secretaries in the office he had to pass through on the way to his vice-president's office. "What is so funny?"
The blonde said, "You have black smudge on your left cheek!"
The exec replied, "Oh, I can explain that."
The other secretary said, "Oh, yeah? How?"
"I took my wife to the train station to depart on a one-month vacation," the executive said, "and after I kissed her good-bye, I went up to the engine, and I kissed it, too!"
Submitted by Andy, Gettysburg, PA.

Return to: Top of Page, List of Jokes About Marriage, My Little Sister's Jokes
---
The couple had been debating the purchase of a new auto for weeks.
He wanted a new truck.
She wanted a fast little sports-like car so she could zip through traffic around town.
He would probably have settled on any beat up old truck, but everything she seemed to like was way out of their price range.
"Look !" she said. "I want something that goes from 0 to 200 in 4 seconds or less."
"And my birthday is coming up. You could surprise me."
For her birthday, he bought her a brand new bathroom scale.
Services are pending.
Submitted by Andy, Gettysburg, Pa.

Return to: Top of Page, List of Jokes About Marriage, My Little Sister's Jokes
---
There was once a man and woman who had been married for more than 60 years.
They had shared everything. They had talked about everything. They had kept no secrets from each other except that the little old woman had a shoe box in the top of her closet that she had cautioned her husband never to open or ask her about. For all of these years, he had never thought about the box, but one day the little old woman got very sick and the doctor said she would not recover. In trying to sort out their affairs, the little old man took down the shoe box and took it to his wife's bedside. She agreed that it was time that he should know what was in the box. When he opened it, he found two crocheted dolls and a stack of money totaling $25,000. He asked her about the contents.
"When we were to be married," she said, "my grandmother told me the secret of a happy marriage was to never argue. She told me that if I ever got angry with you, I should just keep quiet and crochet a doll."
The little old man was so moved; he had to fight back tears. Only two precious dolls were in the box. She had only been angry with him two times in all those years of living and loving. He almost burst with happiness.
"Honey," he said, "that explains the dolls, but what about all of this money? Where did it come from?"
"Oh," she said, "that's the money I made from selling the dolls.

Return to: Top of Page, List of Jokes About Marriage, My Little Sister's Jokes
---
A married couple in their early 60s were out celebrating their 35th wedding anniversary ...
... in a quiet, romantic little restaurant. Suddenly, a tiny yet beautiful fairy appeared on their table and said, "For being such an exemplary married couple and for being faithful to each other for all this time, I will grant you each a wish."
"Ooh, I want to travel around the world with my darling husband" said the wife.
The fairy moved her magic stick and... abracadabra!.... two tickets for the new Queen Mary2 luxury liner appeared in her hands.
Now it was the husband's turn.
He thought for a moment and said: "Well this is all very romantic, but an opportunity like this only occurs once in a lifetime, so I'm sorry my love, but my wish is to have a wife 30 years younger than me".
The wife and the fairy were deeply disappointed, but a wish is a wish...
So the fairy made a circle with her magic stick and .... abracadabra! ....the husband became 92 years old.
The moral of this story: Men might be ungrateful idiots... But fairies are....female!
Submitted by Vicki, Downingtown, Pa.

Return to: Top of Page, List of Jokes About Marriage, My Little Sister's Jokes
---
A couple were eating in a restaurant when the wife looks and sees a man in a drunken stupor.
The husband asks "I notice you've been watching that man for some time now. Do you know him?"
"Yes" she replies, "He's my ex-husband, and has been drinking like that since I left him seven years ago."
"That's remarkable" the husband replies, "I wouldn't think anybody could celebrate that long."
Submitted by Andy, Gettysburg, Pa.

Return to: Top of Page, List of Jokes About Marriage, My Little Sister's Jokes
---
Take a look at the two birds below. Study them closely and watch their habits ...
See if you can spot which of the two is the female. It can be done. Even by one with no skills whatsoever in bird watching.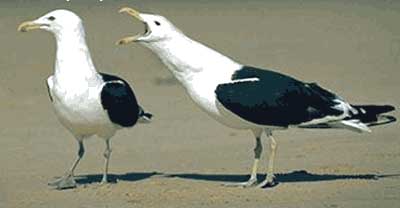 Return to: Top of Page, List of Jokes About Marriage, My Little Sister's Jokes
---