Late last week, I was rushing around trying to get some last minute shopping done.
I was stressed out and not thinking very fondly of the Christmas season right then. It was dark, cold, and wet in the parking lot as I was loading my car up with gifts that I felt obligated to buy. I noticed that I was missing a receipt that I might need later. So mumbling under my breath, I retraced my steps to the mall entrance. As I was searching the wet pavement for the lost receipt, I heard a quiet sobbing. The crying was coming from a poorly dressed boy of about 12 years old. He was short and thin. He had no coat. He was just wearing a ragged flannel shirt to protect him from the cold night's chill.
Oddly enough, he was holding a hundred dollar bill in his hand. Thinking that he had gotten lost from his parents, I asked him what was wrong. He told me his sad story. He said that he came from a large family. He had three brothers and four sisters. His father had died when he was nine years old. His mother was poorly educated and worked two full time jobs. She made very little to support her large family.
Nevertheless, she had managed to skimp and save two hundred dollars to buy her children Christmas presents. The young boy had been dropped off, by his mother, on the way to her second job. He was to use the money to buy presents for all his siblings and save just enough to take the bus home. He had not even entered the mall, when an older boy grabbed one of the hundred dollar bills and disappeared into the night.
"Why didn't you scream for help?" I asked. The boy said, "I did."
"And nobody came to help you?" I wondered.
The boy stared at the sidewalk and sadly shook his head. "How loud did you scream?" I inquired.
The soft-spoken boy looked up and meekly whispered, "Help me!"
I realized that absolutely no one could have heard that poor boy cry for help. So I grabbed his other hundred a and ran to my car.
Submitted by Dick, Williamsport, Md.

Return to: Top of Page, Groaner Joke List, My Little Sister's Jokes
---
Math always did boggle my mind ...
At New York's Kennedy airport today, an individual later discovered to be a public school teacher was arrested trying to board a flight while in possession of a ruler, a protractor, a setsquare, a slide rule, and a calculator.
At a morning press conference, Attorney general John Ashcroft said he believes the man is a member of the notorious al-gebra movement. He is being charged by the FBI with carrying weapons of math instruction.
"Al-gebra is a fearsome cult,", Ashcroft said. "They desire average solutions by means and extremes, and sometimes go off on tangents in a search of absolute value. They use secret code names like "x" and "y" and refer to themselves as "unknowns", but we have determined they belong to a common denominator of the axis of medieval with coordinates in every country.
"As the Greek philanderer Isosceles used to say, there are 3 sides to every triangle," Ashcroft declared.
When asked to comment on the arrest, President Bush said, "If God had wanted us to have better weapons of math instruction, He would have given us more fingers and toes.
"I am gratified that our government has given us a sine that it is intent on protracting us from these math-dogs who are willing to disintegrate us with calculus disregard. Murky statisticians love to inflict plane on every sphere of influence," the President said, adding: "Under the circumferences, we must differentiate their root, make our point, and draw the line."
President Bush warned, "These weapons of math instruction have the potential to decimal everything in their math on a scalene never before seen unless we become exponents of a Higher Power and begin to factor-in random facts of vertex."
Attorney General Ashcroft said, "As our Great Leader would say, read my ellipse. Here is one principle he is uncertainty of: though they continue to multiply, their days are numbered as the hypotenuse tightens around their necks."
Submitted by Sr. Wink, Younker, NY.

Return to: Top of Page, Groaner Joke List, My Little Sister's Jokes
---
Two little kids are in the hospital, lying on beds next to each other outside the operating room.
The first kid leans over and asks, "What are you in for?"
The second kid says, "I'm in here to get my tonsils out and I'm a little nervous."
The first kid says, "You've got nothing to worry about. I had that done when I was four. They put you to sleep, and when you wake up they give you lots of Jell-O and ice cream. It's a breeze."
The second kid then says, "What are you here for?"
The first kid says, "A circumcision."
And the second kid says, "Whoa, I had that done when I was born. Couldn't walk for a year."
Submitted by Andy, Gettysburg, Pa.

Return to: Top of Page, Groaner Joke List, My Little Sister's Jokes
---
A Southern Baptist minister was completing a temperance sermon.
With great emphasis he said, "If I had all the beer in the world, I'd take it and pour it into the river."
With even greater emphasis he said, "And if I had all the wine in the world, I'd take it and pour it into the river." And then finally, shaking his fist in the air, he said, "And if I had all the whiskey in the world, I'd take it and pour it into the river."
Sermon complete, he then sat down. The song leader stood very cautiously and announced with a smile, "For our closing song, let us sing Hymn #365, Shall We Gather at the River."
Submitted by Bill, Narberth, Pa.

Return to: Top of Page, Groaner Joke List, My Little Sister's Jokes
---
Top Groaners of 2003 ...
Two peanuts walk into a bar. One was a salted.
A jumper cable walks into a bar. The barman says, "I'll serve you, but don't start anything."
A sandwich walks into a bar. The barman says, "Sorry we don't serve food in here."
A dyslexic man walks into a bra.
A man walks into a bar with a slab of asphalt under his arm and says, "A beer, please, and one for the road."
Two aerials meet on a roof, fall in love get married. The ceremony wasn't much but the reception was brilliant.
Two cannibals are eating a clown. One says to the other: "Does this taste funny to you?"
A man goes to a Psychologist and says, "Doc, I can't stop singing 'The green, green grass of home.'" "That sounds like Tom Jones syndrome." "Is it common?" "It's not unusual."
Two cows standing next to each other in a field, Daisy says to Dolly "I was artificially inseminated this morning." "I don't believe you," said Dolly. "It's true -- no bull!", exclaimed Daisy.
Two hydrogen atoms walk into a bar. One says, "I've lost my electron." The other says, "Are you sure?" The first replies, "Yes, I'm positive..."
A man takes his Rottweiler to the vet and says, "My dog's cross-eyed, is there anything you can do for him?" "Well," says the vet, "let's have a look at him." So he picks the dog up and examines his eyes, then checks his teeth. Finally, he says "I'm going to have to put him down." "What? just because he's cross-eyed?" "No, because he's really heavy."
Since 1 in 5 people in the world are Chinese And there are 5 people in my family, it must be one of them. It's either my mum or my dad... or maybe my older brother Colin or my younger brother Ho-Cha Chu. But I'm pretty sure it's Colin.
I went to buy some camouflage trousers the other day but I didn't see any.
I went to the butcher's other day and I bet him 50 bucks that he couldn't reach the meat off the top shelf. He said, "no, the steaks are too high."
I went to a seafood disco rave last week.... and pulled a mussel.
Two Eskimos sitting in a kayak were chilly; but when they lit a fire in the craft, it sank, proving once and for all that you can't have your kayak and heat it too.
What is a fish with no eyes? A fsh.
This one's much worse! How can they get any worse? Read it and see!
In the early 20th Century, Thomas Edison was spreading the word about electricity. Once, while vacationing out West, he stopped at the Sioux reservation. Edison was shocked to learn that there was no indoor plumbing, and that he would have to use an outhouse. In fact, he was told, the Sioux had to use the outhouse even in the dead of night. To help the Sioux, Edison installed lights in the outhouse. With this kind act, he became the first person to wire a head for a reservation!
Submitted by Dick, Williamsport. Md.

Return to: Top of Page, Groaner Joke List, My Little Sister's Jokes
---
An extremely modest man was in the hospital for a series of tests...
...The last test had left his bodily systems extremely upset. Upon making several false alarm trips to the bathroom, he decided the latest episode was another and stayed put. He suddenly filled his bed with diarrhea and was embarrassed beyond his ability to remain rational. In a complete loss of composure he jumped out of bed, gathered up the bed sheets, and threw them out the hospital window.
A drunk was walking by the hospital when the sheets landed on him. He started yelling, cursing, and swinging his arms violently trying to get the unknown things off, and ended up with the soiled sheets in a tangled pile at his feet. As the drunk stood there, unsteady on his feet, staring down at the sheets, a hospital security guard (barely containing his laughter) who had watched the whole incident walked up and asked, "What the heck is going on here?"
The drunk, still staring down replied: "I think I just beat the crap out of a ghost"
Happy Halloween !
Return to: Top of Page, Groaner Joke List, My Little Sister's Jokes
---
Home remedies for fixing what ails you ...
... we recommend you try them on someone else first just to make sure they work ...
If you are choking on an ice cube, don't panic. Simply pour a cup of boiling water down your throat and presto! The blockage will be almost instantly removed.
Clumsy? Avoid cutting yourself while slicing vegetables by getting someone else to hold them while you chop away.
Avoid arguments with the missus about lifting the toilet seat by simply peeing in the sink.
High blood pressure sufferers: simply cut yourself and bleed for a while, thus reducing the pressure in your veins.
A mouse trap, placed on top of your alarm clock, will prevent you from rolling over and going back to sleep when you hit the snooze button.
If you have a bad cough, take a large dose of laxatives, then you will be afraid to cough.
Have a bad toothache? Hit your thumb with a hammer, then you will forget about the toothache.
Submitted by Dick, Williamsport, Md.

Return to: Top of Page, Groaner Joke List, My Little Sister's Jokes
---
Looking to sell a digital camera ... cheap. I don't need it any longer as I'm in the hospital.

I'm including the last photo that I took so you have some idea about the picture quality. Interested?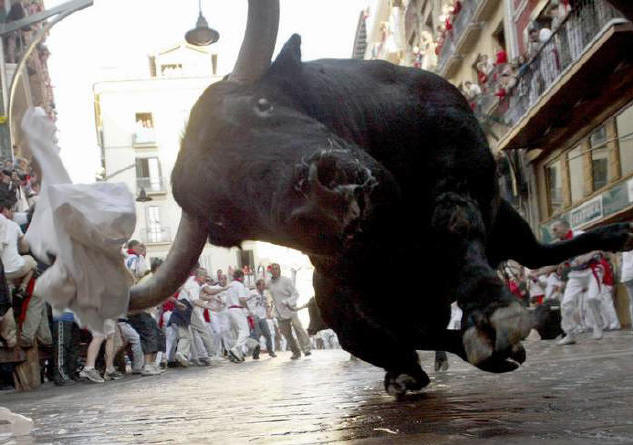 Submitted by Don, Middletown, Md.

Return to: Top of Page, Groaner Joke List, My Little Sister's Jokes
---