Little bits of heaven:
25 years of Gateway Market and Candyland
Elizabeth M. Piazza
Thurmont Dispatch
(7/3) Remember the days when little bits of heaven came in small packages with names like Mary Janes, Bit-O-Honey and Tootsie Roll Pops? Remember how running down to the corner store to buy ice cream and penny candy was the best part of the day?
Fortunately for the residents of Thurmont, Gateway Market and Candyland is the corner store that still sells these little bits of heaven. Celebrating its 25th anniversary, Gateway Market is a general store, liquor store and candy haven all in one. Tucked alongside Rt. 15 in Thurmont, visitors are first greeted by the red-and-white striped awnings along the storefront. Once inside, visitors are greeted by at least one member of the Bollinger/Doll family who have been running the market since its beginning.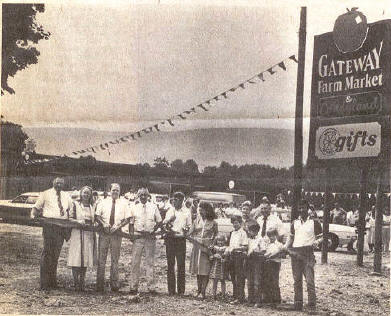 In 1983, Sterling and Linda Bollinger built the market as a means to sell the produce that was grown on their orchard on Kelbaugh Road. Inspired by the family's annual vacation to West Virginia, where they would stop at Hilltop Fruit Market and buy bagged candy, Sterling decided to sell candy as well. Gateway Market quickly transformed into Gateway Market and Candyland.
The market continues to sell produce in addition to many other items. Jams and jellies line the shelves and custom gift baskets are available. The market sells dried fruits, nuts and mixes for soups and bread.
Gateway Market and Candyland exemplifies a family run business. The Bollingers worked as a family on the orchard and that tradition carried over to the market. Each of the Bollinger's nine children and now 13 grandchildren has, at some point, all worked at the market. The newest addition, three-and-half-year -old Jameson (named after the whiskey) is next in line for a job.
"Everyone sort of moves on and through the years, everyone has come to work here," said Maggie Doll, Bollinger's second-eldest child. "Need a job? Call Aunt Maggie."
Maggie and her husband John purchased the market from Sterling Bollinger in 1996, although she has been managing it since 1985.
Doll admits that it can be hard to work to live together and work together. Each family member makes a pact not to bring work home or bring home to work.
The market has undergone some additions since its inception. The liquor store was added in 1992 after the space opened up and a liquor license became available. Doll also decided to add ice cream, an idea that Sterling wasn't keen on.
"I like to let Dad think he's in charge," said Doll. "I do talk to him about everything that is going on here." Sterling makes a habit of coming to the market every morning and afternoon. Doll, herself, often works seven days a week and averages 10-12 hour days.
"I love it," Doll said. "It's the only thing I've done for 22 years. Everyday is something different. I love people." Maggie and John do take at least one vacation each year to get away.
"I tell her she can call but she can't go back to fix it," said John Doll.
For the past 25 years, Gateway Market has been a regular pit stop for tourists traveling along Rt. 15 as well as for local residents. The Harne family of Thurmont often comes to the market for their ice cream fix.
"It's awesome," said Noah Harne, 9. "They have the best snow cones ever."
This is the Harne's second visit of the week. "We love to come here almost everyday after school to get a snow cone," said Jen Harne, Noah's mother. "Maggie and John are both so friendly."
Maggie remembers when Christie Brinkley and her husband, Billy Joel, stopped in.
"Being the country bumpkin that I am, I didn't even know who it was. I just remember thinking, 'Why is that beautiful woman with him?'" A delivery man told Maggie who the couple was.
As a Thurmont native, Doll makes sure the market stays active in the community. The market hosted its third annual ice cream dipping for charity event this past May, which raised $876 for a local food bank. The same event raised $1700 during its first year for the American Heart Association and $1000 for a local boy suffering from leukemia the second year. Each Christmas, the market buys Christmas trees for the Rocky Ridge 4-H club, which then sells them. The 4-H club keeps the profits, which range from $1500 to $1800.
Although candy is no longer a penny, Gateway Market continues to be a place where friends and family gather and enjoy the sweeter things in life. The market will be celebrating its 25th anniversary on July 13 from 1 – 5 p.m. with 25-cent hot dogs, sodas, ice cream and snow cones. There will be balloon art, face painting and a magician. From 5 – 6 p.m., a Blue Grass Gospel Band will entertain customers. Gateway Market is located at Rt. 15 and Franklinville Rd, Thurmont. Call (301) 271-2322 for more information.
If you have any Information or historical news clippings on business in the Thurmont Area, Please send them to us so we can included them in our archives. E-mail us at: history@mythurmont.net