Anyone who knows the history of Kerry Shorb's family knows that the name of his shop, "My Fathers Footsteps, is an understatement.

Kerry's father - Charles [Toss] Shorb, was born March 25, 1912. His parents moved to Emmitsburg soon after. He attend the local grade school, and eventually graduated from the Emmitsburg High School. In 1927, at the age of 15, he began his barber apprenticeship with his future wife's uncle Guy Topper and Thornton Rodger in their barbershop on West Main Street in Emmitsburg.

By marriage, later both men became great uncles to Kerry. Robert Topper also a barber, worked part time in the shop, and later through marriage, became a step grandfather to Kerry.

Kerry's father graduated from the Sayre Academy of Cosmetology in Akron, Ohio on March 21, 1937 on his 25 birthday. From there he barbered in Baltimore, for several years before returning to Emmitsburg where he fell in love with the women of his dreams Kathleen Topper Shorb.
Kathleen, was born in Emmitsburg in Jan 15, 1918, from a old established family that traced its roots back to the founding of Emmitsburg. Kathleen attend St. Euphemia's Grade School [now a apartment building next to St. Joseph's Church], and later the St. Joseph's College High School. After graduation, Kathleen joined the administrative staff St. Joseph's College, and when it closed, became an integral part of the St. Joseph's Provincial House management.
In July 29, 1946 they married and set about raising five wonderful children. Kerry being the youngest. In the years following, Kerry' father ran both a barber shop and a beauty shop. An true entrepreneur, Kerry's father even tried his hand at the restaurant business and for years successfully managed the popular Toss' Dog House lunch room.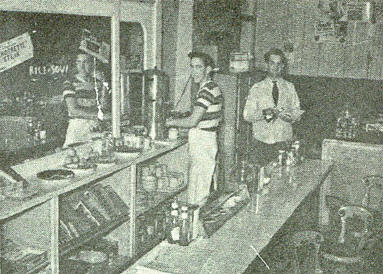 Toss' Dog House
In 1953 he built the shop in which Kerry now works. Several years later he retired from barbering and began a second career as the postmaster for the old St. Joseph's college. When St. Joseph's was merged with Mount St. Mary's, Kerry's father moved onto Moore's Business Forms in Thurmont, where he retired in April, 1977.
For the remaining years, Kerry's father enjoyed his freedom. Kerry's dad died on Aug 27, 1980 and now peacefully watches the coming and going of Emmitsburg from his final tree shaded resting place in the St. Joseph's Cemetery.
Learn more about the Barbering in Emmitsburg
To learn more about the rich history of Emmitsburg, visit the Emmitsburg Historical Society's section of Emmitsburg.net

---