Redemption Is Drawing Near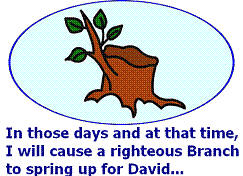 Today's Call to Worship was taken from the appointed Hebrew Testament lesson from the Prophet Jeremiah: 'Surely the days are coming,' says the Lord, 'when I will fulfill the promise made to the House of Israel and the house of Judah. And in those days and at that time, I will cause a righteous Branch to spring up for David. And he shall execute justice and righteousness in all the land. And in those days Judah will be saved and Jerusalem will live in safety.' Those are words of great hope and expectation for the tribes of Judah. Coming from having lived out a great history as the people of God, moving from a small band of people lost in the wilderness, taking the Promised Land and being blessed, all the way up to the monarchy of the great King David, they then see that kingdom fall apart as invaders, those not of their faith, come and take over their land and send their people into exile. It is in this setting that the people hear these words from the prophet, words giving them hope.
In the Old Testament psalms, we hear about the cedars of Lebanon and how these trees were expressive of the mighty power of God, but also the might that the nation of Israel had become. And in their time of exile, they really felt like a stump, cut off in the prime of their life. Everything that they needed, like light from the sun to give power and strength to the tree, is gone and the people are in a place of hopelessness and desolation. We can identify with that as winter arrives and the trees have lost their leaves and things are laid bare. There is desolation, and we can see death in nature. In our current economic crisis, many have been trying to find jobs for a long time. Some have lost their homes. Some struggle to find food, while others have difficulties with illness and disease, not knowing where to turn. Struggling with all these things makes us feel like a tree cut off, like we are simply a stump. Some scripture passages in Advent include psalms of prayer and supplications, 'Please hear us, Lord,' and different messages about the end-times. The fear that comes with that matches the season, a season of desolation. But through this desolation, we also hear words of hope and we hear it from the Hebrew Testament as well as from the New Testament. What was true for the people of Judah is true for us: that there is this little sprig of life coming out of the stump, hope that there is something still there, that life will be renewed.
When we cut down a tree, we often find that a little sprig starts growing out of the stump. That sprig or that new branch coming out signifies that there is still life in there. And just as the tribes of Judah and Benjamin were in exile and it seemed like there was no hope, there was still hope. Even though the situation was desperate, they knew they had hope. These words reminded them that even though they may see desolation around them, there is still life present, and there is life-giving love. And it is shown through the return of spring, and in little images like this stump.
And so living out the biblical history, a proclamation is made that a righteous Branch will spring up. And when we hear them and we hear about this righteous Branch springing forth, how God is our righteousness, we know that to be Jesus who is coming into the world to re-establish the kingdom and throne of David in the holy city, Jerusalem. And that is our heritage, our faith, and our belief. And so we are intricately tied into these Old Testament passages that give hope to the people Israel and continue to give hope to us even in the most desperate times of our own lives.
This is a season of introspection where I will ask you to think about those things that are hard in your life so that you can reflect on how God is helping you work through that. And as I do so, be reminded that the people Israel also, and faithful people from generation to generation, have remembered and trusted and sang out songs like today's psalm, reminding themselves that God is faithful and just, that equity and righteousness will reign and goodness will be restored in our lives again and that we shall be renewed. Remember that. Keep that as a safety net as you go through this season when things begin to look bleak. Spring will be coming. The Messiah will be coming into our lives again.
We prepare ourselves in this season as we read ancient writings from the Israelites and from the early Christians. In today's passage from the New Testament, we hear Jesus talking about the coming of the end times. The disciples and the people were worried about this: "When will the end come?" And similar to last week's passage, Jesus tells them, "Try not to worry about this." He warns them of the things that are coming, but more important is his warning and encouragement to be prepared and to be ready. We will be hearing that warning from John the Baptist, the voice of one crying out in the wilderness to prepare the way of the Lord. As Christians, we prepare in this season not only for Jesus' coming as we commemorate his birth in Bethlehem, but we remember his presence with us now, and also his return to earth in the parousia, which is part of our Christian heritage. It is proclaimed that no one shall know the day or the hour, so we heed the words of Jesus to us: "Be prepared."
So the season of Advent is about getting spiritually renewed. It's about starting over or wiping the slate clean, realizing that though we may be stumps, there is something emerging from us that is hopeful and full of life. There is something new that will become strong and beautiful and courageous again. And so let us spend time in reflection and penitence. But let us not forget the joy that is to come. In our culture, we tend to rush toward the joy. But as Christians we know often difficulty, struggle and suffering come before joy. We've seen it in the history of our faith. We've seen it in the history of the Israelites. But the joy does come.
So let us not skip this season of preparing. Let us thoroughly invest ourselves in it, working to renew our spirits, digging up and laying to rest those things that have bothered us for a long time. Let us seek to deal with those, experiencing the grace of God and moving forward to a new life and renewed faith. May it be so for all of us.
November 29, 2009