Christ Rules in the Kingdom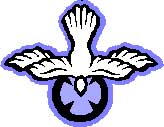 Today is the last Sunday in the Christian church year, the final Sunday in Pentecost. It is termed the Reign of Christ or Christ the Ruler or Christ the King Sunday. Next Sunday, we start the season of Advent, the beginning of a new church year, in the hope of the Coming One, which we heard about in this morning's lesson from the Prophet Jeremiah, the 'hope of the one to come.'
Here at the end of the church season, looking at the reign of Christ and looking back over the entire church calendar for the year, we come back to the place of Golgotha, the place of the skull where Jesus himself has been crucified. And we hear the familiar voices of the people involved. We hear the leaders who scoff at Jesus. We hear the voices from the guards and the soldiers who are standing there deriding him. We even hear the voice of one of the criminals who has been crucified with Jesus, and even he is saying to Jesus, "Come on, get us down!"
But there is only one voice that really seems to recognize the situation, one voice in there that seems to see, from a larger perspective, what is happening, seeing that even Jesus, under the same sentence of condemnation as a common criminal, is a true ruler, is someone who is sent into the world to do something more special than anyone had ever imagined. Even this criminal, who probably wasn't even a person of faith, is the one who recognizes that Jesus is moving on to a different Kingdom and asks to go with him. And Jesus, filled with grace and love and compassion for this person, tells him, "You will today be with me in paradise." Jesus moves into the Kingdom of God. Jesus, who we proclaim crowned as Ruler, is up in the heavens...or realm of God...ruling God's Kingdom.
But where does that leave us. Don't we also exist in the Kingdom of God? Isn't it here with us on earth? Well, when we look at Jesus' life and ministry, we understand that he faced the toughest challenges, and eventually those people who challenged him took his very life from him, the greatest challenge of all.
If we look at life on earth, perhaps it's not exactly God's Kingdom the way we would like to see it. If it were truly God's Kingdom, wouldn't God make all the decisions and everything be good and positive and joyful? There would probably be no more suffering. There would probably be no more trouble, no more addiction, no more greed, no more war, no more death. And yet we find ourselves living in this existence where all of these things surround us daily and sometimes are awaiting us around the next bend. It's a very disconcerting thought, I agree.
Yet the Kingdom of God is part of God's realm. And this world also in some way fits into this Kingdom that Christ rules. And as we profess our faith as Christians who follow Jesus, as we partake of Communion, as we are baptized or confirmed or join the church, or are anointed, those glimpses of the Kingdom come alive in us. The Kingdom, we often say, is at hand. And often when we speak of that...and you'll hear that in some of the Advent Scriptures...we're talking about the coming of God's Kingdom back into the world, Christ's return on earth, that Kingdom of God on earth restored finally. And so you'll hear that theme coming in a few weeks as we talk about the coming of the Infant Child.
But part of that Kingdom is already here. It's in each one of us. It's in you, and you experience it each time that you feel that sense of grace, that sense of wholeness, that warmth of an embrace of love, when you know for a moment...and sometimes it's only fleeting...that everything is going to be okay, or that everything is okay, and in some way God's hand is in the midst of our lives. We can sense that Kingdom within us. And the work that we do for Christ continues to bring the Kingdom to others and into this world as we await the full arrival of that Kingdom in our midst.
But if Christ only rules that Kingdom, when will we ever see these things fulfilled? Well, Christ is working in us and through us and bringing that Kingdom a little bit closer every day by each step we take on behalf of Christ. So as I said to the children just a few moments ago about Christ being our Leader, that is something that I take very seriously. Sure, I can call Christ my King, and that's wonderful. It may be hard for small children to understand unless they play princes and kingdoms and castles, but they certainly understand a 'leader.' And I wonder if we understand that same concept as well, that truly if we are following Christ, he is our Leader. And, like I told the children, it is not a game. It is our faith that we are dealing with. It is the bringing of the Kingdom that is coming nearer with each step we take.
So if we are following our true Ruler, our true Leader, Christ our King, then we will see even more glimpses of the Kingdom that Jesus rules over even though he's not currently here with us. Now, I can't tell you what day, or if the day will ever come, that we'll see Jesus walking the earth again. Scripture promises that. Being honest with you, I won't know until it actually happens. I can assure you that Scripture promises and it's coming, but I can't tell you when. All I can tell you is I see the Kingdom blossoming in this church. I've been here almost three and a half years now as your pastor, and the glimpses of the Kingdom seem to be more frequent, and they're growing. And that, to me, says that this church is taking seriously the call to follow Christ our Leader. Whether we proclaim him King in our lives or King in our hearts, that's up to each of us as individuals, but I can see the love of Christ blossoming amongst many of us here, and I see growing another step closer to God's Kingdom being true for us each and every day.
So I have hope, but I also have the conviction that Christ is Ruler of God's Kingdom wherever and whenever it is present...to us now, or in the future, or to those who are in the past. So be assured that Christ in some way is a part of all things that we do. And let us recognize that with each step we take, listening to Jesus and trying to follow in his footsteps, we might find ourselves walking in the path of God's Kingdom to places that bring unbelievable joy, but also struggle which leads sometimes to a sense of peace.
So as we end this church year, let us consider if Christ is really ruling in our lives and in our hearts, and if that is what we are called to do for the next church year, to follow closely our Leader and our King.