Each According to His Own Purpose and Grace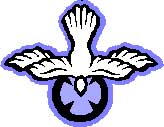 We heard a few moments ago in our epistle lesson from II Timothy, Chapter 1, called 'according to his own grace and purpose.' I center us in that today, reminding us that in what we do in the life of the church we are called to do as Christ has asked us for his own purposes and not for our own, which sometimes we might forget. We have to recognize what gifts we've been given, what abilities God has given us for the service of Christ in the church. And it's important that we know what those gifts are. But it's also important for us to remember that these gifts have been given not for our own purpose, but for Christ's purpose in the world. That is something that from time to time we do well, but from time to time we might do a little better.
In the Gospel lesson, Jesus is warning the disciples who will be facing discouragement at times that they shouldn't expect rewards for their good actions. Now, here are people who have been gifted and called according to a special purpose and grace to spread the Gospel that Jesus is literally teaching them as they walk with him. But he reminds them that it's not going to be an easy job. The disciples' response to him is, 'Increase our faith.' "Give us the good stuff. We want it." Of course they want it. They're following Jesus and want to have everything they need. They see Jesus performing miracles. They see Jesus reaching the crowds in a way that is almost spell-binding to his disciples. But Jesus reminds them that faith is not something he can give them. And he also reminds them of their lack of faith and refers to mustard seed. I didn't bring one today, but they're very tiny. He says, 'If you had faith the size of a mustard seed, you could command this mulberry tree, "Be uprooted and planted by the sea," and it would obey you.' Now, to us that would imply some sort of supernatural event, and maybe that is what the disciples thought also.
But then Jesus follows up with another story, one about servanthood. And perhaps he is suggesting that their faith will increase as they have a new perspective on service to God. 'Who among you would say to your servant who has just come in from plowing or tending sheep in the field, "Come here at once and take your place at the table"? Would you say that? No. What we would say to the servant is, "Go fix me some supper. After I've eaten and you've cleaned up, maybe you can sit down and have something to eat." That would have been typical of a master/slave relationship in those times, and it would be unheard of for the master to invite the servant to sit at the table and eat first. Jesus then asks, in this little parable, 'Do you thank the servant for doing what was commanded?" Well, no, because they're expected to do it. So there's a twofold thing happening there. The servant should not expect praise for what he has done nor expect to be rewarded by being seated at the table first after putting in a hard day's work.
How do we combine all these messages together? Called according not to our own works, but to Christ's purpose and grace, seeing ourselves as the servants, maybe with a mustard seed of faith. Recognizing that each of us does have a purpose and that we're called according to Christ's purpose and grace, and recognizing that we are servants of Christ and meant to walk in the world and serve the world without reward, without accolades of praise, it gives us an understanding of why we might need to increase our faith. The deepening of faith does happen in the service of Christ as we recognize what gifts we have and we use those gifts and abilities for Christ's purposes and not just our own. We deepen in spirit and our faith does increase, but not expecting the rewards and the accolades of praise. That is another thing that helps us to remember that we are doing these things for Christ and not for ourselves.
It has always been a question in every church..."Do we clap for the choir after the anthem?" The choir is a gift of music and prayer lifted to God, a gift and purpose given to each of the people in our choir that they use to offer up a praise-filled prayer to God in the celebration of worship...not so that we can clap for them, but so they can honor God with this gift they have been given. At the same time, the congregation has this understanding: "We're clapping because you have inspired us. The gift of God in you, raised to God in prayer, has inspired us and drawn us into worship and we feel a deeper connection to the spirit, a deeper connection to God by what you have offered." So we lift that up as a prayer of praise through applause that we are honoring God saying, "This wonderful gift that you have given has drawn us closer to you, God." But in other types of secular events, we applaud because people are good. And in those types of events, we would expect that. But in the church, there's always this aspect that's deep within us that traces back to our evangelical and reformed roots. "I'll do something for the church, but you can't tell anybody. I'm doing my works in secret." Well, lately we lift more of the gifts up as a sense of inspiring the body of Christ to new heights and saying, "We can do it," and each of us sharing these gifts within the church.
So what is the right thing to do? Should we applaud and praise ourselves for the things we do or should we not expect that? I think the key word there is 'expect.' I drew that out in my discerning for the message today. It's the expectation we have which decides the purpose of that. The choir doesn't sing with the expectation of the congregation applauding or even necessarily because we've all been drawn into a stronger sense of worship and connection to God. And neither does the Learning Center Committee work hard doing fund-raisers so they can be applauded because the Learning Center can now run for another couple of months. No, that expectation isn't there. And I think for the most part that's something we do very well. In all the gifts we give for God's purposes through the gifts God has given us, we don't do those with an expectation of praise, but we do them because we're serving the church, we're serving Christ's purposes, and we do that very well. I shouldn't applaud you because I'm not supposed to, but since you didn't expect it, very good, everyone (applause)! You're doing a great job, but there's much more that we can do and much more that we will be inspired to do in the coming years.
Tying this in with World Communion Sunday, as I said to the kids, our mission in the world is far greater than just our relationship with God here at Grace Church or our individual relationship with God. We are called according to Christ's purpose to deliver the good news of God's love. And let me quote from Paul. We're supposed to be sharing with other people 'this grace was given to us in Christ Jesus before the ages began, but it has now been revealed through the appearing of our Savior Christ Jesus, who abolished death and brought life and immortality to light through the gospel.' That is our larger mission, bringing the good news to the world, so I'm tying this in with the message to the children.
All Christians who receive Communion today celebrate together. We embrace all the diversity in the cultures that we are as Christians and we bring the good news of the Gospel to everyone that we can, our understanding that Christ 'abolished death and brought life and immortality to light through the gospel.' That is what we share, that sense of life-giving love that God has extended to the world through Christ. That's one of the expectations placed upon us by God, by Christ, and one that we've been given special gifts and abilities for according to Christ's purpose. We are doing those things now, and we've done those things in the past. But we'll examine our mission focuses over the next year and possibly look at new ways that we might bring that message of good news to the world according to the grace and purpose that Christ has given us.
So reflect in the coming days and months, or even the year ahead, on what your purpose is for Christ at Grace Church and what your purpose for Christ may be in our larger world.