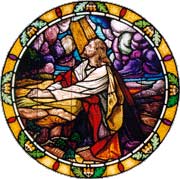 Why do people suffer?
What does it mean to "offer it up"? Does the "Cross really cure"?
This past week I was having dinner, nearby the Grotto, on Mary's Mountain, and one of the dinner hosts asked, "Where do we get the tradition of 'offering things up"-where does that come from?" Fortunately I've heard this legitimate, important question before, and because the question is so universal and important to every human being, we've done research and print it below.
Everyone asks the question (in some form or another), Why suffering? Every human being undergoes pain, and we all want it to have meaning (and so not despair). Amidst this, always remember: there are two kinds of suffering-redemptive suffering and wasted suffering…Which one will you chose?
The Catechism of the Catholic Church encourages and reminds us of our vocation: "By His passion and death on the Cross Christ has given a new meaning to suffering: it can henceforth configure us to Him and unite us with His redemptive passion" (#1505).
Meditate upon those key phrases: they (sufferings) "configure us to Him" and "unite us with His passion". These are keys to this world-we must submit, unite and configure every trial and tribulation into, up to, Christ-never leaving it separate from Him and possibly waste it.
After breaking three ribs and returning from the hospital, Mother Teresa of Calcutta said: "I offered it up. The three ribs-I never offered anything up to the Trinity before so I did that." That's called redemptive-and creative-suffering!
Suffice it now to offer two quotes, which are, point blank, beautiful answers to the question, Why suffering? These are from the Bible and tradition of our Holy Church: "Christ suffered for you and left you an example to follow in His footsteps." +IPt. 2:21…and: "It is in suffering that we are withdrawn from the bright superficial film of existence, from the sway of time and mere things and find ourselves in the presence of profounder truth." + Fr. Yves Conger, French priest-theologian.
Notice from these quotes--Imitate and Liberate: suffering helps us to image our Savior and be freed from the world and ourselves-what more could we ask for?
Now, for more insights on suffering from a gritty guy who went thru it and came out to tell his story, read this account, reprinted from the Catholic World Report… "On March 9, 1998, Father Antun Luli, SJ, died quietly in Rome, where he was undergoing medical treatment. Revered in his Albanian homeland as a living martyr, he had spent nearly half of his life in Communist prisons, often under torture. On the Christmas Eve of 1947 he was stripped of his clothes and suspended from a tight wire wrapped around his chest and under his armpits; his dangling toes could barely touch the ground. When he screamed, he was taken down, but only long enough to be beaten…'On that night I experienced the true meaning of the Incarnation and the Cross,' he would later testify. 'The Lord asked me to live nailed to a cross---and, with my arms spread out in the service of denial, to celebrate my Eucharist, my priestly ministry, through every form of chains and sufferings.' After that address, Pope John Paul II rushed over to embrace the Albanian priest. Father Luli would later say, 'That hug from the Pope was worth the 42 years in prison.'…Sometimes the Lord asks us to do intense, wounding things-and sometimes without reward (at least in this life)-are you ready?
The Value and Meaning of Redemptive Suffering
Redemptive suffering is any trial or tribulation (physical or mental) we offer up and UNITE to Jesus- as a "gift" to Him to express our love thru a costly way, in exchange for some other good. Notice the key elements: we consciously choose embrace suffering; it is precious (a "gift") because it is painful (not fun or "easy"); it brings us close(r) to Jesus in an intimate and intense way; and the suffering may "spiritually repair" my own soul or others-and thereby help in the work of redemption (Christ's allowing me to help Him save souls).
Other names/descriptions of this phenomenon include: vicarious atonement (Jesus, Who alone can atone the sins of the world, chooses others to "vicariously assist Him" and thereby weave more people into the plan of salvation; victim souls (a person whose primary call as a disciple in life is to especially suffer for the saving of other souls); and co-redemption.
Ask yourself these questions: How can I intensely merge my sufferings with Christ (i.e., more deeply)? How can I more readily blend my trials with Him (i.e. not hesitating in offering suffering to Him)? How can I consistently entwine my difficulties with Him (less sporadically)? …
Movements of Suffering
The more we study the Bible, the life of Jesus Christ and of the saints, we will readily realize a pattern of redemptive suffering, which goes something like this:
Movement I: Christ Himself suffered (see Mk 8:31-33; Phil 2:5-7; Heb 2:9-ll).
Movement II: Christ left us an example to imitate (see Gal 2:19-20, 5:24, 6:17; Phil 1:29; 1 Pt 2:21).
Movement III: Christians not only imitate and participate in, but rejoice in suffering (see Mt. 5:10; Lk: 6:22; Jn 20:26-29; Act 5:41; Col 1:24).
Conclusion-Why suffering? See the following verses--+as an offering/mini-human-atonement: Col 1:24; Ph 1:12-13; 2 Tim 2:10; +Cross as purifying: Mk 8:34; Gal 5:24; +Suffering yields fruit: Rm 8:18; Heb 12:1; +It purifies weakness/reveals power: II Cor 4:7-10; 12:7-10; +Magnifies God/Christ: Ph 1:10; I Pt 4:16.
The Bible and Suffering …
The following verses may help you in your suffering…
"Whoever follows me must take up his cross..." (Mt 10: 38).
"Abba, Father. All things are possible to Thee; remove this cup from Me; yet not what I will, but what Thou willest." (Mk 14:36).
"So they departed from the presence of the Sanhedrin, rejoicing that they had been counted worthy to suffer disgrace for the name of Jesus." (Acts 5:41)
"What we suffer at this present time cannot be compared at all with the glory that is going to be revealed in us...We know that all things work for good for those who love God...For I am convinced that neither life nor death...nor future things, nor powers nor any other creature can separate us from the love of God in Christ Jesus" (Rm 8:18, 28,38).
"For the doctrine of the cross is foolishness to the world. But to those who are saved, it is the power of God...For the foolishness of God is wiser than men, the weakness of God is stronger than men." (I Cor 1:1.18, 25).
"If we are afflicted it is for your encouragement, which enables you to endure the same sufferings that we suffer. Our hope for you is firm, for we know that as you share in the sufferings, you also share in the encouragement." (1 Cor 1:6-7).
"But we hold this treasure in earthen vessels, that the surpassing power may be of God and not from us. We are afflicted in every way, but not constrained; perplexed but not driven to despair; persecuted but not abandoned; struck down but not destroyed, always carrying about in our bodies the dying of Jesus so that the life Jesus may also be manifested in our body." (II Cor 4:7).
"Therefore we are not discouraged, rather, although our outer self is wasting away, our inner self is being renewed day by day. For this momentary light affliction is producing for us an eternal weight of glory beyond all comparison. (II Cor 4: 16).
" 'My grace is sufficient for thee; for strength is made perfect in weakness.' Gladly, therefore I, (St Paul) glory in my infirmities that the strength of Christ may dwell in me. For when I am weak, then I am strong"(II Cor 12:8-10).
"...A thorn in the flesh was given to me, to keep me from being too elated. Three times I begged the Lord about this, that it might leave me, but He said to me, 'My grace is sufficient for you, for my power is made perfect in weakness.' I will rather boast gladly of my weaknesses in order that the power of Christ may dwell with me. Therefore I am content with weaknesses, insults, hardships, persecutions and constraints for the sake of Christ, for when I am weak then I am strong" (II Cor .12:7-10)
"With Christ I am nailed to the cross. It is now no longer I that live but Christ Who lives in me" (Gal 2:19-20).
"Now I rejoice in my sufferings for your sake, for I fill up what is lacking in the afflictions of Christ." (Col:24-read this one again-and again!).
"This indeed is a grace, if for consciousness of God anyone endures sorrows, suffering. unjustly." (I Pt 2: 19).
"Now no chastening for the present seems to you to be joyous, but grievous, nevertheless afterward it yields the peaceable fruit of righteousness unto them which are exercised thereby." (Heb 12:11).
"For it was fitting that He, for Whom and through Whom all things exist...should make the leader of their salvation perfect through suffering." (Heb 2: 10)
And also consider…
"Jesus did not come to do away with suffering or remove it. He came to fill it with His presence." (Paul Claudell)
"Trial is God's alchemy by which the cross is left in the crucible, the baser metals are transmuted and the character is enriched with gold." (Wm. Morley Punshon)

---
Quote of the Week: "Once you are joined to the Lord, you become as omnipresent as He is. Instead of offering assistance in one particular place, doctor, nurse, or priest, in the power of the Cross you have the ability to be everywhere at once. At every scene of misery. Your compassionate love, drawn from the Redeemer's Heart, can take you in all directions, allowing you to sprinkle on every side the Precious Blood that soothes, heals and redeems." (St. Teresa Benedicta of the Cross, OCD)
Read other reflections by Father John J. Lombardi