Build a Cold Frame in Your Garden
Mary Price
Frederick County Master Gardener
Coming to Maryland for the first time and - shall I say? - transplanted from California, I truly believed that the growing season, either because of the cold temperatures in the winter months, or the extreme heat and humidity in the summer months, had a finite beginning and end in Maryland (last frost to first frost). After going through the Frederick Master Gardener Training Program last winter and talking to neighbors, I became aware of an easy, low-cost, and effective way to expand the growing season - the cold frame!
What is a cold frame?
A cold frame is a transparent- roofed enclosure built on the ground, and it is used to provide a protected environment for seeds to mature, or plants to grow during less desirable seasons of the year. The transparent top allows the heat from the sun to permeate while sheltering the plants from extreme cold temperatures, frost, wind, and precipitation. The top is hinged in the back to provide easy access for planting and harvesting plus it allows flexibility for opening and closing easily during the summer months to give plants adequate ventilation.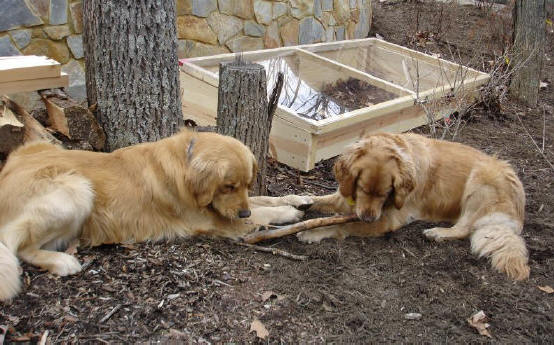 Where to build your cold frame?
As you can see, my two Golden Retrievers helped to sniff out the site. The best site, according to Rodale's All-New Encyclopedia of Organic Gardening, is a south-facing, sunny spot with good drainage and some protection from the wind. This can be a permanent structure, or one that can be moved from site to site. Our site was not south-facing and was under some trees due to our forested property, but it was still successful in producing multiple types of tomato seedlings as well as basil and lettuce. As an experiment, we left some of the seedlings to grow in the cold frame rather than transplanting them into the garden which resulted in abundant and delicious tomatoes and basil throughout the summer. We did have the advantage, if you can call it that, of the Gypsy Moth defoliation of our trees in the early summer causing the canopy above the cold frame to be less dense, to say the least - not something to wish for, or count on.
How to build your cold frame?
My garden cold frame was made to fit the site (6' x 3') and constructed out of spruce (non-treated) with a Plexiglas cover to avoid accidents such as falling branches, or animals at play. The cold frame plan was from Country Wisdom & Know-How - great resource! It would be preferable to use cedar, or you could recycle whatever wood you have that has not been chemically treated, and glass from an old door frame for the top would do the trick, too. Hinges on the lid are necessary for easy access, and to prop it open when temperatures rise for ventilation, and a handle on the top to make it easier to raise and lower when planting, or harvesting.
Prepare soil to a depth of 12-18" with organic compost (leaf grow), peat moss, or other forms of organic humus. Mix it with the loosened existing soil and plant. Renew the soil every 1-2 years. Light organic feeding is beneficial after 2-3 weeks for leaf crops (spinach, lettuce, etc.).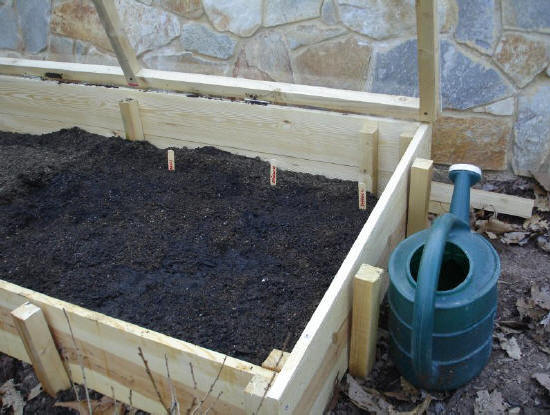 Tips!
Pay attention to the temperature inside the cold frame. The temperature inside the cold frame should stay below 75 degrees F for summer plants, and below 60 degrees F for plants that grow in spring and fall. If an additional cover is needed for temperatures dropping down into the low twenties or teens, place a burlap bag, or blanket on top of the lid for additional warmth.
Keep a full watering can nearby, as the soil tends to dry quickly in warm, dry weather!
In early spring, sow summer vegetable seeds as soon as you are able to loosen the existing soil - weeks in advance of the last frost. In fall and winter, start your leaf vegetables - lettuce and spinach are the best.
Build a cold frame and enjoy your home grown organic vegetables - year round!