First Steps - Planning for This Yearís South Mountain Fair

Connie Holland
Adams County Master Gardener
(5/1) Now that this yearís spring is quickly giving in to the heat of summer, it is not too early to start planning for the South Mountain Fair. The Fair opens this year on August 1 at 4 pm and runs through August 5.
In planning ahead for growing Department 17 horticulture and floral entries, keep in mind there are special entry requirements for potted plants, cut branches, specimen cut flowers, and floral arrangements. Potted plants, for example, must be exhibited in containers, not exceeding 10 inches in diameter, in which the exhibitor has grown them for at least three months. In the specimen cut flower classes, exhibitors must grow all of their own entries. Department 17 is made up of other divisions for both youth and adults. Refer to the Premium Book for specific details on entering each class as requirements vary by floral species.
At the Fair, you receive ribbons and even prize money for your winning entries of specimen cut flowers, potted plants and floral arrangements as well as home grown vegetables, baked goods, canned fruits, jellies and jams, needlework, clothing, quilts, crafts and photography. Many departments have separate youth and adult divisions.
Over the last several years, Fairy Gardens and Terrariums have continued to grow in popularity. As a result, these two new and exciting divisions have been added as classes for adults and youth (Under 10 and 10 to 17) with more and more entries being submitted every year.
Fairy Gardens are gardens in miniature, with the addition of whimsical dwellings designed to scale. There are themes that most fairy gardens share such as fairy houses, dwarf plants and small-scale ornamentation. They are planted in low-sided containers limited in size to a maximum of 12 x 18 inches or 18 inches in diameter with any plant or accessory height limited to 6-inch maximum.
Terrariums are miniature landscapes in a transparent container such as a fish bowl or glass jar. Container size for terrariums is limited to 14-inch maximum. Plants should be of compatible growth conditions. Terrariums may include one or more accessories to complete the landscape. A cover is optional. No artificial plants are allowed in either Fairy Gardens or Terrariums.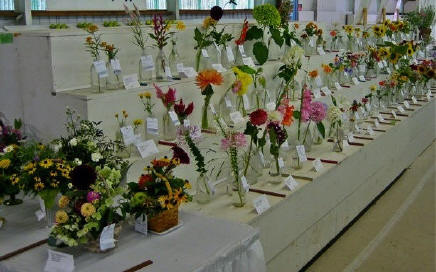 Your gardening efforts will be judged and on display for all Fair attendees to see. As such, your plants and flowers should be in good condition and well groomed. This means that all dead leaves and spent flowers should be removed. There should be no sign of insect damage or disease present. It isnít always the largest flower that wins the ribbon, but the most perfect. Condition and form mean more than size to the judges. Everyone can enter and compete for the top horticultural and monetary prize, the prestigious Thomas Piper Award. Prize money also rewards first, second and third place exhibit winners.
Refer to the Premium book for specific entry details of each class. The Premium Book is available online at southmountainfair.com, in paper form at many farm markets, and at the Ag Extension Office. It lists all of the various classes and requirements for entering. Carefully read the directions (which specify entry number and size and type). The other department where you can enter your gardening talents is the Vegetable Department 12.
Entries can be pre-registered online at www.southmountainfair.com by downloading or printing the pre-registration form. After that, register in person on Sunday, July 30, from 2 to 4 pm and Monday July 31, from 4 to 8 pm. An exhibitor can do both pre-registration and on-site registration. Pre-registration is not mandatory but is encouraged.
Plan now to enter the Fair. Have a fun summer creating something for the Fair. Be sure to attend to see all of the exhibits and experience the fun of the 95th South Mountain Fair.