A chapter in the book of "A Gardener's Life"
Mary Ann Ryan
Adams County Master Gardener Coordinator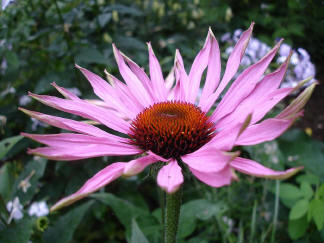 (7/3) In retail, weekends are the busiest times for plant sales. Helping people select plants, advising on the how-to's, the whys and the whatevers keeps those of us working in the plant world up to date. It also keeps us away from our own gardens, making it challenging to plant the latest plant introductions, weeding and mulching. As a visitor to my garden has reminded me from time to time "you have a lot of work to do in your yard!" No kidding!
However, this is the first year since forever in my adult life that I haven't worked weekends. Having the "free time" has been a blessing for the garden. I have vowed that I would keep up with the chores of the garden this year, and so far, I have. Although my Saturday and Sundays haven't been totally devoted to the garden, (sometimes my job gets in the way, or I do fun things with family or friends), the garden is my respite and my pride.
This season began as any other season. I had my list of plants that I wanted to try, my seeds were ordered and ready for planting. The weather was so weird, that it was difficult to determine when things could be planted. Instinct told me to "Plant!" March was bright, warm and spring like. The potatoes and peas would surely benefit from the early spring sun. But my mind told me "don't do it!" The weather will change and it will get cold again.
Although I avoided planting in March, I did have an opportunity to come to terms with weeds. The winter annuals, things like deadnettle, bittercress, veronica, and chickweed were loving the sunshine and warm temperatures, and since I wasn't doing any other type of gardening, I was able to pull those winter annuals and prepare for the month of May, when the planting season really began.
Sure enough, April brought cold temperatures. Anything that might have had a good start from the early spring was now zapped from the late winter weather. There were a multitude of phone calls at the office, many centering around "are my plants going to be ok with the cold temperatures?" "What about my bulbs? Will the daffodils still bloom?" and "What do I do with the bare-root plants that I just got in the mail?"
Lucky for me, I ignored my instinct and went with the brain; but not every gardener did. The weather fooled many of us which led to those questions being answered with such insight as: "you'll have to wait and see," and "go ahead and plant those bare-root plants. They should be ok." Japanese maples were particularly affected by the late cold snap. As they pushed their buds into action in February-March, the cold weather froze those buds, causing the tops of many trees to die back. Not only were us gardeners fooled by the March warmth, so were the plants.
May snuck up on me like nobody's business. All of a sudden, spring was here; plenty of rain, really nice gardening temperatures, and finally great shopping weather to visit the nurseries. Even though many of those Saturdays consisted of some rain throughout the day, it made for a great opportunity to find those plants that were on my list. May turned out to be a great month to divide plants, move plants, add plants, and take cuttings of plants. When weeding in March, I had made plans concerning the changing design of the garden.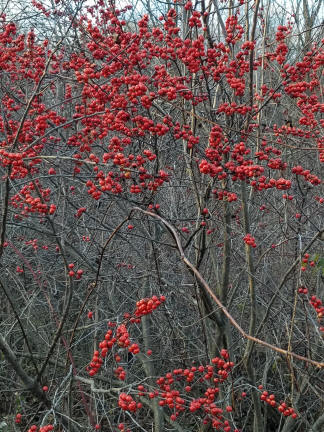 May brought on magnificent Baptisias! Their vibrant blue/violet, pea shaped flowers continued to bloom a good bit of May, the longest I can ever remember, probably because of the moist and cool weather. I added two plants to the mix, increasing the impact for next year.
Coneflowers are a staple in my summer garden. However, their tendency to seed in places has contributed to my need for more design organization. Adding a few different and new varieties will make a nice color variation as well as digging up some of the seedlings and moving them to another garden. 'Supreme Cantaloupe,' and 'Raspberry Truffle' were two cultivars I decided to add. As the names imply, 'Supreme Cantaloupe' has a peachy flower color and "Raspberry Truffle" has a dark red flower color.
The garden phlox has grown so large that I was able to divide and move them to the rear of the garden, making a great backdrop for sedum 'Matrona.' Red twig dogwood is growing behind the phlox and a Hydrangea paniculata backs up the baptisia. To the left of this garden space is a lovely specimen of a Sambucus nigra 'Black Lace.' Although not native, this elderberry had white blooms contrasting to the dark red foliage from mid May through the second week of June. This shrub has become a favorite as the lacey foliage and contrasting flowers and leaves is truly a specimen in this garden.
On the other side of the Sambucus is a new coreopsis hybrid called Uptick (trademarked) series. I have the bronze and gold. This series brags of a compact form with the plants blooming from June through September. In my garden, it is mixed with Tradenscantia 'Sweet Kate.' So far, this combination is quite lovely and the coreopsis is proving to be true to its description.
After dividing the old and planting the new, I found it necessary to mulch. I don't mulch every year. Since I move and divide things so frequently and often at the wrong time (not because I don't know any better, but because I do garden chores when I find the time), mulching often seems to be a waste. However, this year, with good planning and having my Saturdays back, I decided to mulch to make things look cleaner, keep weeds to a minimum, and help with moisture retention. After a few trips to the mulch factory, and with the help of my future son-in-law (brownie points earned!), I was able to complete this task and make the garden look even more stunning.
Mid May also began my quest for beautiful cut flowers and great vegetables for summer harvest. Seeding the garden with Cosmos, Zinnias and Marigolds will hopefully make way for some lovely cut flowers to bring indoors. Green beans, zucchini, tomatoes and peppers are always staples in the vegetable garden. New things to try this season for me are luffa and Brussel sprouts. The jury is still out on both those plants. What I can tell you is that the cabbage worms found the Brussel sprouts and it has been a constant chore to smash them!
June began with cool, comfortable temperatures, then transitioned to summer weather. My guess is July will be a continuation of hot and humid, as it is most summers. I'm not one to enjoy hot, humid weather, especially to work in it, so this gives me an opportunity to relax in the garden and enjoy the hard work spring has brought. I'm hopeful that the rest of the summer brings lots of color and more family and friends to visit. I'm certain that a garden tour will be necessary as I'm proud of our garden and the happiness it brings to me.
As autumn approaches, hopefully the garden will continue to bring lots of color. A few asters and sedums will take over the job of adding shades of purples and golds in the garden, along with some sneezeweed and veronica. As this color pallet continues, my hope is that my ambition to weed and maintain does as well.
The chapter of this book may end this fall, but the writing of this book continues year after year, as gardens develop or go away, lives change with births, marriages and deaths, and new plants continue to be introduced and old plants become the "new, exciting ones" again. A garden is ever changing, as are our lives. Enjoy every day and every moment, and look forward to each new chapter of your gardener's life.
Read other articles on plants and gardens