Is it That Time Already?
Madeline Wajda
Adams County Master Gardener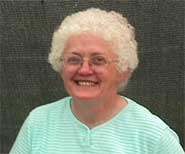 Although it is bare Thanksgiving and winter is still ahead of us, some of the seed and plant catalogues have already started to come in for those of us anxious to go straight to spring and get out in our gardens. I will be sampling some of the new herb and edible flower plants and seeds available for this spring's planting.
New herbs for 2010 include several basils. "Aristotle" is a bush basil, small and compact, with tiny leaves. This plant, left alone, will eventually grow to 12" tall by 15" across; however, it is recommended that you harvest it at 6" tall. As long as it has full sun and well-drained soil, this variety is perfect for patios, containers, and window boxes. Another new basil is "Anton," a Genovese-type basil, semi-compact, and suitable for outdoor and indoor container growing.
It grows to 12"-18" tall and is slow to flower. It has been shown to be fusarium resistant and replaces "Nufar". "Christmas" is a new introduction from 2009, great in the kitchen as well as a landscape plant, with its dark red stems and flowers. "Amethyst Improved" is the darkest purple basil available and would be great in the garden as well as in the kitchen. There are two other new purple basils available for next summer: "Rubra," an intensely purple variety, beautiful in the garden and delicious in cooking. There is also a new lettuce leaf purple basil called "Red Lettuce Leaved" which is even more beautiful than "Purple Ruffles." Don't forget the new introductions of the past year or two­"Greek Columnar" and its variegated cousin "Pesto Perpetua," both of which do not flower and can be grown indoors in full sun all winter.
Other new varieties of herbs include "Nelly" chives, a fine-leafed dark blue green chive with a vigorous upright habit. "Nelly" is strongly disease resistant. "Purly Chives" are another new variety, with a medium, upright leaf, perfect for gourmet bunches or container growing. A new variety of Cilantro/Coriander is one called "Confetti," a somewhat milder version which is slower to bolt than other cilantros.
Dill is the 2010 Herb of the Year, and there is a new variety for next year, "Goldkrone Tetraploid," which is especially high-yielding, late-blooming, and slow to bolt. In the same family (in fact they should not be planted near each other to keep them from cross-pollinating), "Finale" is a new variety of bulb fennel but with more vigorous growth and larger bulbs than "Florence Fennel."
There is a new variety of flat-leaf parsley called "Giant of Italy"; as its name indicates, it is extra large with excellent flavor and aroma. "Garden Sorrel" is a perennial herb that is cold tolerant, best sown in the fall for early spring harvest.
Although we do not usually find seed-grown lavenders as attractive or sturdy or beautiful as cutting-grown plants, they are good for the impatient gardener, since they will bloom the first summer. The newest variety is "Ellagance Purple" which grows into a bushy plant with lots of flowers. The plants are 12"-14" tall, with lush flowers in deep purple.
Other edible flowers new for 2010 is several new varieties of calendula, including one called "Lemonade," with colors ranging from pale lemon yellow to deep gold, apricot and orange. Other new varieties of calendula include "Resina", a mostly yellow variety, used medicinally for skin problems, as well as a dye. As with other calendulas, they will reseed themselves if flower heads are left in the garden. There is also a "Strawberry Blonde" variety with antique pink and yellow petals, and dark red underside and central eye­part of the "Flashback" series. This one is known for heavy production of flowers as well. And is a vigorous grower - just beautiful in the garden. Two new varieties of nasturtiums are "Black Velvet", a mounding variety up to 12" tall, and "Alaska Apricot," a beautiful new color, as is "Salmon Mousse" a plant that requires little care.
This is just a gleaning from the very first catalogues to arrive on our doorstep. It's enough to start one thinking about next year's crops….
Read other articles on growing herbs or vegetables