What We Learned at the Lavender Conference
Tom and Madeline Wajda
Adam's County Master Gardener Program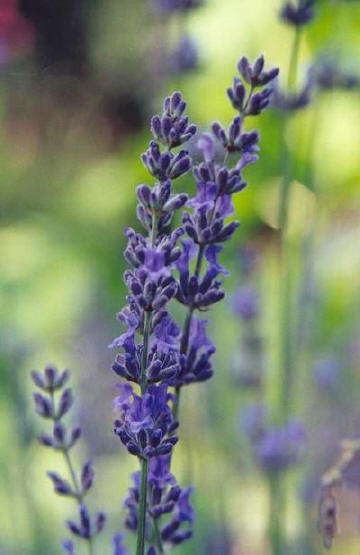 We attended the third North American Lavender Growers Conference in Sequim, Washington October 18-20, 2008 even though we thought we already knew almost everything there was to know about this magnificent plant. After all, we are Master Gardeners, have grown lavender for more than 10 years, and attended previous conferences. Whoops! There was (and still is) a great deal for us to learn about the genus Lavandula.
Why Sequim?
Although Washington has a reputation as a rainy area of the country, the truth is that much of the state is very dry. Sequim, on the Olympic Peninsula, is in a "rain shadow;" wet weather off the Pacific falls on the ocean side of the Olympic range. Sequim, located about 75 miles inland, gets only about 10 inches of rain a year. Through extensive irrigation, the Sequim Valley had produced significant amounts of dairy products. However, over the past 20 years, competition from lower cost producers combined with escalating land values as retirees moved into the valley, forced most dairy farmers out of the business. (Sound familiar?)
Because Sequim's climate is very much like that of Provence, the primary region for lavender production in France, a number of farmers decided to switch to lavender. With the assistance of a very active Agricultural Extension Service office, the region now has some 40 farms dedicated to raising lavender and rightly calls itself the "Lavender Capital of North America." The Sequim Lavender Festival, held in mid-July, attracts an estimated 30,000 visitors.
Propagation
Lavender can be propagated from seeds or from cuttings. However, the angustifolia species, which includes the old favorites Hidcote and Munstead as well as many new varieties such as Two Amys, Rebecca Kay, and Rosea, do not necessarily come true from seed; plants started from seeds may bloom earlier or later that those started from cuttings and may also have noticeably different coloration and size. This may be acceptable if you are looking for one or two plants for your garden, but probably will not do if you want to plant a lavender hedge or edge a sidewalk.
To root lavender, place a three-inch semi-hardwood cutting in a pot filled with sand. Put the pot in a half shaded area and water twice a day. For best results, take cuttings in August or September. Allow four-six weeks for cuttings to root.
Several species can be successfully propagated from seed; unfortunately, they are all tender perennials that will not withstand a frost and need to spend the winter in a sunny window indoors. The two most popular of these species are dentata and stoechas, often referred to, respectively, as French and Spanish lavender. Both bloom throughout the year. Dentata blooms more or less continuously; spent blossoms need to be removed to encourage continual blooming. Stoechas varieties bloom with a lovely flush of color, then go to seed. Deadhead the old blossoms to encourage a rebloom in about three months.
Lavender seeds are very small so care needs to be taken when starting plants from seed. They should be sown on top of a fine seed-starting medium. Water from the bottom. For best results, provide bottom heat at 70-75 degrees.
When to Plant
Lavender can be planted in the mid-Atlantic area from early April until late September. For the first summer, new plantings should be watered every week or ten days. After the first year, no watering is required. Lavender likes well-drained soil with a high pH (7.0-7.5). Give it a balanced fertilizer in the spring and again in mid-summer after the plants have finished blooming.
Pruning
One of the real lessons of the conference was when to prune lavender. Although we saw some fields that had not yet been pruned (in late October), most of the farms in Sequim prune their plants in July or August, just after the harvest. Pruning is quite severe with plants cut back by one-half or more. Importantly, the pruning should leave an inch of leaf material on each stem.
By reducing the amount of leaf matter on plants and allowing greater air circulation, the early pruning serves to reduce the likelihood of mildew and fungus attacks which are responsible for most of the lavender die-back during the hot, humid days of August. Never mulch with anything but sand or crushed limestone.
Cooking with Lavender?
Another lesson we learned at the conference was that there is, indeed, a scientific reason why only flowers of the angustifolia varieties should be used for cooking. Chemical analyses of various lavender oils have shown there to be strong camphor content in the lavandins, intermedias, stoechas and other non-angustifolia lavenders. The camphor in the leaves of those plants will give a medicinal flavor to whatever recipe you are making. To cook with lavender, start with the flowers of an "English" lavender (dried is fine-use more if working with fresh). Start with a small amount, perhaps substituting for rosemary in a favorite recipe. Try this recipe for the holidays:
Spiced Lavender Walnuts Makes 3 Cups
2 C walnut halves 1 ½ C sugar
½ C water 1 tsp. ground cinnamon
½ tsp. sea salt 1 T. dry culinary lavender
1 tsp. fresh rosemary leaves, finely chopped
Preheat oven to 350F. Butter a rimmed baking sheet and spread walnuts in it. Bake for five minutes, stirring once, until lightly browned and fragrant. Set aside. In a medium saucepan, combine sugar, water, cinnamon and salt. Over medium heat, boil without stirring until the mixture reads 238F (soft-ball) on candy thermometer. Remove from heat and stir in lavender, rosemary and walnuts. Work quickly and stir gently until all nuts are coated. Transfer nuts to buttered baking sheet and spread them in an even layer, separating them with two buttered forks. Cool. Store in an airtight container at room temperature or in a heavy plastic bag in freezer.
Enjoy!
Read other articles on growing herbs or vegetables