Container and Small Space Gardening
Pat Ferguson
Adams County Master Gardener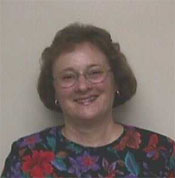 You can make your small gardening space or container come alive with an almost endless array of blooming plants. Sun or shade, or part of both, an in-ground garden, small or large containers, you can have it all!
For in-ground small space gardens: starting from scratch? Take things slowly in the beginning. Try to plan on paper and walk your garden space, perhaps laying down a hose(or two) to identify the size and shape you want, then use rocks, tools or empty pots to mark spaces where plants, shrubs or possibly a specimen tree will be placed. Remember to consider the size of the plant when it matures.
First consider the size of the garden you have to work with and try to resist the temptation to go out on May 1st and buy 22 plants then find out you can only use 15! Secondly, consider the orientation – does you garden space receive full sun, part sun, afternoon sun, part shade, all shade? Next week's article will contain a list of plants for all orientations. Third, consider your soil. If you're using a soil test kit at the Ag Center (670 Old Harrisburg Road, Suite 204, Gettysburg, Phone: 334-6271) and the results will tell you what it may need before you plant in it. Generally speaking, if you have a clay soil, you will need to add amendments like compost and other organic matter like peat. Is your soil sandy? Does water run right through it? You need amendments such as peat moss, manures, compost or organic matter. If you are using straight topsoil be sure to add amendments like perlite, vermiculite, peat moss, humus or composted cow manure because top soil is very dense and heavy and has practically no nutrients by itself. If using a large container, fill it about halfway with stryrofoam peanuts, then with a good garden soil and you're ready to go! Using the stryrofoam makes the planter less heavy and easily moveable.
Container: your plant choices are much greater with container gardening. Too much sun? Just move the container. Too much shade? Just move the container! The great advantage of container gardening is Mobility. And just think – you can use one or more containers to hide some unsightly feature in your space such as a utility meter in the ground.
You can use stone planters or urns, flea market bathtubs, watering cans, buckets, barrels, bird baths, baskets, wooden crates, teera-0cotta, clay, wood, plastic or concrete containers of any size and shape – or color. Just remember that generally the plants are what you want to focus on and try not to use a planter that competes with the flowers. If what you need is height, consider the simple beauty of a dark blue, three foot high container planted with purple fountain grass. IF you want to establish some privacy, ornamental grasses will do that for you. You can even under plant the grasses with cascading lavender and purple mini wave petunias (or other colors, depending on the grass you choose).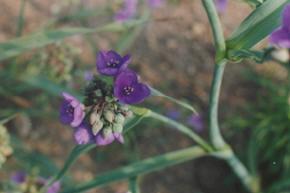 Spiderwort
Tradescantia Ohiensis
A two foot high rough-hewn planter or a plain old bucket packed full of rioting daisies draws the eye and is simplicity itself. Try silvery leaves of dusty miller with magenta colored verbena and pink geraniums with one purple petunia plant. Place a small potted plant in the middle of a birdbath. Plant a grey-blue or blue container with butterfly yellow daisies, yellow creeping zinnia, yellow bush daisy, variegated sweet potato vine, and purple spiderwort. For a shade container you could use a planting or red begonias and lamium, "golden anniversary."
Avoid placing pots too low, they'll get lost in their surroundings. Vary your levels by placing some potted plants on stairs, on overturned empty pots, on pedestals, or benches. Make an interesting area. Groups of three, five, etc are usually good designing if the colors and textures are appealing.
One of the most important things about container gardening is that containers need more watering attention that an in-ground garden. Your container has a lot to do with how much water the plants need, and, of course, the weather does, too. In hot, dry weather, or just windy weather, plants do suffer. If you wait until you see wilting, there's already weakening of the plant material going on. Get water to your container plants before they get to that point! Beware of black pots, especially those cast iron ones, and beware of placing containers on asphalt. Asphalt absorbs and retains heat fiercely. You'll lose a whole container worth of plants in a half a day if you can't get water to them often.
Now it's time for the really fun part of small space and container gardening - - what to use and where to put it!
Carefully look over the plants you intend to purchase. Look for wilting, yellowing, droopy or brownish leaves, spots on leaves, stunted flowers; signs of stress or other possible problems. These conditions can add up to an undesirable plant. The most important thing to do before you place a new plant in the ground or container is to remove it from its little flat and look at its sides and bottom. Many nursery plants are already rootbound when you purchase them. If the plant roots are wound around its bottom and sometimes even around its sides, before placing it in the ground, release those roots or the plant will not grow and you've lost your investment before you've even begun. Gently pull away the cluster of root material on the bottom and from the sides and open the plant from the bottom about two-thirds up to the top so there are no balled-up roots remaining.
Some bright colored annuals to plant in full sun: ageratum, bacopa, blanket flower, candytuft, celosia, China aster, chrysanthemum, cleome, cosmos, daisies, dusty miller, geranium, gerbera daisy, heliotrope, lantana, larkspur, lobelia (with extra water in full sun), marigold, morning glory, petunia, portulaca, poppy, salvia, scabiosa, snapdragon, statice, strawflower, sun coleus, torenia, verbena, vinca, viola, zinnia, sweet potato vine, creeping jenny.
Some annuals to plant in partial sun: bacopa, begonia, black-eyed Susan vine, browallia, butterfly flower, caladium, Canterbury bells, cleome, dusty miller, English daisy, forget-me-not, foxglove, fuchsia, geranium, gerbera daisy, impatiens, larkspur, licorice plant, linaria, lobelia, mimulus, nicotiana, nigella, primrose, torenia, salvia, sweet alyssum, viola. Plant an herb garden in full sun using the herbs you like best. Planting something tall in the center, like rosemary, dill, pineapple sage, or French tarragon will give your container a better look, then fill in with shorter herbs.
Some perennials to plant in full sun: yarrow, anemone, thrift, artemisia, centaurea, delphinium grandiflorum, carnation, coral bells, lamium, liatris, lupine, monarda, phlox (tall garden type), Japanese primrose, perennial salvia, sedum, Stokes' aster, thrift, speedwell.
Some perennials to plant in sun or part sun: anemone, artemisia, astilbe, baptisia (false indigo), lily of the valley, bleeding heart, foxglove, hosta, coral bells, lamium, monarda, phlox (tall garden type), Japanese primrose, perennial salvia, sedum, Stokes' aster, globeflower.
We need to remember that other things can and should be put into containers like tulips, iris, crocus, hyacinth, lily, daffodil and allium as well as evergreens, shrubs, and small trees.
The following combinations will work well in full sun or mostly sunny locations.
A stunning container would be one planted with Shasta daisies and electric blue lobelia. Two simple plants, a wonderful look. Give extra water to the lobelia in hot weather and full sun.
Plant tall cosmos (various shades of pink, purple, carmine) for a wispy look with creeping snapdragon or million bells for a trailing flower.
A lovely but informal look can be achieved by combining lavender daisies with purple verbena and creeping jenny as a trailing plant.
A wide, reddish colored container could be planted with purple or red fountain grass, pentas, black sweet potato vine, silver licorice plant and purple or lavender mini petunias (or use cup flowers in place of the petunias). This will be a tall, packed full and gorgeous container!
Another great looking large container could contain a canna as the large planting, under planted with various colors of sun coleus. Striking against a white wall!
Dahlias are fabulous in the garden or in containers. For a good use of reds, use some scarlet cactus dahlia, scarlet sage, blue salvia, and silvery artemisia (Powis Castle).
In a small space perennial garden, try sedum (Autumn Joy) with coreopsis (Moonbeam) and asters (Violet Carpet). It's a great color and texture combination with long lasting blooms.
These combinations will work in part shade or shady conditions:
There's something appealing about a shade combination of New Guinea impatiens and ivy, then add to it some bacopa in a color to contrast.
Use different leaf patterns for variety in a shady area or a container. Simply use a combination of shade coleus , red, burgundy, green, white and the shades in between. Use plenty of the light color to draw the eye into the shade.
A planting of catmint with its lavender blooms planted with Jupiter's beard with rose-pink blooms and yarrow ("moonshine") is an interesting part sun combination.
Have you seen the new black elephant's ears? For a partly shady area, you could underplant them with lime green licorice plant. Or underplant them with tuberous begonias in yellow or pink. You could also underplant the elephant's ears with various shades of caladium.
Remember when planting in shade to always include something white or pale yellow. Deep colors get lost in the shade and something very light will call the eye to your planting.
A few more important tips on watering - remember to drill a hole in the bottom of your containers for proper drainage; roots sitting in water is disastrous. Also, containers require frequent watering which means that the nutrients and fertilizers you use are being leached from the soil. Add additional fertilizers throughout the growing season to maintain vigor and health.
It may take some time to get it right - which only means to get it how YOU want it. It can be as big or as small as you like. Perhaps just large enough for some well placed containers of various sizes, a chair, an up-side-down apple crate for a table so that you can put down your glasses, put down your book and your cool drink and just inhale.
Read other articles on plants and gardens