Tussie-mussies: "Talking Bouquets"
Sue Williams
Adams County Master Gardener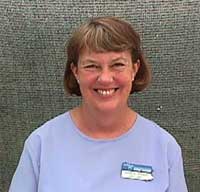 Alice in Through the Looking Glass was surprised to hear the Tiger lily speak. She asked, "And can all the flowers talk?" "As well as you can," said the Tiger lily. "And a great deal louder." In fact, the lilies in my garden are shouting, "Separate us!" People who garden can relate this time of year.
Today, "talking bouquets" give new meaning to the popular phrase, "Say it with flowers." A tussie-mussie or word poesy is a small circular nosegay of flowers and herbs, tightly gathered and designed to carry a special message in the language of flowers. The traditional tussie-mussie is composed of fragrant herbs surrounding one central flower, a rose.
A bit of history
The language of flowers spans the world of the ancients from Greece and Turkey to the Aztecs of South and Central America.
In England during Elizabethan times, judges carried tussie-mussies into their courtrooms to protect against "gaol fever." Today judges at England's highest court, the Old Bailey, celebrate this tradition by carrying a tussie-mussie into court six times a year. During the Victorian era tussie-mussies were carried close to the nose to ward off the stench in the streets and the plague and were composed primarily of scented herbs such as rosemary, thyme, and rue. The age-old custom of strewing pungent herbs on the floors of homes was thought to protect the gentlefolk from germs and provide herbal fragrances - early aromatherapy.
The Victorians also turned flower giving into an art. It was common practice at the beginning of a courtship for suitors to give their intended a tussie-musssie. Floriography, the art of sending messages by flowers, brought a new dimension to tussie-mussies. Dozens of floral dictionaries were published listing the meanings of each flower and herb. The symbolic meanings were adapted from classical mythology, religious symbolism, ancient lore, and a bit of creativity on the part of the floral designer. The study of botany and the discovery of new plants from all over the world brought new and exciting ideas to this language of flowers.
How to
Making a tussie-mussie involves the delightful task of arranging individual flowers and herbs together to compose a specific message to a friend or loved one. You may approach this by either gathering plant materials from your garden, country road, florist or grocery store, or figure out what you what to convey and determine which flowers will carry your message. Materials needed are a central flower, filler flowers and herbs such as lavender, baby's breath, artemesia, rosemary, ivy, mint, and violets. Large leaves for framing the outside of your bouquet might include lamb's ears, scented rose geranium leaves, hosta or violet leaves. You will also need floral tape, scissors, a paper or lace doily, thin ribbon, and a small gift card to list the flowers and herbs and their meanings.
Strip the lower leaves from the stems and use a rubber band or floral tape to bind your bouquet together. The tussie-mussie should be no larger than six inches in diameter. Wrap the nosegay in damp moss or a square of paper toweling covered with foil or floral tape. You may want to secure with small pins. Place your bouquet in a paper doily - clipped with an "X" in the center - or lace collar cone and "lover's knot" and tie a card to the ribbon conveying the message.
Ideas for Tussie-Mussies
I have made nosegays for bridal showers and weddings, nursing home tables and hospital trays, and for friends to express congratulations, get well wishes or birthday greetings. Master Gardeners participate in the LEAP program at Lincoln Elementary School - what fun to teach those students and watch them design their tussies for Moms, Dads, Grandmothers, and the Principal! Tussie-mussies make wonderful centerpieces placed in antique bottles or carafes with colorful ribbons dangling. You could add a tiny dried flower tussie-mussie to curtain tiebacks for a fresh look. Miniature tussie-mussies make elegant Christmas ornaments and are easily made from dried rosebuds, statice, and little sprigs of other dried materials.
Meanings of Flowers and Herbs
Some plants have kept their symbolic meanings through the years. These include rosemary, signifying Remembrance; ivy, Fidelity; lilies, Purity; laurel, Victory; parsley, Festivity; and rose, Love. Additional meanings include: artemesia, Dignity; basil, Best Wishes; Calla lily, Panache; red geranium, Comfort, Health; hydrangea, Devotion; sage, Wisdom; pine, Loyalty, Longevity.
Lastly, how wonderful the baskets, planters, and circular gardens look in our squares and crossroads around the county. As you stroll through downtown Gettysburg on a summer evening, enjoy the floral displays that are not only beautiful but also meaningful. Surrounding the flag on the square are patriotic plantings provided by Musselman Greenhouses and planted by the Gettysburg Garden Club. The red geranium stands for Comfort and Protection, the blue salvia for "I think of you," and the meaning of the white zinnia is "thoughts of absent friends." How appropriate in this summer of 2002.
Sources: Tussie-Mussies: The Victorian Art of Expressing Yourself in the Language of Flowers, Geraldine Adamich Laufer; Flora's Dictionary, The Victorian Language of Herbs and Flowers, Kathleen Geps.