Fall Planting
Mary Ann Ryan
Adams County Master Gardener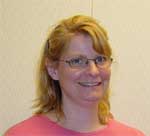 Now that fall is upon us, it's time to think about planting again. This is the time to be planting bulbs. When purchasing bulbs in garden centers and nurseries, be sure to look at the bulbs carefully. Here are a few things to look for:
If you see anything in the box that looks like sawdust, re-think whether you may want to purchase those bulbs. This sawdust-like substance can often be formed in tulips and is caused by an insect in the bulb. This is a sure sign that the quality of those bulbs in not what it should be.
Feel the bulbs for firmness. Often times when purchasing daffodils, they will be soft, especially if it is late in the season. If the bulbs are not firm, they will rot in the ground.
Look for a bulb that has little new growth. When planting the bulbs, it's a good thing if the bulb produces its roots first in the fall, and then pushes stem growth when it's supposed to, in the spring.
Be sure when planting the bulbs that you are planting them at the correct depth. This is important because the bulbs could freeze if not planted deep enough. Most daffodils and tulips should be planted 6 inches in depth; and small bulbs, like crocus, should be 3 inches in depth.
When choosing you bulbs, don't overlook some of the small bulbs. Often times the small bulbs will naturalize nicely and will give you an unexpected show.
If you're looking for bulbs to naturalize, consider daffodils and narcissus, as well as crocus, scillia, and snowdrops.
Remember to try to get the plantings in by the end of October. This allows some time for the bulbs to get their roots established before the winter freeze.
Chrysanthemums are a popular fall-blooming flower. Keep these tips in mind when purchasing "mums" for your garden:
Remember when choosing mums, pick the plants that are in bud, not fully open. You will be able to enjoy the flowers much longer if they bloom for you in your garden instead of at the nursery.
Also keep in mind that if you want the chrysanthemum to be perennial, meaning that it will come back next year, you really need to get it in the ground before the end of October. The longer you wait to plant it, the less likely it will come back next year.
Enjoy your plant in a container for the months of September and early October, and then get it in the ground. Remember to keep it watered in the container, because if it dies in the pot, planting it in the ground will not bring it back to life.
Other popular fall flowers are winter pansies and flowering cabbage. Plant your winter pansies now. They like it cool, and if planted in the ground, they should over winter and be beautiful next spring. Don't expect your pansies to over winter in containers, though. Because of the freezing and thawing in our area, pansies will not make it through the winter in a container. The roots will rot.
Flowering cabbage is an annual plant, meaning it will last just one season. However, the flowering cabbage will flourish in the cool temperatures and often last through December. They make great fall and winter decorations. Plant them in containers or in the ground and enjoy the purple, white and pink colors they offer. Mix them with ivy, vinca vine, or even evergreen stems for pretty mixed containers.
Fall is also a great time to plant trees and shrubs. Try to get them in the ground by mid-November. This gives the plants time to get some of their roots established before the hard winter freeze.
Feed the trees and shrubs with a little bit of organic plant food that is low in nitrogen, and water in. This will give the roots a boost without pushing new grown that could frost and therefore damage the plant. Again, be sure to keep the plants watered. Use recycled water from you dehumidifier, bath or shower water.
Don't let the hot, dry summer discourage you. Look forward to the cool autumn months and the challenges it may bring. Get outside, start digging again and enjoy gardening!
Read other fall related gardening articles