Faith is not a steady, upward climb to holiness
Reverend Chris Suerdieck
Interim Pastor, Trinity United Methodist Church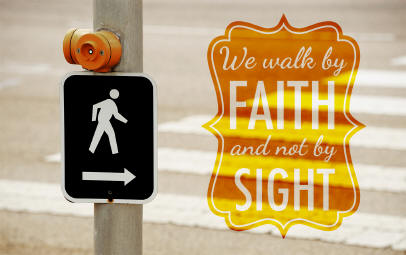 (4/3) Retirement is a funny thing. At least it has been for me. After twenty years of serving various congregations in Virginia, I sensed it was time for me to pass along the mantle of full-time pastorates to others who had also answered the call to ordained ministry. Unlike some people who have plans to travel, take up new hobbies, or develop new skills, I didnít have anything particular in mind for what I was going to do as a "retired clergy". However I knew that any endeavor I engaged wouldnít have anything to do with taking up golf or whiling away the hours with a good book. And while I anticipated whatever I did with this new gift of time would involve some form of service to the Church, I could not have predicted I would become an "interim pastor" to four different congregations over the course of the past six years.
Generally speaking in The United Methodist Church, an interim pastor is one assigned to serve a congregation when their pastor cannot continue his or her term. In short, it is a temporary assignment until another pastor can be appointed at the start of the next Conference year. So during my retirement not only have I found God still had work for me to do, I have been greatly blessed in this unforeseen role.
But soon after I became an interim pastor for the first time, I was identified in another local newspaper publication as an "intermittent pastor". I knew that the writer thought she had identified what I was doing correctly. Nonetheless I was not comfortable with the connotation I was in ministry some of the time and not in ministry the rest of the time. Besides the title "intermittent pastor" made me feel like a pair of windshield wiper blades programmed to start then stop and then start again!
I have to confess that I fumed inwardly for some time about this inadvertent identity. Even so, I eventually realized that my feelings were less about the writerís mistake and more about not wanting to recognize a truth about myself. While I was most assuredly an interim and not intermittent pastor, my walk in faith was full of starts and stops. In other words, faith is not a steady, upward climb to holiness. It is more like a labyrinth where the route involves going forward and then back, round and round. Rarely is it a quick process and frequently there are obstacles along the way which require retracing oneís steps.
Life itself for any of us consists of starts and stops, turns, returns, and yes, an occasional outright end to what was known. And those of us who claim Christ may need to remember virtually all of our giants in the faith didnít run their race on a smooth, well laid-out course. When God commanded Abram to leave his country, his kindred and his fatherís house he had no idea where he was going; when God enlisted Moses to lead the Israelites out of Egypt into a land flowing with milk and honey he could not have imagined it would take forty years to get there; when Ruth faced an uncertain future after being widowed, she had no idea she would become the great grandmother of the great king David; when Mary was told that God had found favor with her and that she would conceive and bear a son, she could not have comprehended what that would ultimately mean.
Indeed faith may not only have an intermittent quality to it, faith may not grow and deepen without it. In fact, it may well be that if faith were more an interim endeavor, a temporary, short-term, less risky venture it would leave little impact on us. Someone once said God has no grandchildren. That is, we canít take faith for granted as if it is simply conferred on us without any expectation we will be changed. And as children of God, we should embrace all of the opportunities presented to us to both live out of and into our faith. Some of those opportunities will be challenging, unpleasant, or fearful. Some will be joyful, surprising and fulfilling. And many will be a mixture of the two.
As I write this we are in the midst of the season of Lent and looking toward that wondrous Celebration of the Resurrection of our Lord and Savior Jesus Christ. It is no mistake on Godís part that even Jesus had to experience the lows as well as the highs of faith. He did not go straight from glory to glory. As the writer of the letter to the Hebrews puts it, "Therefore he had to become like his brothers and sisters in every respect, so that he might be a merciful and faithful high priest in the service of God, to make a sacrifice of atonement for the sins of the people. Because he himself was tested by what he suffered, he is able to help those who are being tested (Hebrews 2:17-18)." Yes, although Jesus was a Son, he learned obedience through what he suffered; and having been made perfect, he became the source of eternal salvation for all . . . (cf. Hebrews 5:8-9).
Some say we live in precarious times; whether or not they are more precarious for us than for previous generations cannot be proved. So as we navigate fretful waters, as we walk winding paths individually and corporately on various planesósocial, economic, and political, may we recall what makes faith, faith. As Christians, we know on whom we can always depend regardless of the circumstances around us including those in our faces right in front of us. Just as surely as Christ Jesus knew how intermittent life can be and how even intermittent faith can be, Christ Jesus, risen and living Savior, stands with us.
To learn more about Trinity United Methodist Church visit them online at trinityumc.yolasite.com or better yet, joun them for zsunday service at 9 am at 313 W Main St, Emmitsburg.