Recalling Ashbaugh's Store
Cheryl Ashbaugh-White
The Ashbaugh's Grocery Store was first a blacksmith shop owned by my great grandfather, Hebert Ashbaugh and his wife Delta Gelwicks. Through the years it became a grocery store and my grandparents, George & Helen, ended up owning and operating it until the 1970's when my Grandma closed the store due to her age and health. Eventually the store was sold and torn down and replaced with a road. It's a shame so much history has been replaced for modern times.
I can remember as a child I always loved going to Grandma's. She spoiled all her grandchildren, but I always thought I was spoiled a little more. I can remember running through the grocery store door and seeing her behind the counter in her bib style apron waiting on a customer. Big glass-top red barrels with the big white letters of Snyder's pretzels would be sitting on the left side of the door as you came in.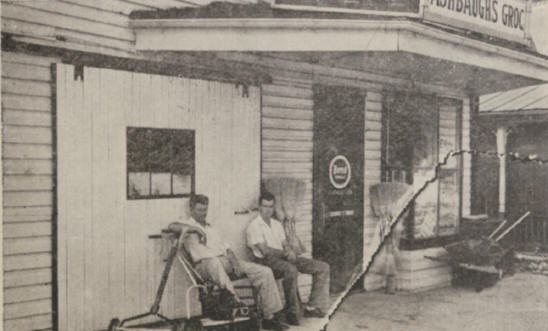 I would always dig into the big barrel to get a hard pretzel. In the summer the store would make Snow Cones. The snow-cone machine sat on the big window frame in the front of the store. There must have been a dozen flavors - lime, cherry, strawberry, and blueberry, etc. You could even mix the flavors and get the rainbow. That's the one most of the kids liked.
Then there was the big glass candy case where you could buy candies for penny apiece. She would always let me get a few pieces. I just loved the red licorice sticks. I can also remember customers would call their orders in and Uncle Tick would pack up the groceries in a brown cardboard box and deliver to their home. I don't know if the other stores in town did the same.
Something else the Ashbaugh's Grocery Store provided was credit from payday to payday to their regular customers. I remember customers coming in and Grandma slicing 1/2 lb. bologna or cheese, or taking out a long string of hot dogs and taking a few apart and they would say, "put it on my bill, Helen." Grandma would nod her gray hair head and take a piece of paper and write their name on it. On Fridays and Saturdays the customers would come in and pay their bills off.
As a teenage girl in the 60's I really liked helping around the store, because all the boys would come in and buy their cigarettes or shotgun shells. They would hang around and talk to my Uncle while he lit his pipe about the deer that "got away." To me it seemed like everyone in town knew my Uncle Tick and he loved talking about hunting. He would start a conversation about the weather or anything else happening during that time with any stranger that would walk into the store. He stills enjoy talking to anyone including strangers and I have always found him easy to talk to. He holds a very dear spot in my heart.
After my Grandfather George passed away in 1959, Uncle Tick and Grandma ran the store seven days a week, opening at 8:00 a.m. except on Sunday. Friday and Saturday were the late nights to stay open. The store would open on Sunday afternoon for about 3 hours after Catholic Church let out. I can even remember a couple of times on holidays when the store was closed someone would come and knock on the house door and needed an item. Grandma or Uncle Tick would go and unlock the store so the customer could get their stuff. You sure can't get that kind of service today.
Have your own memories of Emmitsburg grocery stores of old?
If so, send them to us at history@emmitsburg.net
Read Betty Garners reflections on Emmitsburg Grocery Stores of Old
Read other Stories by Don Rodgers