Bishop John Dubois: Pioneer
Harold Craig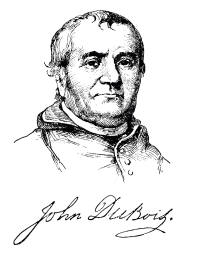 Have you ever heard of Bishop John Dubois? You may ask what this unheralded New York cleric had to do with Frederick County, Maryland, and Emmitsburg in particular. The answer is: "plenty." Among many other accomplishments, he was the founder of Mount St. Mary's College and Seminary (now Mount St. Mary's University and Seminary).
Born in Paris, France in 1764, he was the third Roman Catholic Bishop of New York. He died in New York City in 1842 and was buried there at the entrance of Old St. Patrick's Cathedral. For many years even his place of sepulcher was unknown.
Dubois, who had entered the Seminary of St. Magloire, was ordained in 1787. In Paris he was an assistant to the curé of St. Sulpice and chaplain to a community of Sisters of Charity of St. Vincent de Paul. Robespierre, once a student with Dubois at the Collège Louis LeGrand, aided him in escaping the massacre of the clergy during the French Revolution.
How did he get here? He made his escape in 1791, arriving in Norfolk, Virginia with letters of introduction to prominent Virginians. He became acquainted with James Monroe, later President of the United States, and Patrick Henry, noted lawyer, orator, and patriot, who is said to have helped Dubois with his English. Becoming an American citizen, he was assigned by Bishop John Carroll to missionary work at Norfolk and Richmond, Virginia. Later he was assigned to Frederick, Maryland, building the first Catholic Church there and using it as a base for missionary travels to Virginia and Pennsylvania.
By 1807 he established a preparatory seminary outside Emmitsburg, affiliating himself and the seminary with the Society of St. Sulpice in 1808. Shortly the seminary was expanded to Mount St. Mary's College and Seminary, educating theological students and laymen alike. With the help of Dubois, Saint Elizabeth Ann Seton founded in Emmitsburg her first convent of the Sisters of Charity in 1809.
In 1826, after severing his connection with the Sulpicians, Dubois began the reorganization of Mount St. Mary's. In that year he was appointed Bishop of New York, a vast diocese including the whole of New York State and half of New Jersey. During his administration the number of churches quadrupled and the number of clergy tripled, even though his appointment was not viewed with favor by the overwhelmingly Irish community.
Although short in stature, he was a giant of accomplishment.