Frances Marie Keilholtz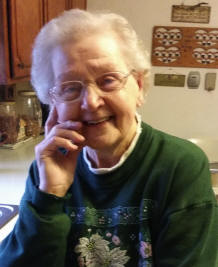 Frances Marie Keilholtz, 90, of Emmitsburg, MD, passed away peacefully on Tuesday, May 2, 2017 at her home. Born April 16, 1927 in Taneytown, MD, she was the daughter of the late Guy Anthony and Ruth M. (Sanders) Baker, Sr. She was the wife of the late Ralph Lee Keilholtz, Sr. They were married for 53 years.
Frances was a Registered Nurse and worked at Mount Saint Mary's University for 23 years. She was a member of St. Joseph Catholic Church in Emmitsburg. She enjoyed her large family and entertaining in her home, especially holidays and the annual Fire Cracker Open.
Surviving are 7 children, Becky Thompson and husband Bernie of Frederick, Ralph Keilholtz, Jr. and wife Charlene of Fairfield, PA, Mary Ann Gill of Waynesboro, PA, Tom Keilholtz and wife Pam of Hedgesville, WV, Jeff Keilholtz and Angela Keilholtz, both of Emmitsburg, Steve Keilholtz and wife Lori of York Springs, PA; sister, Jane Orndorff of Emmitsburg; brother, Ret. Capt. USN, Charles Baker and wife Mary Anne of Finksburg; 24 grandchildren; 44 great-grandchildren; and many nieces and nephews. Frances is also remembered by close family friend, Russ Schantz of Thurmont, who was like a son to her. She was predeceased by sister, Katherine Peters and brother, Guy Baker, Jr.
A Mass of Christian Burial will be held at 11 a.m. on Saturday, May 6, 2017 at St. Joseph Catholic Church, 47 DePaul St., Emmitsburg, MD with the Rev. Charles F. Krieg, C.M. as celebrant. Interment will follow at New St. Joseph Cemetery. The family will receive friends 2-4 and 6-8 p.m., on Friday at MYERS-DURBORAW FUNERAL HOME, 210 W. Main St., Emmitsburg, MD.
In lieu of flowers, memorial contributions may be made to the Scott Key Center, 1050 Rocky Springs Rd., Frederick, MD, 21702. Online condolences may be made to the family at www.myersdurborawfh.com.