Complementary Corner
Choose inner peace
Renee Lehman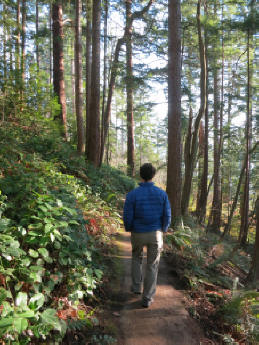 (3/2017) On January 28th we entered the Year of the Rooster (in the Chinese zodiac). The Rooster crows in the morning as the energy is rising (as the sun rises). The Rooster literally WAKES US UP! Close your eyes and imagine that someone is yelling for you to wake up. Can you feel the energy rising up within you? This is the type of "rising energy" that will be all around us during this year of the Rooster.
Another event which is resulting in a rising energy is the changing from the season of Winter into the season of Spring. Even though the Spring Equinox is March 20th, we have been gradually moving into Spring since February. Remember those warmer days during the middle to end of February? Yes, that was Spring showing that it is coming.
This is a tremendous amount of rising energy that we are experiencing! When you look at nature during this time of the year, it is a time of beginnings and renewal, flourishing, growth, enthusiasm, and a lot of activity. Overall, there is more "rising energy" happening in nature during the Spring than compared to Winter.
Can you see how there is much rising energy all around us? Rising energy in the universe, in nature, in our society, etc. The Five Element Theory in Traditional Chinese Medicine (TCM), gives us a Universal framework to see how the structures and systems in our bodies are connected to each other; how we are connected to our environment and the natural world; how our world is part of the greater universe. We are considered to be a hologram of the Universe, so what is happening in nature is happening within us, and vice versa. Even if it is difficult to feel this connection with nature and the Universe, this Universal principle of connection still exists nevertheless.
Thus the Chinese proverb:
If there is light in the soul, there will be beauty in the person.
If there is beauty in the person, there will be harmony in the house.
If there is harmony in the house, there will be order in the nation.
If there is order in the nation, there will be peace in the world.
In TCM, the season of Spring is associated with two organs within your body, the Liver and the Gallbladder. These two organs have the responsibility for the smooth movement of your emotions, energy (Qi), and blood. Other associations with the season of Spring, and the Liver and Gallbladder organs, include your tendons and ligaments, the emotion of anger, and the sound of shouting.
In TCM, the Liver and Gallbladder have many functions on a body, mind, and spirit level.
The Liver is responsible for assessing the circumstances within and around us, and creating a plan on how to flourish in life given these circumstances. The Liver is also responsible for the smooth release of emotional baggage that we tend to carry. It is the organ within our body that is most affected by excess stress or emotions.
The Gallbladder has the ability to make determinations about what is "right" for you (the inner wisdom that comes from your Heart), and then makes good decisions based on accurate judgment, to be able to see all sides of a situation, and to turn resentment and anger into effective action. Sometimes it takes courage and initiative to take action toward a goal Ė this falls under the realm of the Gallbladder.
So, how do we find balance with all of the rising energy around us and within us? To balance the rising energy, we must participate in practices that allow for energy to move inward. It is important to create balance within you, because this balance and harmony will then impact everything and everyone around you.
For example, if you are feeling angry (rising energy), remember that meeting anger with anger only makes things worse. That is like throwing gasoline on a fire! Plus, holding onto anger is not productive, either. As Buddha said, "Holding on to anger is like grasping a hot coal with the intent of throwing it at someone else; you are the one who gets burned."
So, what can you do to move your energy inward and create a balance within yourself? What can you do to create an inner peace that can then be displayed to the world around you?
Stay calm and move slowly into the season of Spring. Donít get caught up in Springís powerful upward rising energies! Take things easy and go slowly; take a nice long walk in the park or do other gentle exercises to relax your mind, body, and spirit. Let go of any stressful situations that you can.
Practice mindfulness. Mindfulness is a mental state achieved by focusing one's awareness on the present moment, while calmly acknowledging and accepting one's feelings, thoughts, and bodily sensations. When you're mindful, you observe your thoughts and feelings from a distance, without judging them good or bad. Mindfulness gives you the ability to find peace within yourself so that your actions come from a place of compassion.
Practice things that ground and center you. Being grounded means you have stability, security, and control over your life. It means being ready to handle lifeís challenges. There are many ways to center or ground yourself: through prayer/meditation, qigong, yoga, walking in nature, singing, dancing, or just sitting in stillness.
Remember that we are all connected, that we are a hologram of the Universe. So, if you are angry over someone or something, realize that you have the opportunity to learn from this situation. Often, what we find irritating in someone else is a shadow aspect of ourselves that we do not want to look at. As the Dalai Lama stated, "Our enemies are our greatest teachers." They give us the chance to examine and heal our own issues. Donít be afraid to look at your own blind spots.
"You will not be punished for your anger. You will be punished by your anger." - Buddha
"Peace cannot be achieved through violence, it can only be attained through understanding." - Ralph Waldo Emerson
"Peace I leave with you; my peace I give you. I do not give to you as the world gives. Do not let your hearts be troubled and do not be afraid." - John 14.27
Renee Lehman is a licensed acupuncturist and physical therapist with over 25 years of health care experience. Her office is located at 249B York Street in Gettysburg, PA. She can be reached at 717-752-5728.