Mount Basketball
Mattthew Hallahan
MSM Class of 2010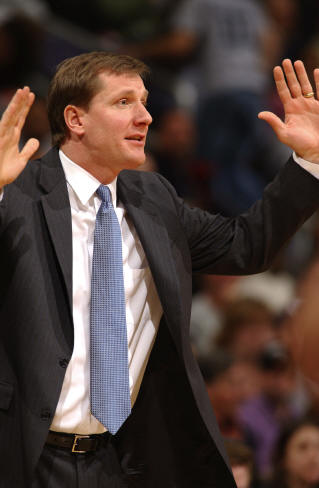 (1/2011) Just days before Milan Brown left Emmitsburg for Holy Cross University in mid-April of this year, the soft spoken mentor who spent seven years forging men out of boys as the Mountís head basketball coach, spoke of moving on to new opportunities Ė "It was a hard thing to tell my players, weíve been through so much together. But as time went on I talked to the guys individually, theyíre happy for me and my family. I trust the school will find someone to lead this team just like I was entrusted to take care of a program that Coach Jim Phelan had built for 43 years."
That duty, which only two individuals have embraced in the last half-century, was passed down roughly a month later to Robert Burke, a successful Division I assistant coach who has had 22 years of fleeting experience with the likes of American, Georgetown, Princeton, Siena, Loyola Marymount and UMBC. Now in his first campaign as the 20th Mount head coach, Burke faces the challenge of sustaining the championship-caliber program. While Coach Phelanís Hall of Fame tenure needs no further embellishment, Brown also advanced the legacy with three consecutive winning seasons between 2007 and 2010, one of which earned the Mount its third NCAA Tournament berth since ascending to Division I in 1989.
"There is a pride thatís associated with Mount St. Maryís basketball as established by Coach Phelan and Coach Brown, especially Coach Brown who was put in a situation where he was expected to fail Ė itís almost impossible to follow someone like Coach Phelan," Burke stated in his introductory address in May. "To the credit to the University, Coach Brown, and the players, the group was able to maintain, reestablish, and push that pride forward. It will be our responsibility to continue that process and see that we can take it a little further each year."
Coach Burkeís vision, though genuine and noble, has proven to be no easy task since his inception. With the graduation of three premier scorersóJeremy Goode, Kelly Beidler and Will Holland (who accounted for a combined 33.5 points-per-game)óBurke faced the initial challenge of establishing core leadership with a squad thin in experience. The team entered the fall semester with four seniors on the roster, only two of which (shooting guard Jean Cajou and forward Shawn Atupem) garnered substantial minutes in last seasonís rotation.
Burkeís shallow pool of veteran talent has since gradually receded. At the beginning of October, Cajou, who started 64 consecutive games in two years while earning CollegeInsider.com Mid-Major All-Defensive team honors last season, took an unannounced leave of absence and withdrew from fall classes. His motives for this were undisclosed. To this point, Cajouís absence is palpable, but the team has confidence in his return this spring.
"As Jean's coaches, teammates, and friends we miss him very much," Burke said. "We are extremely hopeful he will return to school and the court for the second semester."
In Cajouís absence, the backcourt has relied heavily on contributions from true freshmen Julian Norfleet (Virginia Beach, Va.) and Josh Castellanos (Orlando, Fla.), who have logged 35.2 and 29.3 minutes-per-game respectively through six games to supplement junior point guard Lamar Trice.
The teamís active roster took an even greater setback with early season injuries. Senior forward Pierre Brown, who looked to break out in his first season with a starting role, suffered a broken foot two days before the season opener against Dayton. The condition of the injury requires season-ending surgery, necessitating him to use a medical red shirt.
"Pierreís injury is pretty significant. As a staff, we really tried to get a group ready early on, and to have him disappear from that group really changed things," Burke said. "It makes us much smaller on the perimeter. Now it moves some of the more interior guys to the perimeter if we want to get bigger and thatís a whole new challenge since they havenít had a lot of reps."
Similarly, sophomore Kristijan Krajina is fresh off a foot injury that occurred during the opening weeks of fall practice. Krajina, who started in 10 games last season, poses a dual threat as a 6í9 forward with considerable outside range. Fortunately, his recovery process is such that the team hopes he will contribute to the stat sheet soon.
As reasonably anticipated, the team got off to a slow start. In the season-opening 67-52 loss to Dayton, Burke was limited to an eight-man rotation that included three freshmen. Though keeping pace through most of the first half, the Mount fell on the lesser side a 20-4 run that ultimately blew the game open. The Mountaineers came no closer than nine at any given time during the second half. Norfleet posted a team-high 15 points in his collegiate debut while Atupem grabbed a career-high nine rebounds.
After a respectable contest against Big East contender Cincinatti, the Mountaineers notched their first win of the season in the home opener against Savannah State. Despite the common reference, "a win is a win," needing overtime against a team that went 11-15 last season caused many to doubt the teamís consistency and ability to close games.
That failure to finish became a disheartening trend over the ensuing weeks. In the following game at Niagara, the Mount held a lead for 33 minutes, for a large part of that time by double digit margins. However, Niagaraís Jordan Marvin hit a jumper with 3:40 remaining to put the Purple Eagles ahead for good. The Mount came up empty on its final three possessions, including a game-winning three point attempt by Norfleet that narrowly missed long. Norfleet was honored NEC Co-Rookie of the Weak, averaging 11.5 points in a two-game span.
Wavering at 2-4, the Mount opened the month of December on a positive note, winning convincingly 66-52 in a conference opener at Sacred Heart behind Lamar Triceís career-high 21 points off the bench. However, Triceís offensive performance was not necessarily his most vital attribute in Coach Burkeís assessment.
"The points are the things that people would jump to quickly, but Lamar did a fantastic job guarding when we had a number of different guys in foul trouble," Burke said in the post game interview. "He had one or two [fouls] himself and had to continue to guard their perimeter guys. [Sacred Heart] had two guys on the perimeter particularly that were big time scorers, so he did a great job there. I also think he had no turnovers on offense, which is a significant accomplishment."
Following the Sacred Heart win, the Mount dropped back-to-back heartbreakers to NEC frontrunner Quinnipiac and Big Ten challenger Penn State. The two-point loss to Quinnipiac may prove to be the antipathy of the season if the team continues its downward drift. Tied at 75, The Mount held what was supposed to be the final possession of the game. Norwich drained the clock and began the set play with less than 10 seconds remaining. However, the freshman was stripped by James Johnson who ran the length of the court for an uncontested layup with 0.5 seconds remaining. Johnson, who scored a game high 25 points, also nailed the three-pointer that tied the game just before the Mountís final possession.
The following trip three days later to State College, Pa., was similarly deflating in nearly identical fashion. Talor Battle, Penn State senior point guard and two-time All Big Ten selection, drained a 30-foot three pointer with 1.3 seconds remaining to break a 53-point tie. While the Nittany Lionsí victory propelled them to 7-2 for the season, the Mountís loss was the second of four consecutive, a streak that stands as of Dec. 19.
After a series of non-conference road games, the Mountaineers resume NEC play with St. Francis (Pa.) at home on Jan. 6. They then host Robert Morris two days later in the signature game of their season.
The rivalry between the Colonels and Mountaineers has grown exponentially during the past half-decade. The NEC powerhouses cemented their mutual revulsion in March of 2008, when the Mountaineers knocked off the top-seeded Colonels in the NEC playoff semifinals at Moon Township, Pa. The Mount went on to defeat Sacred Heart convincingly 68-55 in the championship game en route to its first NCAA Tournament appearance since 1999.
RMU claimed the following two post-season matchups against the Mount, the first of which was won in thrilling fashion by way of a Dallas Green last second game-winning shot in the 2009 conference championship game. The Mount prevailed for the first time in four tries the following year, defeating Robert Morris 63-61 in the final regular season game. Fittingly, the adversaries met two games later in a conference semifinals encore, dominated heavily by the Colonels 80-62, enabling them with back-to-back conference championships.
Only three players remain from that 2008 championship team, each of which is bent on turning the tables come conference play this year.