Mount Women's Swimming
Ananda Rockita
(3/2010) Despite the team only starting in 2006, the Mount St. Mary's swim team has seemed to take the Northeast Conference by storm.
The team currently has twelve swimmers for the 2009 to 2010 year. The team started with Seniors Kate Ansman, Paige Chenet, Mary Beth Kasda, and Maggie O'Connell Dubois in the 2006 to 2007 season.
Prior to attending Mount St. Mary's Ansman, who is a New York native, was a four year letter swimmer on the Sachem East swim team. She was also team captain for her last two years of high school. She also received All League honors in 2003, 2004, and 2005.
Another Mount St. Mary's senior on the team is Paige Chenet. In high school, Chenet remained to be the tremendous swimmer she is today. She was a four-year letter winner on the Conestoga girl's swimming team for four seasons and was named All-Main Line second time while picking up an honorable mention.
However despite the swimmers that helped set the foundation of what the team is today, a freshman has shown her potential to carry on the team after the seniors graduate and leave the University. Courtney Griffith is a new addition to the Mount Women's swim team and has become a valuable asset to the scoring table.
Griffith won the 200 back with a time of 2:16:35 and took home first place in the 200 fly with a time of 2:18:14 at the Randolph-Macon Yellow Jackets Invitation this year.
This freshman prodigy started swimming at the age of five. Her family is comprised of athletes in particular swimming. Her talents may have derived from her father who was a swimmer at University of Nevada Las Vegas. Her sister has also inherited the swimming gene since she is a swimmer as well. Despite all, her family has remained one of her biggest supporters especially her mother.
"For years and years she has driven me to practice back and forth countless times, taken me to my meets, and sacrificed a huge amount of her time for me, and never complained once," stated Griffith.
Griffith started her swimming career in summer league for fun. She has lived in Westminster, Md. her entire life and started swimming all year round at McDaniel College for the Green Terror Aquatic Club.
"I fell in love with it at a very young age," stated Griffith. "And then later on started taking things more seriously."
Griffith was at the Green Terror Aquatic Club for six years and swam for two years on the Carroll County YMCA team.
"It was a lot less serious at the Y, which was what I needed at the time." Stated Griffith, "when I was around ten years old, I was nationally ranked top 10 in several events."
When more kids were more interested in comic books or watching Pokemon on television, at the age of ten, Griffith was at the pool swimming everyday to perfect her talent. While in high school, she practiced everyday and twice a day on the weekends. When Griffith started high school at Westminster High, she switched to the Eagle Swim Team located at McDonogh School in Owings Mills Md.
"It was here that I fell back in love with swimming," stated Griffith. "My personal times and overall performance improved drastically, the coaching was great, I met some of my best friends there, and it was an overall incredible experience."
As for Griffith's future, she is concentrating on her schoolwork. She is currently pursuing a career in nursing and wants to attend a specific nursing school afterwards. "I have always loved taking care of people," stated Griffith "I've known that I have wanted to get into the medical field for quite some time."
Last but definitely not least to be mentioned is Maggie O'Connell Dubois, one of the other senior swimmers of the Mount St. Mary's swimming team.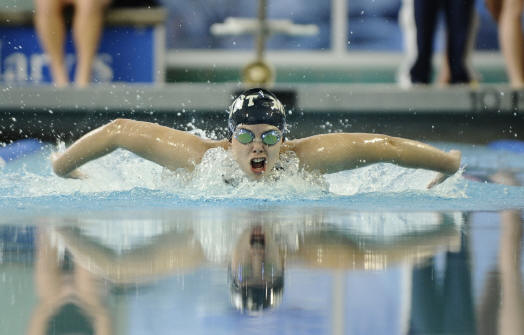 Mount Senior Maggie O'Connell Dubois
In the previous year, Dubois placed fifth in the 100 fly at the Northeast Conference Championships on February 13, 2009.
Dubois was also named Scholastic All-American in 2007 and 2009 and has ranked top five in Maryland in several events while in high school.
Dubois started her swimming career at the young age of three. When one of her teachers took notice at her swimming capabilities, Dubois was suggested to join the swim team.
"I tried it, loved it, and the rest is history," stated Dubois.
Her family has remained incredibly supportive of her in swimming even when she tried to quit the sport all together earlier in her teenage years.
"My mom told me I had to finish the year first," stated Dubois. "She knew me better than I knew myself, and by the end of that year I was rededicated to swimming." Another figure that has remained supportive is her husband whom she married the previous year. "It was a big decision to decide to get married this summer, knowing that I could not help financially," stated Dubois "I had to finish out my schooling and swimming." As for Dubois future, she could never imagine giving up the sport that she has spent sixteen years competitively doing.
"I think I will take some time off, but I eventually plan on swimming in a masters league, and possibly coaching," stated Dubois. While Dubois has posted incredible scores during her swimming career at the Mount and she is also an inspiration. She is the one of the first in her immediate family to attend a four year college or University and is also a survivor of Lime disease.
Dubois caught the disease during her sophomore year and it took her a full year to recover. When Dubois was able to swim again, it was a very emotional time for her.
"Last year at Youngstown University I broke the minute mark in my 100 butterfly. Even though I had broken this mark before, it had been a while," stated Dubois. "I broke down in tears on the pool deck, and my coach walked over to me, patted me on the back and said 'glad to have you back.'"
While conference championships just ended in mid February, the Mount swimming team finished sixth out of the rest of the competing Universities.
Despite some seniors not coming back for the next year, Jeannie Benedetti who was named a Mount Athlete of the Week for the week ending on Feb.18.
Benedetti led the Mount St. Mary's team at the Northeast Conference Swimming and Diving Championships on Saturday when she finished ninth in the 1650 free. She is also the third Mount swimmer to finish in ninth at the championships for a time of 18:28:13.
The Mount St. Mary's swimming team is coached by Neil Yost that entered his fifth season as the women's swimming head coach for the 2009-2010 season. Yost started the program in 2006-2007 with the team finishing ninth at the Northeast Conference Championships. Prior to coaching at the Mount he already had nine years of coaching experience under his belt.