Tennis
Brad Garick
Mount St. Mary's women's tennis has not overcome the challenges of being an individual sport molded into a collegiate team – it has embraced them.
The competitive nature that often fractures sports such as tennis and golf has given this group of women reason to believe they could capture the program's first Northeast Conference championship since 1995.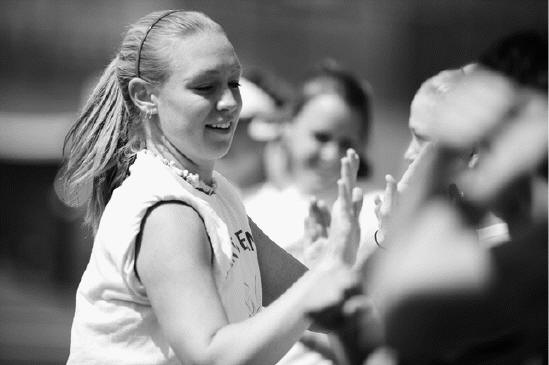 Junior Emily Bolchoz
If their inclination is proven true, the timing could not be better. With renovated facilities, new bleachers, and a core of underclassmen, senior Emily Grugan believes her final year with the team could be her most memorable.
It could be argued, however, that Grugan nearly was not a part of the team on two different occasions. The three-sport athlete in high school chose the Mount over an opportunity to play field hockey – what she says was her best sport – at Fairfield, and again stuck with tennis after simultaneously spending part of her sophomore season with the Mount women's basketball team.
"I didn't want to be a sell-out," Grugan says of why she gave up the rare NCAA Division I two-sport opportunity out of loyalty to her teammates. But if the chemistry was not so strong on the tennis team, she says she may have chosen the hardwood over the hard court.
Without Grugan, or any one other player, the dynamism of this squad would suffer.
"We're a pretty close team. We're all very different," junior Emily Bolchoz says.
Bolchoz, for example, says Grugan has a unique ability to motivate teammates, while Emma Haley is known for a higher level of compassion than the rest of the group. Haley, in turn, says senior Chelsea Johnson is the team's workhorse, always hitting before and after team practice.
And then there is sophomore Lauren Clark. Bolchoz says last year the team joked with the then-freshman for her "dark side" that included a dreary, colorless closet of clothes. It is all these qualities that knit the closeness of a team whose players realize they do not have to be tight companions in order to be good teammates.
"We realize that we don't have to be best friends … You still have that relationship, that closeness," says Grugan, who points this out as the difference between this group's potential versus the low ceiling for success in her earlier years.
"Ever since we've gotten closer we've gotten more comfortable with telling each other to work hard and we'll point [things] out like 'don't forget to bend your knees on your backhand' and things like that that many immature players take personally," Grugan says.
Bolchoz battled co-captain Johnson for the team's No. 1 spot last season while Grugan and Haley, a junior, switched between No. 4 and 5.
Haley says that regardless of which spot someone plays on the team, everyone is equally supported.
"It doesn't matter who's playing what number each role is just as important," Haley says.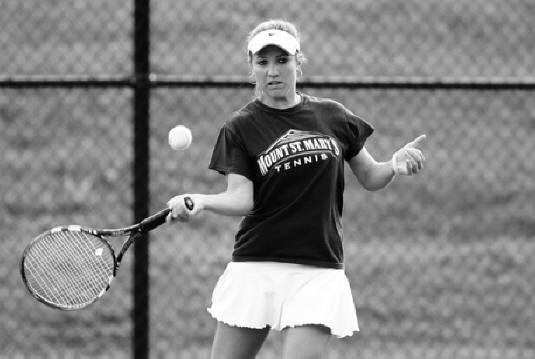 Chelsea Johnson - the team's workhorse
The team concept goes all the way to head coach Phil Hammond, who coaches both the men's and women's teams. In his five seasons with the women, Hammond has not had a losing record.
"Coach is a really nice guy," Bolchoz says. "If anybody would need anything he would be there for us."
Hammond shows this by gestures such as hosting both tennis teams at his house at the end of each season for a barbeque.
"We want to win for him," Grugan says. She, after all, can understand more than anyone else the way he cares for his players.
On scholarship for tennis, Grugan had to seek permission from Hammond to even join the basketball team last season. He allowed her to do so under one condition – don't get hurt.
She did not, and neither has the team.
Now the women must figure out how to get over the hump that has prevented them from being a serious postseason threat.
Graduate Kaitlin Hallahan, last season's No. 3, was the only mainstay in top six singles the team lost from last season. With four incoming freshmen the team seems likely to improve on its disappointing quarterfinals exit in the 2009 NEC Tournament.
Seeded fifth and facing No. 4 Sacred Heart, the Mountaineers fell fast dropping the doubles point and the first three singles matches en route to a 4-0 defeat.
In an identical seeding match-up in 2008, the Mount swept the Pioneers before No. 1 seed and eventual champion Quinnipiac delivered a 4-0 drubbing.
"I think it comes down to our focus. We want it so bad that … [in the quarterfinals] Friday we're thinking we want to get to [the championship] Sunday," co-captain Grugan says of the three-day tournament.
Because tennis is played in the fall and spring, Grugan says that the team has no excuses as far as physical preparation for the spring's season-ending conference championships. That is why she wants to do her best to make the most of not only her own abilities, but her teammates' as well.
"I want to set a standard my senior year as a leader and as a captain," Grugan says.
That will be her non-physical contribution to the ultimate goal – an NEC championship and an NCAA tournament berth.
"The goal would be to win conferences. Coach has been building the program," Bolchoz says. "With the addition of the new freshmen I think we have a legitimate shot at winning."
The freshmen, however talented, will have to work hard if they even hope to see the court this year. Besides Hallahan dropping out of the No. 3 spot, fellow class of 2009 member Alissa Thayer leaves the only other potential vacancy as both played doubles in most matches.
But Bolchoz embraces that increased potential for in-house competition, saying it will only make everyone better individual players.
"The way the program's been going we keep getting good players coming in," says Bolchoz of the increased intensity.
Whether that will be enough to bring out the team's first trophy to Emmitsburg in more than a decade remains to be seen.
New recruits, a caring coach or team chemistry alone would not be enough to get the job done. But those qualities, and the rest of the program's intangibles give the women reason to believe that if this is not the year, the wait may not be too much longer.