Mount Men's Golf
Ananda Rockita
(11/1) Polos galore, black weatherproof pants, spiked shoes, and a Titleist hat are common associations people have with the Mount St. Mary's men's golf team. These men, that average right above the height of six feet, reign above the student body. However, even thought they should be easy to spot on campus, they are also one of the hardest to a get a glimpse of due to the numerous hours they spend on the golf course.
Have any of you tried to play golf or even attempted collegiate golf at that? Golf takes up hours of a day just trying to perfect a swing to use on the course and one round of golf is an average five hours out of someone's day. There are also different aspects of golf such as short game, swing mechanics, and on course management. Collegiate golf is more time extensive than just regular putt-putt. Not only are the players required to drive to practice, but are required to dedicated at least 4 hours of their day for the game.
These unsung heroes of the golf course drive nearly an hour going to and from practice and are there until the sun goes down. These players come from different areas of the country and were all top notch players in their state before being recruited to the Mount.
"We all have very talented players with great capabilities," stated Coach Kevin Farrell. "From my years being apart of the golf team, I have not seen so much talent."
This is Farrell's first year as head coach of the men's golf team for the 2009-2010 year and is a notable alum of the Mount. A graduate of the Mount in 2008, Farrell earned All-Northeast Conference recognition in his last two years, which is rare to achieve. Only five of all Mount players were able to attain this.
"Since I am really good friends with many of the players, it is hard to get their respect at times," stated Farrell. "Some of the players now are people I played with when I was going here. Its different from being teammate to coach."
"I think Kevin brings a lot to the table," stated senior Ray Hyre. "he's young, he's been there. He knows everything that we are going through and also knows most of the courses we play at for tournaments. Having him will definitely help us."
There are a total of ten players on the team. While seven of the ten players are from the Maryland area. One in particular is from the west coast. Sage Smith, a junior at the Mount, is a Colorado native. He competed in seven events in his sophomore campaign and averaged an impressive 78 strokes per round. At his high school in Arizona, he was a four-year letter winner. He also was named the Arizona Player of the year, finishing in the top 3 of 15 tournaments.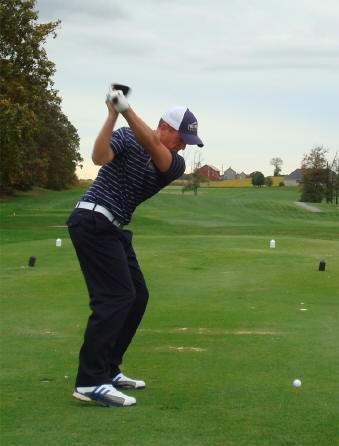 Jeff Kingsbury
Like Smith, Jeff Kingsbury is another player with a great deal of ability. This senior is from the Southern Maryland area. Kingsbury competed in nine events in 2009 of his junior year and holds an average score per round of 78. In high school, he served as captain and was named All-conference and All-county three times. He also placed second for the Maryland state level.
"My favorite moment on the golf team had to be when I was leading all conference," stated Kingsbury, "But I blew up the next day but the day I was leading is probably one of my best experiences here at the Mount."
In his sophomore campaign, Kingsbury led the Northeast Conference Championships after the first round of an under par score of 69 and missed being in the top 10 by only one player with a score of 221.
Like the conference championships, Kingsbury is known for helping lead his team. Just recently, Kingsbury posted a round of 76-78 to nab fifth in the field individually at the Holiday Inn Colonial Classic in October. This helped the Mount round out the top four spot among the other universities in the tournament.

Sage Smith
Like some players on the team, the game of golf was introduced to them by their father. Kingsbury started playing at the age of six and grew up with a whole family of golfers. While living his whole life in Maryland, he won club champion at the Ocean city golf club, which is only one of his great accomplishments thus far.
Another notable player is Dan Michalek. Michalek is also a Maryland native from Mt. Airy. He was recruited to the Mount and chose the school despite offers from St.Joseph's and Loyola, because he found this school a right fit for him. "I wanted to be close to home to my family and though the Mount would be a good school to go to," stated Michalek. "When I went to visit the school, I thought I would like it."
While competing five events in his freshman year, he made a positive impact on the team, averaging 80 strokes per round.
"Dan is definitely a great player and especially a team player," stated Kingsbury.
Michalek was known in the Maryland state level for his impeccable golf game. While his high school years, he was awarded many significant accomplishments in his four years. He was a four-year letter winner on the Mount St. Joseph's team and served team captain for two seasons. He was named to the Maryland Interscholastic Athletic Association All-star in his final two years in high school. He also won the inaugural Melwood Prince George's County High School tournament.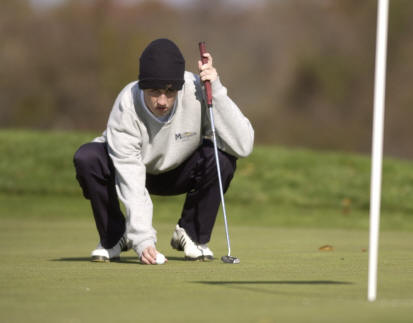 Dan Michalek
While Smith, Kingsbury, and Michalek are known for their dedication in the game, senior Ray Hyre is known for overcoming obstacles. Just last fall season in 2008, Hyre had to miss the spring portion of the golf season due to a knee injury, which he had to have surgery for. "I couldn't walk until the first week of May," stated Hyre. "I couldn't walk for three months then started to play again during the summer.
However after months of recuperating with fracturing his pivia and with a tored acel, Hyre showed his old self again with a score of 78-77 for a top ten finish at the Holiday Inn Classic in Pittsburg this October. "It was a lot of difficulty, but you just got to get through it all," stated Hyre. "I just played real solid and I've been working very hard."
The men's golf team has a great deal of talent ahead of them, but their skills on the course are not only naturally inhibited, but practice is also a factor in their success. "An average day for me would be to go to my classes then after classes go to the course where I would practice all the areas of my golf game," stated Kingsbury. "I usually spend around 4 to 5 hours out there."
"In the spring, we are going to be like the other Mount teams such as basketball who have two a day practices," stated Coach Farrell. "We have so much potential and we will be able to show the other teams that during conferences."
It may seem that with the competitiveness of the sport, the men's golf team may choose to hang out with other people outside practice and matches. However it is the latter. Despite the hard work and dedication this team has put into the sport, they all still know how to have a good time and are all good friends. The comradery between them are inevitably shown off the course. After practice, some of the boys regularly eat dinner together and hang out with one another. Some of the boys on the team even share a house in Emmitsburg together, which also include Kingsbury and Hyre.
"We are always together. Everyone is always at my house and I think everyone gets along really well," stated Hyre. "We are definitely a very close team."
"The guys on the team are great. I enjoy hanging out with everyone," stated Michalek. "The van rides while going to the tournaments are probably what I will remember most being on the team."