Tom FitzSimons - Mount Decathlete
Brad Garick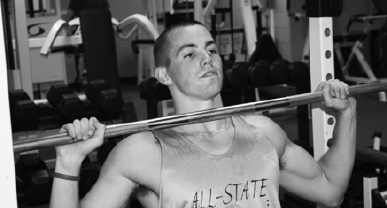 Most fathers do not inwardly rejoice when their child gets cut from a high school sports team. But maybe the bittersweet relief Tom FitzSimons Sr. felt when his oldest son, Tom Jr., was not selected for the Hamden (Conn.) High School baseball team was because of the foresight he had of Tom Jr.ís potential in another sport.
The 6-foot, 2.5 inch, 195-pound Tom Jr. has long forgotten Ė competitively anyway Ė his first loves of baseball and basketball to become a decathlete.
After the second day of baseball tryouts in his sophomore year, Tom Jr.ís name was not on the list of players invited back. Upon breaking the news to one of his friends, Tom Jr. learned of his fatherís secret desire.
"The first thing out of [my friendís] mouth was ĎOh, your dad will be happy.í And I go, ĎWait, what do you mean?í" Tom Jr. recalls. "And he goes, ĎYour dad was always saying heíd like to see you hurdle or heíd like to see you run, he thinks youíll be a lot better at track.í"
The rising Mount St. Maryís University junior ran track Ė but not until basketball season was over Ė for parts of three years in high school before choosing the Mount over the likes of Vermont and his home-state Connecticut Huskies to run track. It is in Emmitsburg that he is continuing the pursuit of a goal that only sounds clichť if you have never met Tom Jr.: To improve every day and maximize what he has been given.
Although a modest Ė and recently-injured Ė Tom Jr. sets his outward expectations low, his family, friends and coaches do not.
Jim Deegan, the former head coach and current assistant at the Mount, has mentored 10 decathlete All-Americans in nearly 55 years, and believes Tom Jr. will become the 11th.
"Heís going to be an All-American," says Deegan by phone of his latest prize multi-eventer.
His mother, Mary Sue, however, is more proud of the things her son does outside of track.
"I usually get into more of the personal stuff," said Mary Sue via telephone, adding that she gets anxious watching Tom Jr. compete. "Iím OK until I see a lot of it, then I get uptight."
Hearing people tell her how nice of a son she raised means more than any personal record or medal Tom Jr. could earn.
Because of the proximity of Tom Jr.ís competitions to the Easter holiday, Deegan invited Tom Jr. over for a holiday dinner this year and says that "everybody remembers him fondly." But the long-time coach summed up Tom Jr.ís charisma best with a rhetorical question: "Do you know anybody that donít like him?"
So resounding is the answer (no) that a handful of Tom Jr.ís high school friends still speak to him almost daily.
One of those people is Chelsea Blake, a rising junior who plays basketball for New York University. She says the two played basketball at a park near Tom Jr.ís house hundreds of times and without fail Tom Jr. would always motivate her to complete one task before they left.
"Every single time he made me [make] six foul shots, because we were both number 15 and one plus five is six," Blake said by phone. "He wouldnít let up, even if I wanted to leave, had to leave, you had to do it."
If any of his friends from home can relate to the sacrifices Tom Jr. makes, it is a fellow student-athlete.
"I have dreams and I have stuff I want to do with basketball but sometimes itís like ĎOh, but I have this and that,í" Blake says. "But him itís just ĎNo, thereís nothing thatís standing in my way of what Iím going to do."
This attitude has rubbed off on rising Mount sophomore and fellow decathlete Tim Nickas, who developed a special bond with Tom Jr. after an injury of his own this season.
Like Tom Jr., Nickas was new to vaulting entering college and faltered in a practice vault Dec. 12 resulting in a broken hand. Barely acquainted with his new teammate, Tom Jr. gathered Nickasí belongings and rode in the ambulance with him.
"This kidís out here busting his [butt] and heís seriously hurt, you get taken aback real quick. Itís like, the way heís feeling right now is more important than how I did at pole vault practice," says Tom Jr., who even used Nickasí phone to call and text his parents and reassure them their son was OK, despite having never met them.
"I didnít know him but I was like, this is probably going to be one of my best friends. If that happened to me I would hope somebody else would do it for me," Tom Jr. says.
In a phone interview, Nickas added, "We were friends but not that close back then because it was the beginning of the year Ö [He] was right next to me through the entire thing."
Nickas remains appreciative, and was able to return the favor when Tom Jr. went down with a stress fracture in his right foot at Eastern Collegiate Athletic Conference Championships in Princeton, N.J., on March 8 Ė his 20th birthday.
"[I told him] to keep his head up and he knew that he was going to get through it and I told him it that this injury couldnít have happened at a better time and not to be worried about it because he still has a lot of years left to compete," Nickas added.
Someone who Tom Jr. describes as his best friend and used to train with him in high school can attest to the same qualities. Nic DíAmato, who did not attend Camden but worked out with Tom Jr. no longer does track competitively, but says Tom Jr. is still in his head every time he exercises.
"Whenever I go out for a run Ö if I want to stop I just think about how hard he works," DíAmato says.
"[Another] thing I like about Tom is that heíll listen to you Ö and heís a great person for that," DíAmato adds. "He really takes the words to heart."
Jim Stevenson, a 1995 Mount graduate and one of the 10 decathlete All-Americans, is in his third year as head coach and 10th overall in Emmitsburg. He still describes Tom Jr. as "raw" due to his training life of less than two years Ė 18 months at the Mount and less than six months in high school.
"Initially it was just kind of this picture of this guy thatís got height, got levers can run a good 400 meter and has power Ö and thatís about it," says Stevenson of his initial thoughts when recruiting Tom Jr.
It is Tom Jr.ís willingness to buy into what Deegan and Stevenson teach, along with an unparalleled work ethic that makes others marvel at his potential.
"We havenít even touched the surface in the throws yet," says Deegan of Tom Jr.ís weakness Ė technical events. Yet Tom Jr. still finished fourth at the 2008 USATF Junior Outdoor Track and Field National Championships (ages 19 and under).
Of the decathlonís 10 events, Tom Jr. already has a solid grasp of the long jump, pole vault and 400-sprint, the latter of which he was crowned state champion his senior year of high school. Learning the other seven events, and overcoming an early fear of the pole vault, was all that initially slowed Tom Jr..
Late in middle school before he ever set foot on a track competitively, Tom Jr. was watching a meet on television in which a Penn St. pole vaulter fell mid-vault, landed head-first on a hard surface and eventually died.
"Coming in last year was like, all right Iíve seen a kid die, this doesnít look like the most appealing event. Iím using a stick to fling myself in the air," Tom Jr. says. "Now Iím trying this thing I was like, Iíve seen somebody die doing what Iím about to do Ö I was being a punk."
You would never know, however, by looking at his results. Deegan says that Tom Jr. accelerated his vaulting skills so quickly leading into one meet that Tom Jr. had to borrow a pole stronger than any the Mount had available in order to clear higher bars.
His PRs in his top three events are 48.47 seconds in the 400 sprint, 22 feet, 4.5 inches in the long jump and 14 feet, eight inches in the vault.
The 400 sprint time would have placed second at the 2008 NCAA national meet as well as second in the 2008 Beijing Summer Olympicsí decathlon while his 1,500 meter PR of 4:28 would have been third in Beijingís decathlon.
"You canít just make someone good if they donít want to be good or if they donít have some skills and ability Ö I donít think heís going to have any holes," Deegan syas. "I donít see anything thatís really going to prevent him from steady growth in all of the events."
Tom Jr.ís work ethic, which may be a gift and a curse, figures to improve those numbers along with the ones that are lacking in other events and boost his decathlon PR of 6,783. It is, after all, the technical events in which many points are accumulated inches at a time.
Known for spending as many as seven hours a day doing track-related activities (event practice, cardio, weight lifting and treatment) Tom Jr. may have learned his bodyís breaking point after his foot injury.
Not only has this given him the opportunity to work on his upper body strength as he has virtually no clearance to do anything other than walk, swim and bike, but it also gave him a redshirt Ė the NCAAís term for sitting out a season of competition in order to make it up later on, usually in a fifth year of school. And it is that fifth year in which Tom Jr. hopes, and his coaches believe, that he could make a run at a what could be his second or third All-American honor, if not a national championship.
If any Mountaineer could make such a run, it is Tom Jr.
During a typical school day, he wakes for breakfast 90 minutes before class to get a head start on his 4,500-calories-per-day intake. After classes and a lunch around noon, he heads to the ARCC for hours of treatment and workouts that do not end until dinner time at about 7 p.m.
The rest of the night is usually centered on homework to maintain his 3.0 GPA. To see Tom Jr. out of his room after 11 p.m. Ė including weekends Ė is about as common as the Mount offering a course in atheism.
Even rarer would be to see Tom Jr. with soda, dessert, and even alcohol, none of which heís tasted since eighth grade (and never having had an alcoholic drink.) The only thing Tom Jr. does drink is water and skim milk, allowing himself to splurge on Gatorade during meet days Ė now thatís G.
Despite avoiding the soda fountains and dessert lines, Tom Sr. and Mary Sue still add around $900 of meal money each semester Ė more than the cost of the initial meal plan Ė to Tom Jr.ís dining account.
Tom Jr.ís parents have no complaints of the extra cost because as Tom Sr. puts it, "College has been a lot less expensive because of what heís done [in track]."
Track, after all, is his life, and the people closest to him understand that.
Tom Sr. had already booked a trip to Arkansas for this yearís NCAA Outdoor Nationals before Tom Jr.ís injury, and he plans to do the same next year despite a farther travel.
"I donít know how Iíd get to Oregon next year but if he gets there Iím going to find a way," Tom Sr. says.
And if the London Olympics are calling in 2012, Blake has already made a deal with her best friend.
"I already told him that Iím going to have a front row seat," Blake says.
Tom Jr. is cautious to put those expectations on himself, although he admits those dreams do cross his mind.
"I wouldnít say I have low expectations, Iím just being completely real with myself. There are so many other people," Tom Jr. says. "I see it as, itís not impossible at all, but the chances are very, very slim."
So if he does not expect, and only hopes, to make the Olympics or win a national title in three years then why does he compete? Tom Jr. says part of it is because he wants to win and is not satisfied with what he has accomplished, and also because he does not want to waste his gifts.
"Iím given a huge chance Ö and Iím going to get everything out of it I possibly can," Tom Jr. says. "Itís just what Iím doing with my life right now I guess. Part of it is major curiosity, I want to see how far I can go."
Says Tom Sr., "I know efforts not going to be the thing holding him back, thatís for sure."
Now there is something on which everyone can agree.