On canning tomatoes, and love
Christine Maccabee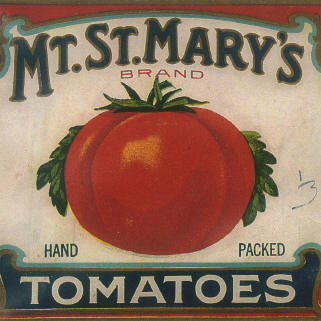 "Well, I asked for it!" I thought as I looked at the pile of beautiful tomatoes on the counter. I had gathered these tomatoes to can them for the winter, though when it came time to do it, I found myself semi-reluctant. I do love tomatoes, though, whether it be growing them, tasting them, and even canning them. Love is a funny thing, be its object people or tomatoes. We usually do not realize exactly what we are getting ourselves into. All we know at the time is that we love what we see, and who can resist fat, juicy, plump tomatoes with flavor so sweet they make you swoon?
As it is, I usually jump into canning with both feet and my eyes half opened. This year was no exception. At least I know my heart was in the right place. Canning tomatoes this summer meant I would have at least a dozen wonderful chili dinners this winter with family and friends. I had no choice but to start canning. Though I had a pain in my arm and knew the process of canning would take hours, I also knew the investment of time and energy would be worth it. Unlike with tomatoes, this same investment of time and energy into human relationships is not guaranteed to be worth it. In tomatoes, though, one can rarely lose!
I am a very particular woman. I must have the best, and so I have been growing Heirloom tomatoes almost exclusively for 20 years now. I find the Heirlooms to be superior in taste and a fascinating study in diversity, as there are so many varieties. How is it that so many types of tomatoes exist, anyway? There are hundreds of tomato varieties, many stemming from a wild botanical ancestor which grew prolifically in Mexico and was "tamed" in the 1500's. The seeds and plants were taken by explorers to Europe and grown there by crazy gardeners and botanists like me. Then later, before the Revolutionary War, these tomatoes made their way back across the ocean with the settlers and slowly became established as a food crop in the United States. What a history!*
So history is teaching me that some of the most important things in life can be the most difficult, or at least can take the most time and effort. From beginning to end the process of growing and canning tomatoes requires lots of heart and commitment. Tomato plants, like people, are very sensitive and require not only careful nurturing as young seedlings (such as my grandson) but plenty of space and time in order to grow well. If there is one lesson I am learning from my gardens it is to be patient. However, patience is not my greatest strength, even though I know "all things come to those who wait." The first of my tomatoes to fully mature is popped in my mouth and savored right there on the spot!
A confession: The tomatoes I had collected on my counter waiting to be canned were not all from my garden. New garden friends of mine who also raise Heirlooms had given me some different varieties: Mr. Stripey, or Marvel Striped, Mortgage Lifters, and Yellow Brandywines. My own tomatoes are Brandywines, which are large and juicy, Manyels, which are yellow in color, and some small golden nuggets. I had also picked up three huge beefsteaks from the Emmitsburg Farmer's Market. My entire collection of beautiful tomatoes was staring at me that morning as I waltzed into the kitchen. Despite my hesitations, I was committed to these tomatoes…
…I cut tomatoes removing bad and hard parts while my little grandson played on the floor with trains and stones and sand. The sun was out on another glorious day in late summer and I savored one of the last summer days we would have this year. As I cut my tomatoes I could feel the sun that they had soaked in as they grew all summer.
While I cut, cooked, and canned my tomatoes, I worked through the pain in my arm, I worked through the pain in my heart, and I kept working. I listened to Native American flute music, and paused at times to stretch, working out the kinks in my body and soul. I kept on working because the tomatoes needed canning and there was no one to help me.
I worked because of this winter's chili. I worked for my family, and for my friends. And as I worked, I realized I was never truly alone in my kitchen. As I cut and cooked and canned tomatoes, I learned to love. I loved myself and I loved others. I loved my little grandson as he came to "help."
By now I was hot in the middle of my commitment, the heat was on and everything was cooking …the tomatoes, the water, the lids… fire and heat being the secret behind successful sealing of lids to jars. I worked with skill I have learned over the years and with joy as I thought of the love I would feel as friends consumed the fruit of my labor.
The choice of the heart is not always wise, but with tomatoes it never fails, that is unless the jars do not seal properly. Yes, we must take the time to do it right, through the sorting of the good from the bad to the preserving of the goodness to the cleaning up of the messes…a never ending process.
By the end of the day I was finished. My little grandson was in bed dreaming, perhaps of cutting tomatoes, and the one low light left on in the kitchen cast a mellow glow on the 12 canned jars of tomatoes. It was a labor of love, done by many. As I look back now I realize that I was truly never alone in my kitchen that day. Rather, I was immersed in love, TRUE love!