Simply Maya
Djinn-Djinn
Maya Hand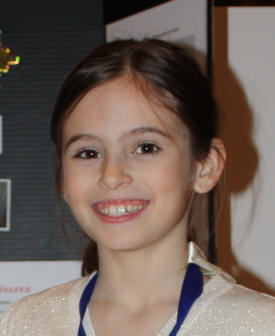 (Feb, 2011) He hopped off the table, scurried through the living room, dashed behind the door and froze… his heart still beating rapidly, his chest pounding as he tried to catch his breath. He waited, peering out from behind the door and just as Sarek was carelessly sauntering past the door, his tail held high, waving it gracefully in the air, Djinn-Djinn threw himself on top of Sarek! He pinned Sarek to the ground and then, both kitten and cat began nibbling at each other as they rolled, pressing their paws into each other's fur. Scurry
It all started when we were on Thanksgiving break. We were staying at our Aunt Laurel's house. A family we know found a stray kitten outside in the freezing air, hungry and with a cold. He was a tabby – a mixture of black, gray and brown. When we were driving home, since we have a history of taking care of cats, being their foster home, and even keeping a few, they called us and we picked him up to foster him and try to get him healthy again. We called him Djinn-Djinn , and he has done some of the funniest things a little kitten can do.
When mom picked up Djinn-Djinn, we saw that he was skinny, dehydrated and had a runny nose. We had to give him lots of water and wet food with kitten supplement to get his strength back. He also wanted lots of love and would purr anytime we touched him. Mom made a plastic shield and connected it to the door of the large crate that Djinn-Djinn stayed in, so that if Sarek, our cat, were to come along and Djinn-Djinn were to sneeze, Sarek would not get his cold. In the beginning Mom had to hold Djinn-Djinn in her arms and give him milk supplement and tuna water with a plastic syringe. She also took him to the vet to get him antibiotics. After he'd had one round of antibiotics, he became sick again and started sneezing blood. Mom had to take him to the vet several times to get him medicine until he was finally better.
Once he was better, he was able to run around, and we got to see what he acted like with kids, dogs and other cats. It turned out he loved everyone! The funniest though was how he and Sarek got along. First, there's something you should know. Sarek is very, very cautious with new people and animals. He doesn't bite, he doesn't scratch, he doesn't growl. He's just cautious. In the beginning, Djinn-Djinn would purr and try to rub up against Sarek and Sarek would nervously back away. That would happen every day. Now, there's something else you should know. Remember Djinn-Djinn was just a kitten when he was found and he was sick. He did not know how to play chase and didn't show much interest in games of cat-wrestling either. So, once Sarek got used to Djinn-Djinn, he decided to teach the kitten how to play.
First, he would get Djinn-Djinn's attention by hopping, excitedly in front of the kitten. Then, he would dash hurriedly across the floor, looking back to see if Djinn-Djinn was watching. Djinn-Djinn would look at the older cat, looking confused, then turn and walk in the other direction. That continued to happen for a while until, one day, Sarek tried it again and Djinn-Djinn, in spite of himself, rushed after him!
Many days following that one, I watched as Djinn-Djinn chased Sarek or Sarek chased Djinn-Djinn. I thought it was hilarious. Djinn-Djinn darting behind the door to catch his breath as Sarek would slowly and carelessly near the corner and Djinn-Djinn would pounce from behind. Other times, I would find Sarek following Djinn-Djinn around, watching his every move, Sarek giving Djinn-Djinn a bath or them cuddling on one of the beds or a comfy chair. One night I came into Ana's room with a camera. Sarek and Djinn-Djinn were both laying down on Ana's bed. Sarek put his arm around Djinn-Djinn and started licking him and nibbling at his fur. I thought it was the sweetest little thing. I took a few pictures, then closed up the phone (no, at age ten I do not have a phone. It's our "family cell phone," so don't worry). Then, I walked downstairs to share the pictures with Mom and Dad.
Mom said that if we hadn't taken in Djinn-Djinn when we did, he probably would have died. I'm glad to know that Djinn-Djinn is now in a safe home with a family that must love him very much. It wouldn't be my first choice, giving him to the animal shelter, but Mom said that now that Djinn-Djinn was healthy, he was good with kids, dogs and other cats, and especially since he was such a cute little kitten, it wouldn't be long before a loving family would scoop him up! She was right, he wasn't on the "adoptable" list for even a week when someone brought him home. I still miss Djinn-Djinn very much, but I know that another pet in our household would be too much. I also know that we'll always have the memories of the adorable Djinn-Djinn's foster stay in our house. I feel good that we did our part to give one more animal a chance at life in a loving home! If you're ever thinking of buying a pet, please remember that there are so many wonderful rescued animals and animals in shelters to be adopted!
Read other articles by Maya Hand