Simply Maya
Halloween!
Maya Hand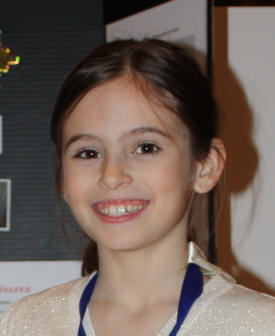 (Nov, 2010) Herds of laughing children racing down the streets and sidewalks, banging loudly on doors, ringing door bells and bursting intoÖ "Trick-or-Treat!" The feeling of enthusiasm dancing in your stomach, the cool breeze as you run along the grassy banks, your friends soaring along with you, sharing in the sights and smelling the crisp air filled with anticipation. HALLOWEEN!! Did you enjoy it as much as I always do?!
To me Halloween means the changing of the seasons, and thatís always exciting. Itís always fun to be a different character once a year, someone or something other than yourself. Itís an opportunity to be creative and imaginative. I know Iím always looking forward to that. And at Halloween we get together with our friends for a special, fun celebration. You can never have a holiday without friends and family! By the time you read this, I know Halloween will have passed. But Iím writing this with just over a week left to go, and Iím really looking forward to it!
Every year I look forward to the sights, sounds and smells of Halloween and the way the change in the seasons makes you feel. Halloween night is filled with sounds of children talking, playing or calling to another person that is running down the sidewalk. We hear cars driving by and people singing "Trick-or-Treat!" We smell pumpkins warmed by candles, fresh hay, candy and maybe even the smell of the cars going by. If we take a minute to look around we will see houses with pitched roofs lit from inside with glowing lights, sidewalks with shadows dancing, other families in costumes, jack-o-lanterns full of laughter, long grassy lawns and dozens of bright green waving glow sticks!
This Halloween Iím going to be a dragon, and my sister is going to be a Naívi. Mom is going to make our costumes for us. We recently went to the Renaissance Festival. There was one store with leather masks that were painted in bright colors. The masks were like big, bright colored, thick leather leaves scattered up the walls. On each mask were two holes for the eyes. The lady there said that we could try them on. There was one blue and black butterfly that I really liked. There were maybe three or four mirrors lined up on either wall. The blue on the butterfly mask was glossy and had a magical look to it. I went ahead and tried it on, looking in the mirror. There was one thing I saw for sure; this was definitely my favorite mask in the shop. The bottom of the butterflyís body was just above my nose (which meant I could breathe well, unlike the other masks). The big wings came out past both sides of my face. The black spine of the butterfly glided down my forehead. The wings were mostly that beautiful blue color, except for the bottom which was black as the night sky. The beautiful wings seemed to flow outward like a river and on either wing was a hole for an eye. I showed mommy. "You like that one?" she asked. "Yes." I responded. I carefully took it off and hung it back up on the wall. Mommy asked the lady how to make one. At home mom found some leather scraps and made me a half mask that will go over my left eye. It has curls around the outside border. She is going to paint it a purple-blue and seal it to keep its shape. Mom made Ana leather ears for her character. She is definitely going to paint themÖ Naívi blue.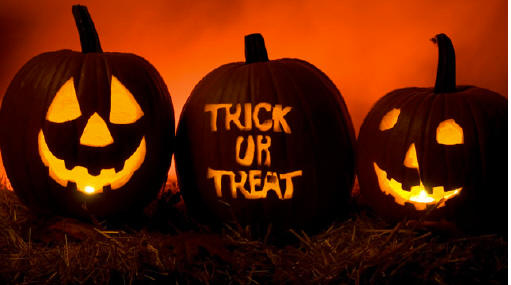 Before we set out to go trick-or-treating each year, mom always does our make-up / face painting. Sometimes we do it at a friendís house while their mother does their make-up. Itís entertaining to watch my friendsí and my sisterís faces be made up. I watch them stare at me while I feel a light brush glide over my eye or listen to my mom say, "blink!" for the mascara. She goes from lipstick to eye shadow, then eye liner, mascara, and finally puts on any headpieces for our costume. ThenÖ Iím finally finished. I dash over to the mirror, eager to look and see the "masterpiece" my mom has been working on. "Wow!!! Mom itís awesome!!!" I say. "You like it?" "No, I love it!" "Iím glad. Go play." So I dash away to join the others. Just a few more minutes until we leave!!
On Halloween night you might have felt a rollercoaster in your stomach because you were so filled with enthusiasm! (like me!) Maybe you were so eager and joyful you started jumping up and down and felt like you could burst at any moment! (like me!) And today weíre left with the piles of candy still on our kitchen counters because we canít find a place to put it all, the colorless glow sticks, and the Halloween costumes to be carried up to the attic. Now that Halloween has come and gone, Autumn is really here and thereís lots more to come, itís just begun. Soon there will be more chilly days and brightly colored leaves gliding down from the trees, their branches becoming more like long, twisting fingers, reaching to the pale blue sky. So enjoy jumping into the leaves and wearing your big, fuzzy coats, and Iíll see you next year on the shadowy sidewalks while we inhale the crisp air, lit pumpkins and pitched roofs all around!
Read other articles by Maya Hand