Simply Maya
Dog Years
Maya Hand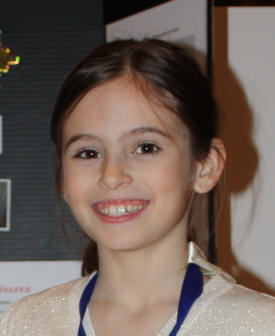 (Aug, 2010) We have two golden retrievers, Shelby and Abby. Abby has been on this earth for about 13 years, but according to dog age, she's really 89. In dog years Shelby's about 35. In this article, I would like to write about Abby. Abby was born just after my mom and dad got married. They got her 6 months after they got married. They were visiting my grandma in Virginia Beach. They took a little trip to the pet store. They weren't going to buy anything. It was just to look around... But, there was one...that...well...wouldn't stop wagging its tail!!! So mom and dad got to play with her and soon fell in love with the puppy. It was a little unusual for mom and dad to buy a pet, because the rest of our pets have been strays and adoptions.
At the time they lived in an apartment and the apartment manager said, "No dogs allowed." But since mommy and daddy were attached to the puppy and planning to get a house soon, they took a chance and bought the golden retriever they named Abby. They brought her into the apartment. Abby kept putting her paw up on mommyís lap and mommy kept saying, "No paw," a command that I have heard over the past 10 years. Mommy and daddy thought they could keep Abby a secret for a few weeks while they shopped for a house, but this was not the case...The first night home, mommy and daddy put her in the bathroom. She had everything she needed: food, water, newspaper and a bed. A few minutes after turning off the lights, Abby started crying. Mom and dad went to check on her. They would open the door and she would stop crying. They would close the door and she would start crying again. It was now obvious to the neighbors and management that they had a dog. A few days later, Abby tried to dig a hole through the floor...that did not work out so well, for Abby or the rug. Daddy cut a piece of carpet from the closet and tried to fix the hole. But a brand new piece of carpet right in the middle of a walkway is pretty obvious. A few weeks later, they left both their apartment and their security deposit behind... In their new house, carpets were not a problem and Abby had a yard to run and play in. Abby was mom and dadís first baby, sort of like a practice child.
A couple of years later, Abby and my parents welcomed me into the world. Abby was good to me. Before I could walk or sit, she would lay next to me. When I could sit, she would sit next to me...and look at me. When I could crawl and later walk, she would follow me and look out for me. Even though I donít remember her from that time, she was a good friend. After moving into our current house, she became a constant companion for me and my sister, and much, much later, my little brother. In recent years, Abby was there for me when I was stressed or just had a long day. I could sit with her and pet her and she could make me feel better because I knew she loved me. She was a very good dog.
In recent years Abby was a very light color and her face was framed with white fur. She had one milky eye that she could not see very well through. Her fur coat was rough. Sometimes when I would start petting her, she would spring up from lying down and rub up against me, wagging her tail and smiling (most of her life she smiled). Sometimes she had trouble getting down the stairs and we needed to help her. Since she had one bad eye, I would open the back door a little wider so she could see better to walk outside. Sometimes she needed more time to get to her food, so I would look for her and find her to take her to the food. Sometimes I even needed to call Shelby someplace else for a second so Abby could get to her own food. We found a stray cat one day and we discovered she was pregnant. When she had her kittens, Abby would look at them like they were the cutest things in the world (and she would smile). We kept one of the kittens and named it Sarek. Daddy picked that name from Star Trek. As Sarek grew, he would rub up against Abbyís face and Abby would wag her tail (and she would smile). Abby is the most loving dog Iíve ever met. My grandmother said that Abbyís only fault is that she loves us all so much.
I know you're probably wondering why I wrote this whole article about her. I did it to honor her. Abby passed away on Monday, July 19th. Our relationships in the world shape who we are and what we become. Abby taught me how to have compassion for elders and others with challenges different than my own. I never knew life without her until now. I will miss her excited tail wagging whenever I came in the door and her calm nature when I would sit with her. Although sheís gone, Iíll still carry memories of her with me forever. In our lives, we will have many wonderful experiences and adventures to share with special animals, family and friends, but someday theyíll have to go. Now Abbyís in a better place. Iím sure sheís smiling down on all of us. My dance teacher Miss Kim, always says, "dance, as if itís the last time youíll ever dance." This is not only true with dancing but itís a life lesson too Ė love things as if itís the last time.
Read other articles by Maya Hand