The Zoo Keeper
Roots
(April, 2010) The month of January was devoted to remodeling our mudroom. February was completely consumed by the snow. When March arrived, I returned to the mudroom. This time however, I was going to have some fun with it - It was time to decorate.
The Cottonwood
Cottonwood Farm is the name of our little farmette. It is named after the huge cottonwood tree at my family's summer cottage in Minnesota - "The Lake," we all call it. The cottage is nothing fancy but it has been in my family, passed down through the generations, since 1908. Growing up, I spent every summer there swimming, water skiing, fishing, and climbing "The Cottonwood." The Cottonwood was always my "happy place," and so when Wayne and I bought our farm, we named it Cottonwood Farm in hopes that it would be a "happy place" for future generations as well.
It seemed only fitting then, that I find a picture of The Cottonwood to hang in the new entryway to Cottonwood Farm. As I looked through pictures though, I found more than just pictures of a cool old tree - I found history and a fresh appreciation for my family, my ancestors, my roots.
I had pictures of me sitting in The Cottonwood, Kara floating in a baby boat under it (it sits right on the shoreline so over the years, the water has eroded the beachfront and The Cottonwood now hangs horizontally over the water), pictures at sunset, in the winter, during storms, and so on. What stirred me though, were the old pictures - the faded black and white snapshots of the generations before me that loved The Lake and The Cottonwood as much as I do.
The Cottonwood was a backdrop for as many pictures then as it is now. The only difference is that in the old pictures, The Cottonwood is much smaller and it's vertical. One of my favorite pictures has three generations from my grandmother (as a 6-7 year old girl) to my great-great-grandparents. There are others of my great-grandmother ("Ba") playing badminton, my grandmother and my great-uncle paddling the canoe (the same canoe I learned how to paddle in), my mom and my aunt running down the path to the lake - Proof that all the generations before me loved and enjoyed the same things I do.
The Family Album
I have hundreds - no, thousands - of pictures of me, Wayne, the kids, the animals, etc. neatly organized into a dozen or so photo albums. These other pictures, though, did not come from my photo albums. They came from an album that my grandmother spent the better part of two years putting together - a family history album.
It contains a written and photographic history of our family ancestry, going back as far as 1030 to Robert, 5th Duke of Normandy, through Henry I, King of England, all the way through to 1667 when my great-great-great-great-great-great-great-great-great-grandfather, William Terrell came to the colonies and settled in Hanover County, VA.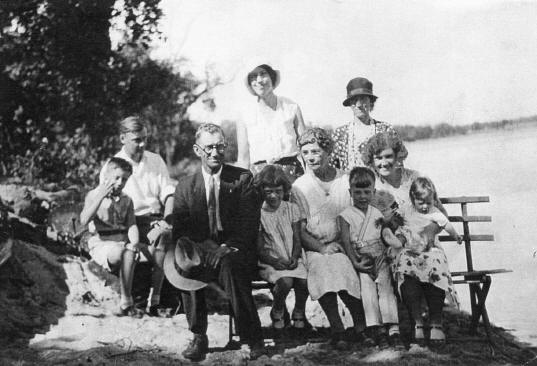 When my grandmother first presented me with the album, I thanked her for it, perused through the pictures, read the biographies of the relatives I knew or knew of, glanced at a few interesting notes, and put it away. A few times over the years I'd pulled it out for one reason or another, but had never spent any time really looking through it in its entirety.
It wasn't that I didn't appreciate it, I just didn't appreciate it. I appreciated the fact that she had worked so hard to create this album for me, but I didn't appreciate its value. How cool is it to be able to trace your family, or at least part of it, back almost 1000 years!
Maybe the reason it didn't seem like such big deal to me initially was because I hadn't yet started a family of my own when she gave it to me. Or maybe I was just too focused on the here and now to be concerned about what my ancestors did all those years ago. Or maybe I just didn't "get it."
When I pulled it out looking for pictures of The Cottonwood, I didn't expect to keep it out. But as I look through it now, I have a whole new appreciation for it. In fact, I made a point to call my grandmother, share my newfound awe with her and thank her, this time profusely, for creating this album for me.
Maybe you have to create your own family to truly appreciate the roots of the family tree you come from. Or maybe it's that subtle realization that the generations before you are really not all that different from you today. Or maybe this time, I just "get it." Whatever the explanation…
Thank you, Gamma.