The Village Idiot
The M-65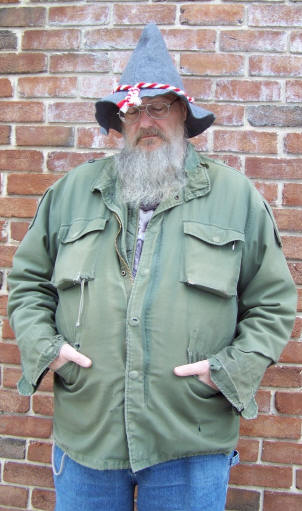 (12/2017) It's past time I replace my M-65 field jacket. If memory serves I paid some online store $85 for the piece of poorly made crap. It arrived with buttons about to fall off and was never water repellent. It was a new (made to US military specs) coat I'd have sent back if I could have found a better-made jacket locally. Sadly, the last army surplus store I dealt with in this area had long since closed shop.
The first M field jacket I wore I found in a box of Dad's stuff in the garage at TJ's in 1968. Researching the M series - I think the coat was an M-51, the jacket that replaced the World War II jacket (M-43) and the Korean War jacket (M-50). Dad retired in '63. According to Wikipedia: "The M-1951 was given snap fasteners instead of buttons and a zipper. Unlike the M-1965 field jacket that replaced it, the M-1951 had button cuffs, a pointed collar and had a separate hood that buttoned on to the collar." That perfectly describes the jacket I eventually put on.
The M-51 jacket did not have the winter lining, though I wore it with only a T-shirt between me and it when walking into town to get drunk back when sub zero temps weren't unusual here. I'm not sure what year I took to wearing it, but I know I got growled at for not leaving it in my high school locker my senior year (1971-72). That was the jacket First Sister embroidered the Eye and Ring (from the covers of the second edition of The Lord of the Rings) on the back of. That jacket was literally a rag when I walked into an army surplus store in Hanover PA and bought the second jacket.
Worn though it was, the second M-51 was of the same quality as the first one. Sadly, the third jacket I acquired was just after the Vietnam war had ended. A retiring Warrant Officer had brought a trailer load of never worn M-65s home with him and was selling them for about $45 a pop. I noticed immediately the quality was not the same as the earlier jackets I'd worn.
From what I'm reading as I ransack the 'Net for sites selling M-65s I'm concluding the price range of $70 - $85 is the cheap crap I'm currently wearing. The $150, and up, jackets are better made and designed with hardware like the first two I wore- button and snaps rather than cheap, quick to degrade Velcro. Unfortunately, I'm too potbellied to wear them.
As I'm tired of buying junk that doesn't last, and I'm pretty much done stomping through briers, rolling under barbed wire fences, carrying firewood (to heat the homes of friends I never visited in the winter anyhow) and sleeping under bridges- I figure a $150 (non-military jacket) should last long enough to wrap me in it as I go into the manure pit and on to the next adventure. I'll buy a "civilian" field jacket, or barn coat, or travelers coat sold by reputable companies that have been around as long as I can remember, and with whom I've done business over the last couple of decades. So off I go to look at those offerings online.
And of course the reviews of the "civilian" jackets I want say they are imported crap of such a low quality -compared to the originals- as to make them worthless, in my seldom-humble opinion. Somehow, I am not surprised. The rule of thumb in the manufacturing world is: make a solid quality product and sell it as cheaply as possible. Once the customer is "hooked", make the product as cheaply as possible, for as long as possible, then come up with a new product when the customer stops buying the other one in disgust. Back to the military jackets I go. At least I know the quality of the one I have- poor though it is.
Evidently I'm not the typical Google search engine user who gives up after the first page of offerings Google pushes on unsuspecting users. Sure, digging deeper into the Net requires an interruption of naptime, but most of what I'm interested in is seldom found within the first two, or even four pages of Google goop. When I start changing search words while looking for information it is not unusual for me to skim through a dozen Google pages. Which is what happened in the search for a decent M field jacket that I can afford, and will fit me.
What I eventually found was a reproduction of the M-51 with the familiar bells and whistles plus-
"Crafted from high-count military spec 100% nylon/cotton sateen"
"Machine wash warm, tumble dry low"
"Proudly made in the USA"
Yippee! Of course the jacket costs a bit more than the $150 I wanted to spend. $300, plus shipping nearly knocked me out of my computer chair! It took a bit of calming down for me to recall I once spent $500 for a suit I wore two or three times before the moths found it. $300 for a jacket I'll wear until it's a rag seems a pretty smart bargain when looked at that way.
The company that makes the M-51 I'm lusting after also makes a reproduction of the M-65 using the same cloth as the M-51's. An added bonus is inside pockets that I thought the military should have added way back when. But those pockets aren't worth an extra $130 the jacket commands, though it is available in potbellied macaque sizes. I briefly consider spending the extra money so I can zip the jacket closed, but 99% of the time I leave the jacket open anyhow. Besides, I can suck the gut in enough to zip a size 2XL closed. Why spend the extra cash for a few hours of warm comfort each winter?
While I'm rooting around the website, hoping to find a pair of good winter military boots, I stumble onto the company's motorcycle jackets. Oh gods!
"Originally used on the back of the British BSA M20, and the Harley-Davidson WLA, the steadfast spirit of the four pocket dispatch motorcycle jacket has been unyielding through the years."
"Crafted from rugged stonewashed goatskin leather"
"Four oversized bellows snap down pockets"
"Two inside pockets"
"Proudly made in the USA."
Oo, I want one! But $950 plus shipping? And it doesn't come in pot-bellied sizes. And I no longer enjoy tears freezing to my face as I guide a motorcycle down US 15 when it's below freezing out. Nope. Back to the $300 M-51.
While DW has given me her "oakey doakey" to order the M-51 she balked at my acquiring the military winter gloves and boots similar to the ones Dad left behind. She muttered something about my never shoveling snow or walking anywhere further than the tattoo shop, so I didn't need those winter accessories. In a rare moment of wisdom, I shut up and settled for the M-51. (Why should I shovel snow anyhow?)
Read other articles by Jack Deatherage, Jr.